This chicken florentine pasta is made in one skillet and ready in 25 minutes!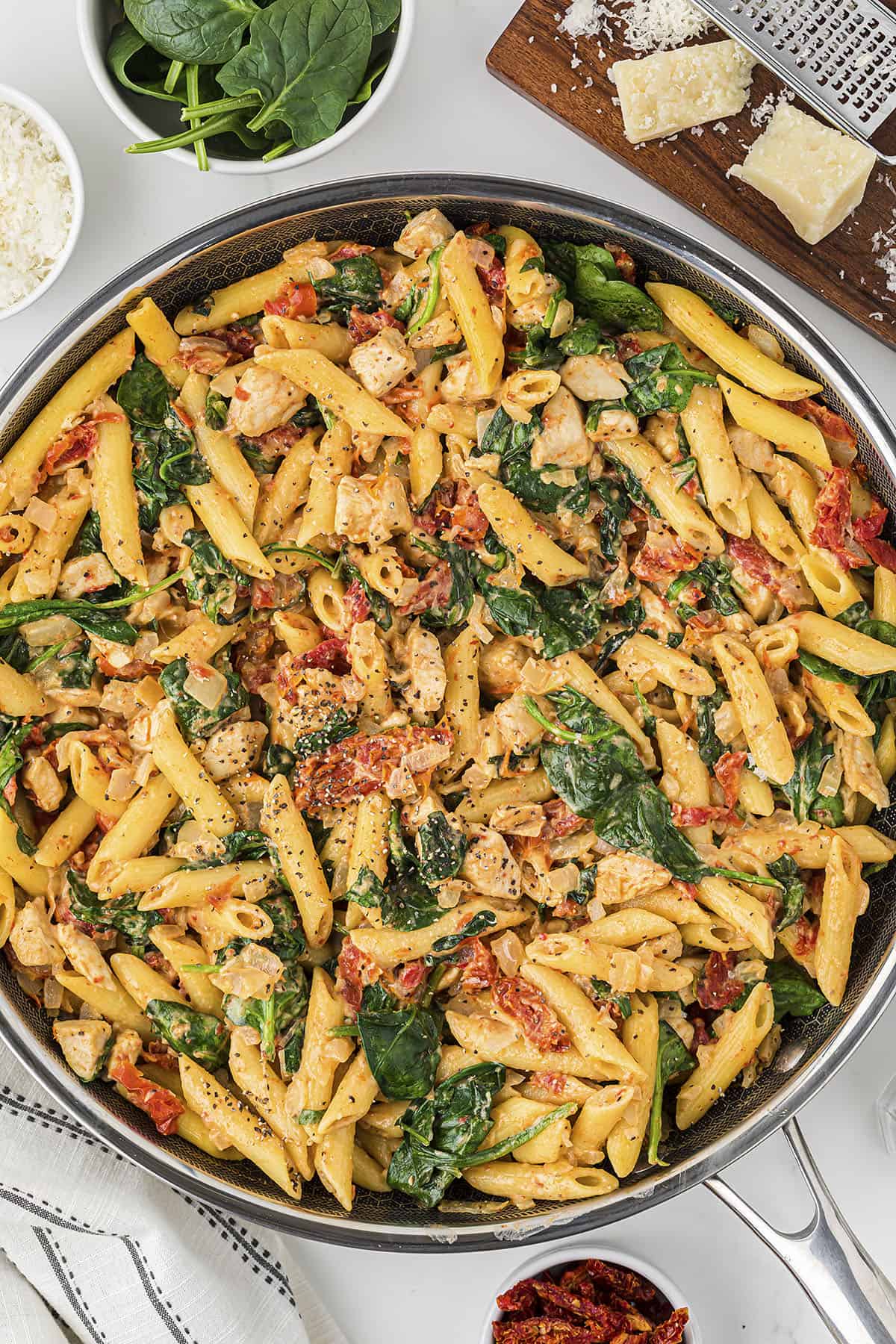 So, I've been on a mission lately to be more…girly.
I've been getting my nails done.
Wearing jewelry every now and then.
Buying pants that are not made for yoga and maybe even are made of denim. (No dresses or anything, though. Let's not get too crazy.)
Shirts that are not tees. You know. That kind of thing.
It's going well so far, I guess.
I mean. My nails are pink? My earrings are in. My husband seems to appreciate it. I feel better about myself when I do these things.
The next project? Mah hair.
I've been dying it myself from a box ever since my hair stylist moved to Hollywood to do hair and make up for movie stars (true story, she's amazing, I'm sad).
Soooo, it's been kind of bad.
I mean, I once messed it up so much I had to strip the color and start over and since then my thin, fine hair has just been dead and damaged and really kind of pitiful.
Soooo, I found a new lady and she dyed it and it's looking a little healthier and you guys, I'm getting extensions this week.
Not for length, but for thickness. I'm freaking out.
This will be the most girly thing I've ever done in my life and I'm so super excited about it.
Curious to hear any of your hair extension experiences? I'm worried about getting headaches from the added weight or accidentally giving myself bald spots by yanking them out when brushing or just generally tossing alllllllthemoney down the drain by getting them and hating them. Tell me your experiences!!
(Update: Now that I've had them for over 6 months, I can safely say that I loooooove my keratin bond extensions and can't imagine life without them. I'm on my second set now. Yes, they're very expensive and I hate spending so much money on something as trivial as hair, but they make me feel so much better about my looks. And, also, curling and straightening and just generally doing things to my hair is so much fun now! Highly recommend.)
And now, to completely change subjects, let's talk about DINNER.
Because we all love dinner, especially this one considering it's a chicken dinner that's made in one skillet with minimal prep and clean up andddddd did I mention it's ready in like 25 minutes? Whew.
I'm all about the one dish pasta dinners. Nobody wants to boil a huge pot of water for pasta when they can just chuck some dry pasta in a skillet with the rest of the ingredients, right?
Besides, the flavors of the dish really meld together when the pasta is cooked with the good stuff.
This one is cheesy perfection.
I added in sun-dried tomatoes, because I love them, and spinach, because my kids need vegetables every now and then.
This was a total winner with everyone in my house except for my husband because he hates onions. Not to worry, I'm in the process of searching for an onion-loving husband now. I'll keep you posted.
Anyway, give this one a try and let me know what you think!
And if chicken and spinach aren't your thing? I have a smoked sausage version of this dish that is just the best thing ever. Get the recipe for the sun-dried tomato pasta recipe.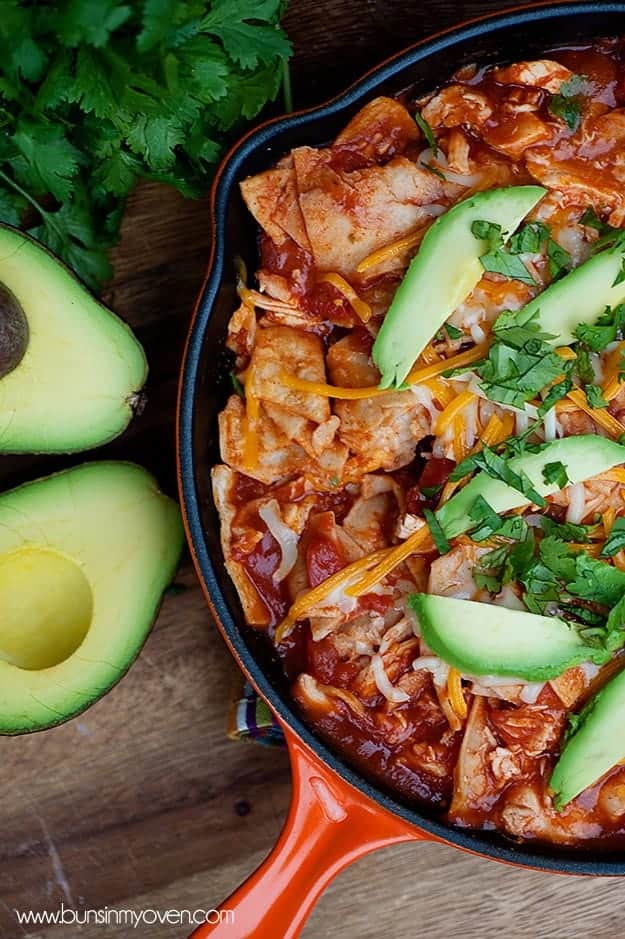 Or skip the pasta and go for my enchilada skillet! These dishes are great for the summer since you don't have to heat up the oven!
And that gorgeous enchilada skillet up there? Ready in just 20 minutes. Winning!
Chicken Florentine Pasta
This sun-dried tomato pasta skillet is one of my favorite pasta recipes! The tomatoes pack in so much flavor and everything is cooked in one pan. So easy and so good!
Prep5 minutes
Cook20 minutes
Total25 minutes
Ingredients
1 tablespoon butter
1 pound chicken breasts diced
1 teaspoon salt
1 teaspoon pepper
1 sweet onion diced
4 ounces sun-dried tomatoes not packed in oil
8 ounces penne pasta
2 cups chicken broth
3/4 cups half and half
3/4 cup grated Parmesan cheese
6 ounces fresh baby spinach rinsed and dried
Instructions
Heat a 12 inch skillet over medium heat and add the butter to melt. Stir to coat the pan.

Add the chicken to the skillet and sprinkle with salt and pepper. Cook, stirring often, until the chicken is browned, about 5 minutes.

Add the onion to the pan and cook 2 more minutes, stirring often.

Add the pasta and sun-dried tomatoes to the skillet. Pour in the broth and half and half. Stir well to combine.

Bring to a boil, cover, and reduce to a simmer.

Cook for 12 minutes or until pasta is tender.

Remove the lid and stir in the grated cheese until melted.

Stir in the spinach. Remove from heat, cover, and let sit for 5 minutes to wilt spinach.

Stir well before serving.
Nutrition Information:
Calories: 414kcal (21%)| Carbohydrates: 46g (15%)| Protein: 30g (60%)| Fat: 12g (18%)| Saturated Fat: 6g (38%)| Cholesterol: 75mg (25%)| Sodium: 1057mg (46%)| Potassium: 1353mg (39%)| Fiber: 4g (17%)| Sugar: 11g (12%)| Vitamin A: 3120IU (62%)| Vitamin C: 24.7mg (30%)| Calcium: 247mg (25%)| Iron: 3.7mg (21%)