These Raspberry Thumbprint Cookies are rich and buttery with a simple filling of raspberry jam. Topped with a 3 ingredient vanilla glaze and perfect for the holidays!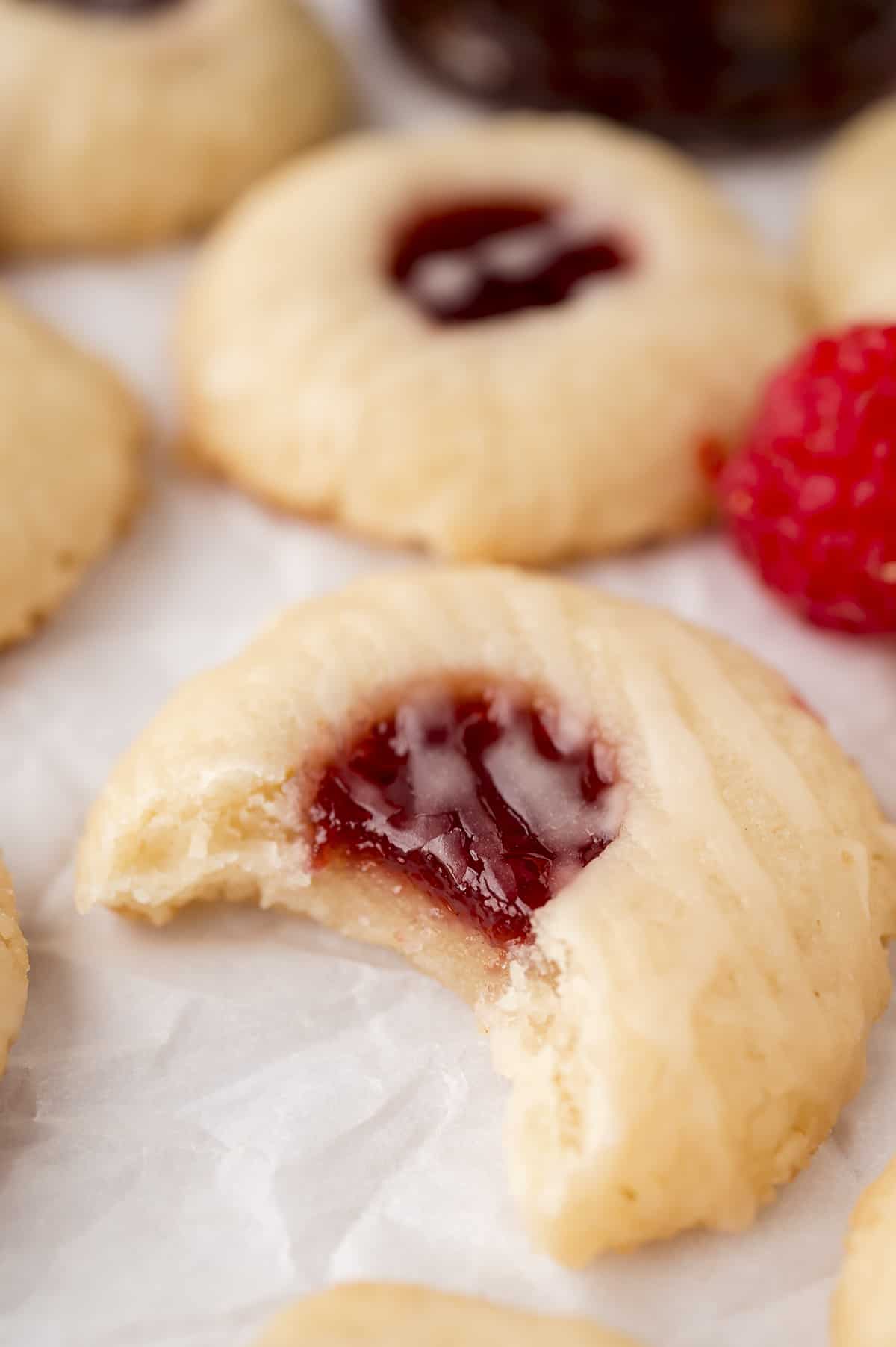 Cookies are a whole food group in our house and between my daughter and I, we always have a full cookie jar.
I've been the Chief Cookie Baker for years and years, but as my daughter has gotten older she's taken over that role and I'm both proud and sad to say that this girl can now bake a better cookie than I can.
She baked a batch of our chocolate crinkle cookies the other day that blew my socks off.
She's in college now studying business so that she can start her own coffee shop/bakery and I'm excited to see where she goes and what she does!
Anyway, cookies! Raspberry Thumbprint Cookies, to be exact!
These are a buttery shortbread type of cookie that are filled with a simple raspberry jam. Perfect for Christmas time, but honestly delicious any time of year!
What are Thumbprint Cookies?
A thumbprint cookie is just a type of shortbread or butter cookie with an indentation in the center for filling. Although they are called thumbprint cookies it's probably better to use your pinky or index finger to make the indentation.
You can fill thumbprint cookies with all kinds of good stuff like raspberry jam or other fruit jams or even chocolate or caramel, like in our chocolate thumbprint cookies.
Raspberry Thumbprint Cookies are easy to make with simple ingredients and are even better with a simple vanilla glaze.
What We Love About RASPBERRY THUMBPRINT COOKIES:
Raspberry Flavor: There is just the right amount of raspberry jam in these cookies! You get all the flavor without it overwhelming the buttery shortbread cookie which makes it easy to just keep popping these in your mouth.
Easy: You probably already have all the ingredients necessary for these cookies as most of them are pretty common. You'll need a hand or stand mixer and a cookie sheet and you're good to go!
Versatile: Any type of jam, jelly, or preserve is going to work and that includes all kinds of fruits and berries. Feel free to customize these cookies to suit your tastes.
Raspberry Thumbprint Cookies Ingredients:
This post contains affiliate links. As an Amazon associate and member of other qualifying programs, I earn from qualifying purchases.
For the cookie dough:
Dry Ingredients – This cookie dough is very simple! You'll only need a few dry ingredients to get started: flour, white sugar, and powdered sugar! This dough is similar to shortbread.
Wet Ingredients – The other cookie dough ingredients include butter and either almond or vanilla extract. Almond extract is traditionally used in these cookies but we like them best with vanilla.
For the glaze:
Milk – We prefer whole milk, but 2% will be fine. Heavy cream also works well if you like a thicker glaze.
Powdered Sugar – This will sweeten and thicken the glaze.
Vanilla Extract – Just a bit to add some vanilla flavor to the sweet glaze.
For the filling:
Raspberry Jam – The filling for this thumbprint cookie recipe is just regular seedless raspberry jam!
How to Make Thumbprint Cookies:
Mix: While your oven preheats you can start preparing the cookie dough. Add the cold butter, sugar, and vanilla to the bowl of a stand mixer and beat until well combined.
Flour: Mix in the flour and beat again until the dough forms. Be patient with the dough, though. It takes a bit for the flour to incorporate into the butter and sugar, and if you're like me you'll be wanting to add a few spoonfuls of milk to help things along. Don't do it. Just be patient and the dough will come together.
Shape: Once you've prepared the dough you can separate it and roll it into small balls that are roughly equal in size. Press your pinky finger into each dough ball to make the well for the raspberry filling.
Fill: I find it easiest to use a wee little spoon to put the jam in the indention. Fill each of the balls of dough with the raspberry jam. You won't be able to fit a huge amount in there, and don't try to go overboard or it could get messy!
Chill: Before you can bake the raspberry thumbprint cookies you'll need to let the dough chill in the fridge for one hour on the baking sheet.
Bake: After chilling you can pop the baking sheet in the oven and bake the cookies for 12 minutes or until the bottoms are browning. Let the cookies cool before making the glaze.
These bake up quickly and it's a bit tough to tell when they are done. You don't want them to brown, so just watch the edges and as soon as you see a hint of brown, pull them out of the oven.
Glaze: To prepare the glaze you'll simply mix together some powdered sugar, vanilla extract, and as much milk as necessary to get the consistency of the glaze to what you'd prefer. Finally, drizzle it over the cookies to finish!
Expert Tips for the Best Raspberry Thumbprint Cookies!
Be Patient: It takes a bit for the dough to come together. Just keep mixing and it will start to form into a soft dough that holds together.
Dough: To prevent the cookies from spreading out too much when baking it's important that you chill the dough.
Shaping: When rolling the dough into balls make them as smooth as possible to prevent cracks from forming.
Jam: Don't overfill the cookies with too much raspberry jam. Also, feel free to try these thumbprint cookies with a different type of jam like strawberry, peach, or blueberry!
Topping: We like to top these cookies with a simple vanilla glaze but there are a few other ways you could top them. Powdered sugar or chopped nuts would work well too!
FAQ's:
How to store cookies?
You can keep these raspberry jam cookies stored at room temperature in an airtight container for about 5 days.
How to freeze cookies?
First let the cookies cool completely before storing in a freezer safe container. If there are multiple layers use some parchment paper to separate them.
Can I use a different jam?
Sure! You can easily turn these into blueberry thumbprint cookies or strawberry thumbprint cookies for example. Just use the jam or preserves of your choice to fill the cookies!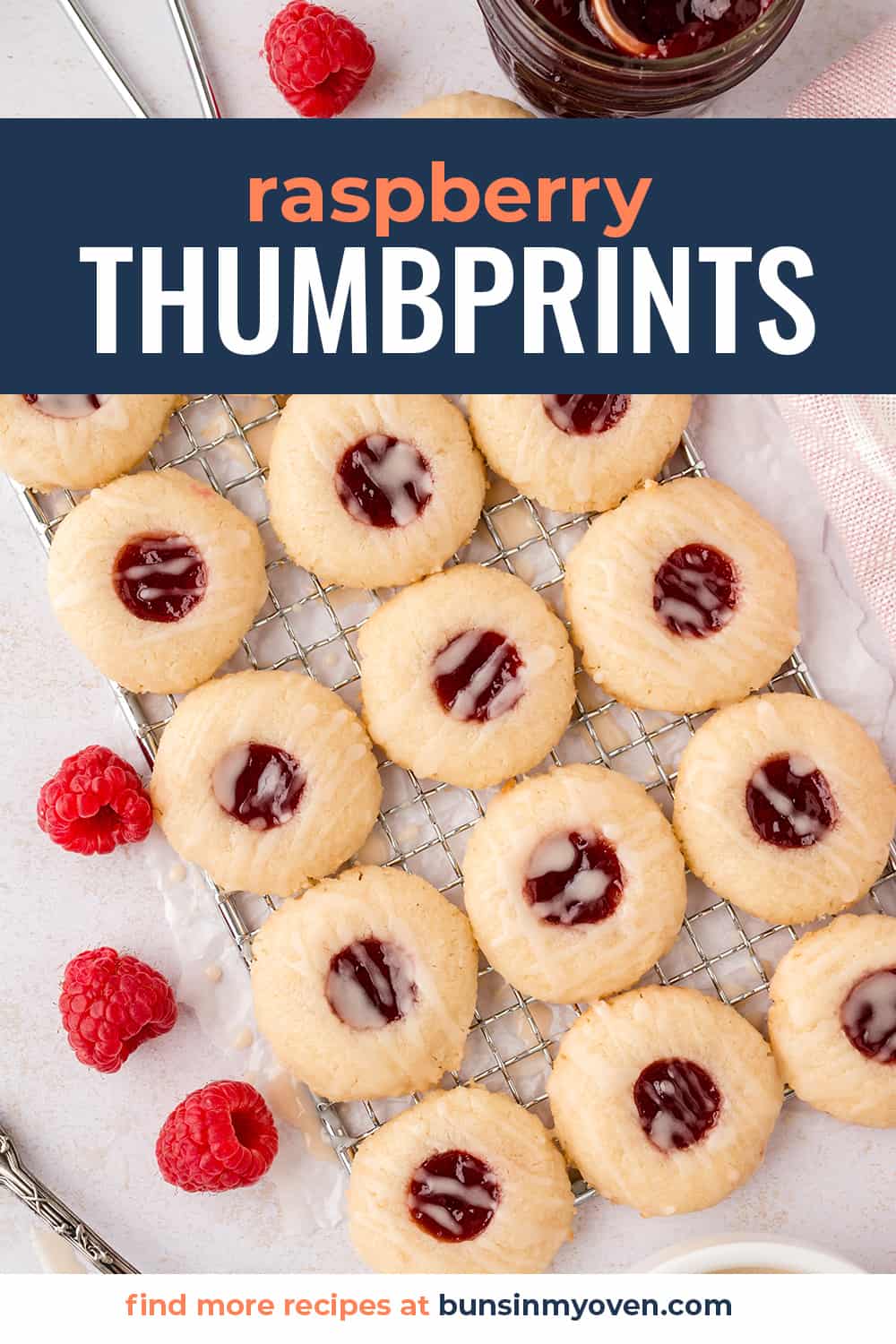 Raspberry Thumbprint Cookies
Sweet, simple, and always a favorite on our holiday cookie trays! These buttery cookies are filled with raspberry jam, but you can really use any flavor jam you like.
Prep10 minutes
Cook12 minutes
Chill Time1 hour
Total1 hour 22 minutes
Ingredients
For the cookies:
1 cup cold butter
2/3 cup white sugar
1/2 teaspoon almond or vanilla extract see note
2 cups flour
1/2 cup seedless raspberry jam
Instructions
To make the cookies:
Pre-heat oven to 350 degrees.

In the bowl of your mixer, add cold butter, sugar, and vanilla. Beat until well combined.

Add the flour to the butter mixture and continue mixing until the dough comes together. It will be dry at first and take a few minutes to come together but it should form a smooth, stiff dough.

Roll dough into small balls, about 1-inch each, and press your pinky finger into each ball to make the well for the dough. Fill the wells with the jam.

Place cookies in the refrigerator for one hour to chill.

Bake for 12 minutes or just until the bottoms are browning. Remove from the oven and allow to cool.
To make the glaze:
Whisk together the powdered sugar, vanilla, and as much milk as you need to get the consistency of glaze you prefer. For a thicker glaze, use less milk or swap the milk for heavy cream.

Drizzle the glaze over the cooled cookies and let set for 30 minutes to firm up before storing or serving.
Tips & Notes:
The dough will seem like it needs milk or egg added to it, but if you keep mixing it will come together. Traditionally, these cookies are made with almond extract, but we prefer the flavor of vanilla. Either work fine here. You may use any flavor of jam that you like. We use whole milk for the glaze, but you can use any type of milk that you have on hand. Heavy cream will also work and make for a thicker, whiter glaze.
Nutrition Information:
Serving: 1cookie| Calories: 90kcal (5%)| Carbohydrates: 12g (4%)| Protein: 1g (2%)| Fat: 4g (6%)| Saturated Fat: 3g (19%)| Cholesterol: 12mg (4%)| Sodium: 40mg (2%)| Potassium: 11mg| Fiber: 1g (4%)| Sugar: 7g (8%)| Vitamin A: 135IU (3%)| Vitamin C: 1mg (1%)| Calcium: 3mg| Iron: 1mg (6%)
This recipe was originally published in May 2010. It was updated with new text and photos in November 2023. Original photo below: