June 30, 2014
Raspberry S'mores Pudding Bars
I have been obsessed with raspberries this summer. Straight up obsessed.
This recipe is chockfull of them and they are so tart and perfect with the creamy chocolate pudding! You guys are going to love these bars.
I made a super thick graham cracker crust, because I'm sorry, but thin graham cracker crusts are not allowed around these parts. Got it? Thick crusts. They're the way to go.

Then I mixed up a couple of packages of instant pudding, because I'm a cheater and didn't want to make it from scratch. Don't judge me.
Next up, lots of berries, because berries are the best. You could totally swap in strawberries if you wanted, but like I said. I'm straight addicted to raspberries. Someone call an intervention. No, wait. Don't. I don't want to stop.
Finally, because I'm nuts, I went ahead and topped these with roasty, toasty marshmallows. Ugh. I can't even deal with the marshmallows. So good.
If you have a kitchen torch
, you can just pop the marshmallows right on top of the pudding and go to town, roasting them like some super cool ninja marshmallow roaster.
If you don't have a torch, just pop it all under your broiler and keep a super duper not even kidding about this close eye on them. The marshmallows go from perfect to scorched in about 0.3 seconds.
And, if you don't have a torch or a broiler, well, sorry buddy. Leave the marshmallows off? Really, these are just as delicious without them.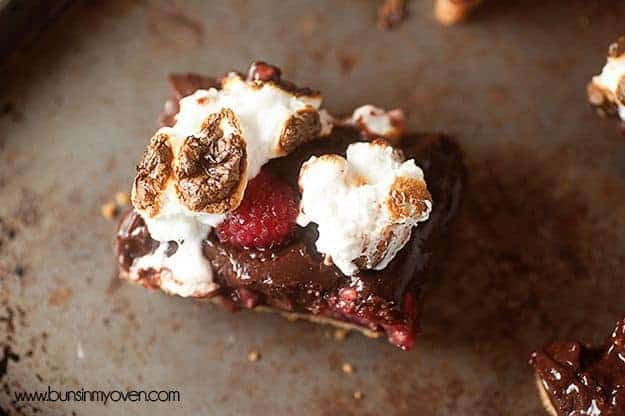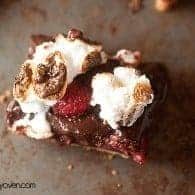 Raspberry S'mores Bars
Ingredients:
For the crust:
1 1/2 cups graham cracker crumbs
1/4 cup sugar
6 tablespoons butter, melted
For the filling:
2 (3.8 ounces each) packages instant chocolate pudding
3 1/2 cups milk
1 pint raspberries
For the topping:
1 cup mini marshmallows
Directions:
To make the crust, heat the oven to 350 degrees. Mix together the graham cracker crumbs, sugar, and butter. Press into a parchment lined 9x9 baking dish and bake for 7 minutes.
Let cool completely.
To make the filling, add the pudding mix to a large mixing bowl. Stir in the milk with a whisk and continue whisking until thickened, about 5 minutes.
Pour half of the filling on to the crust, top with half of the berries, cover with the remaining filling, and top with the remaining berries. Press the berries into the pudding.
Refrigerate at least 30 minutes or until ready to serve.
Top with the marshmallows and use a kitchen torch to roast them until lightly browned. Alternately, place the pan under the broiler and broil for about 1 minute or until the marshmallows are toasted. Keep a very close eye as they'll burn very quickly.
The marshmallows taste best if toasted just before serving, but leftovers can be stored in the fridge.
Are you obsessed with raspberries, too? Here are some of my other favorite recipes!
Raspberry Cookie Butter Swirl Rolls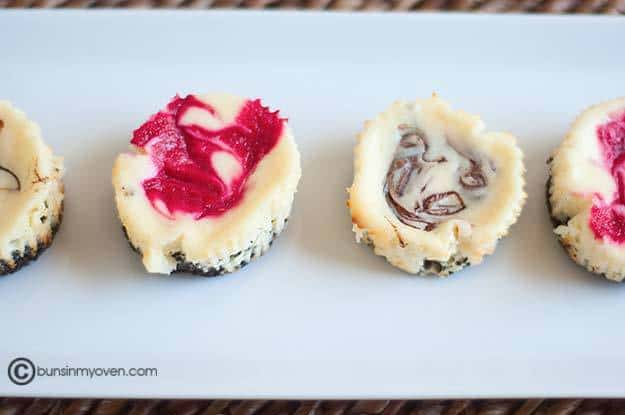 Mini Raspberry Cheesecake Bites
This post contains affiliate links.
Share this: