August 29, 2018
Raspberry Cookie Butter Swirl Rolls
Can we talk for just a quick minute about cookie butter?
First, just in case there are a few of you out there who have not heard of cookie butter (and I know there are), it's basically peanut butter made of cookies instead of peanuts. It's even better than you're imagining it to be.
Our preferred cookie butter brand is Biscoff Spread
. I live in a teensy town and it's a 30 minute drive to the closest two store that sells Biscoff and I happily make that drive as often as possible.
You guys, I buy so much cookie butter that it's not even funny. Someone needs to stage an intervention.

Anyway, you all know that we moved to the Middle of Nowhere, Nebraska earlier this year. My husband is starting a new ethanol plant and he was holding one of his many meetings with his employees when he pulled out a new jar of cookie butter and a bag of plastic spoons. He passed spoons out to everyone and sent the jar around the room. The people of Middle of Nowhere, Nebraska had never had cookie butter and it has changed their little lives.
I think that's why there is suddenly a shortage of cookie butter around these parts. My husband thought he was bringing happiness to his people, but in fact he was bringing sadness to his family. Or something.
So, let's talk about these little rolls, shall we? I cheated and used crescent roll dough, because duh. Crescent rolls are my life and I don't believe that a homemade dough would taste better in this instance. So, these are easy.
Also, if you're wondering whether cookie butter and raspberries could possibly go well together, let me assure you that this flavor combination is currently tied with my love of chocolate and peanut butter. It's just that good. The tart berries and the cinnamon-y sweet cookie butter is divine. Truly.
So, go make these. Just be sure you leave some of the cookie butter on the shelves for everyone else! (Actually, no, if you find it, stock the heck up!)
(Cookie butter is sold under the name Biscoff in most retail stores. I can almost always find it at Wal-Mart or Hy-Vee near the peanut butter. Trader Joe's has their own version, but I find it has too much of a flour-y taste for my liking and much prefer Biscoff. Other's swear by TJ's brand, though.)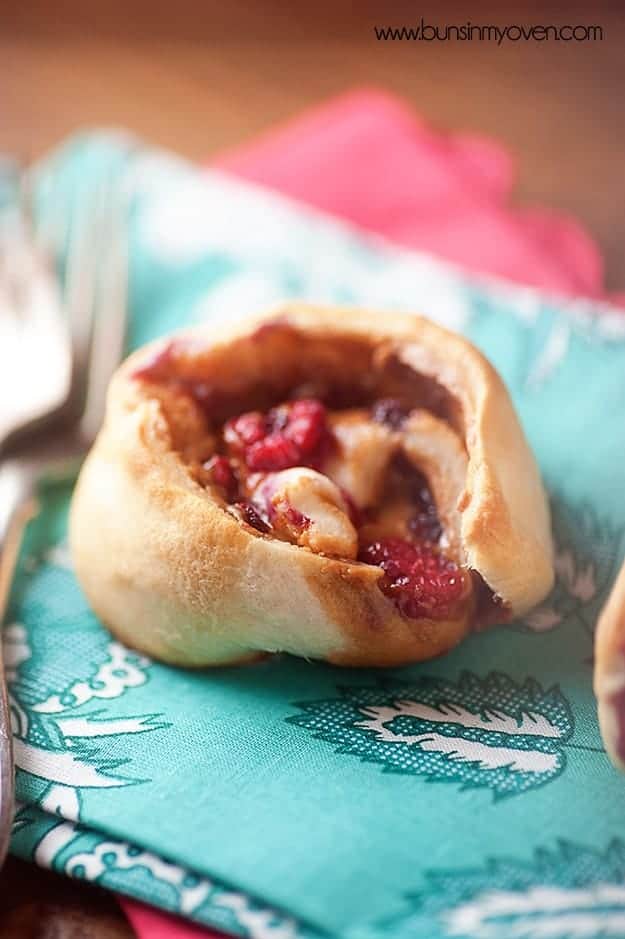 Raspberry Biscoff Swirl Rolls
Servings: 8 rolls
Course: Dessert
Cuisine: American
Keyword: easy dessert recipes, kid-friendly recipes, party recipes
Calories: 191 kcal
I cheated and used crescent roll dough, because duh. Crescent rolls are my life and I don't believe that a homemade dough would taste better in this instance. So, these are easy.

Ingredients
1 package Crescent Dough Creations seamless crescent roll dough
1/2 cup cookie butter
1/2 cup frozen or fresh raspberries
Instructions
Preheat oven to 375 degrees.

Unroll the sheet of crescent roll on a sheet of parchment paper. Spread the Biscoff to the edges of the crescent dough. Sprinkle evenly with the raspberries.

Starting with the long side roll up the dough tightly, jelly roll style. Cut into 8 1-inch pices and arrange on a parchment lined baking sheet.

Bake for 15 minutes or until golden brown and the centers are cooked through. The centers do take a bit longer than usual to cook because of the Biscoff, so pay close attention to be sure they cook through.

Let cool for 5 minutes before serving.
Nutrition Facts
Raspberry Biscoff Swirl Rolls
Amount Per Serving
Calories 191 Calories from Fat 108
% Daily Value*
Fat 12g18%
Saturated Fat 4g25%
Sodium 221mg10%
Potassium 11mg0%
Carbohydrates 20g7%
Sugar 8g9%
Protein 2g4%
Vitamin C 2mg2%
Calcium 2mg0%
Iron 0.4mg2%
* Percent Daily Values are based on a 2000 calorie diet.
Nutrition Disclaimer: All information presented on this site is intended for informational purposes only. I am not a certified nutritionist and any nutritional information shared on bunsinmyoven.com should only be used as a general guideline.