These oatmeal chocolate chip bars are bursting with a thick gooey peanut butter caramel sauce! You're going to love this bar dessert recipe!
Can we talk for a moment about what a big baby I am?
I mean, I play it cool. I'll watch scary movies with you. I'll even CHOOSE scary movies, because for some reason, I think I like them. I think I'm tougher than I am.
Five minutes into the scary movie and I'll be jumping out of my seat and possibly screaming (yes, even if we're in a movie theater).
Then, I'll come home and I'll get in bed and I'll never sleep again, because nope.
Here's the thing. The people who built my house were idiots. They put the attic access in the master closet. Like, first of all, we all know that monsters already live in closets, but now you want them to come out of my attic too?? What were they thinking?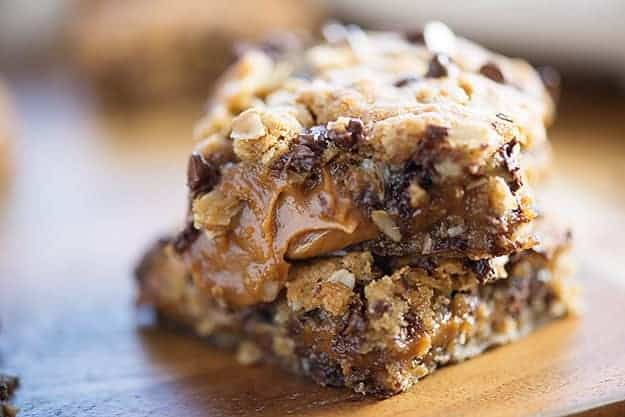 So, I have this whole process before I go to bed every night and it makes my husband laugh like a lunatic. Our master bath and closet are connected, so you go into the bathroom with the sink area and tub and then there is another door for the closet and another door for the toilet and shower area. So, here's the process for making it out of there at night without getting eaten by a demon.
First, you turn on the light in the bedroom. Duh.
Then you go about your nightly bathroom routine with all of the lights on in the vanity area, the closet, and the toilet room. Just to be safe. Monsters obviously hate the light and only come out in the dark. Then, starting with the light switch farthest from the bedroom door, you quickly turn off all the lights except for the main one.
You stand in the bedroom with the door only open wide enough for your hand to fit through and you quickly flip the switch, yank your hand out, and slam the bathroom door. This is just how it's done. It's the smart way to live life.
My husband thinks I'm ridiculous, but you guys, I haven't been eaten by a monster yet, so why mess with a good thing that's clearly working??
Are you still scared of monsters or is it just me?
Anyway, enough monster talk. Let's talk about these ooey gooey peanut butter oatmeal cookie bars. Or do we even need to talk about them? I mean, you see the pictures. You know you need these in your face. What more can I say, really?
I started this recipe with oatmeal chocolate chip bars and just added this intense layer of peanut butter caramel goo. It takes what is already a fabulous recipe and makes it ten times better. You know, if you're into caramel peanut butter oozing out of your baked goods. Which you are, because you're human.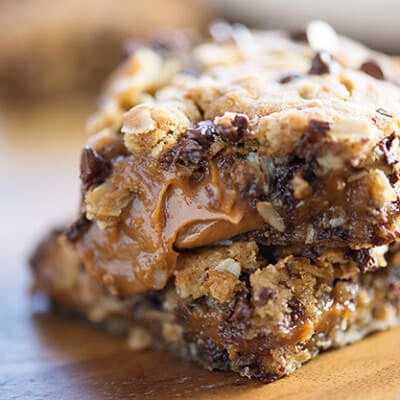 Peanut Butter Caramel Oatmeal Cookie Bars
These oatmeal chocolate chip bars are bursting with a thick gooey peanut butter caramel sauce! You're going to love this bar dessert recipe!

Prep10 minutes
Cook25 minutes
Total35 minutes
Ingredients
2 1/2 cups old fashioned oats
2 cups flour
1 1/2 cups brown sugar
1 teaspoon baking soda
1 teaspoon salt
1 tablespoon vanilla
2 large eggs
1 1/4 cups butter melted
2 cups mini chocolate chips
1/2 cup creamy peanut butter
1/2 cup caramel ice cream topping or sauce
Instructions
Heat oven to 350 degrees. Spray a 9x13 baking dish with non-stick cooking spray.

Add everything but the chocolate chips, peanut butter, and caramel to the bowl of a stand mixer and beat until just combined.

Stir the chocolate chips into the batter by hand.

Add the peanut butter and caramel sauce to a small bowl and stir well to combine. Soften in the microwave for 15 seconds if needed.

Spread half of the cookie batter into the prepared pan.

Drop spoonfuls of the peanut butter caramel sauce over the top and smooth to cover the entire layer of cookie dough.

Use your hands to drop small chunks of cookie batter over the top of the caramel layer as evenly as possible.

Bake for 25 minutes. Cool completely before cutting and serving.
Nutrition Information:
Calories: 499kcal (25%)| Carbohydrates: 62g (21%)| Protein: 7g (14%)| Fat: 25g (38%)| Saturated Fat: 13g (81%)| Cholesterol: 64mg (21%)| Sodium: 433mg (19%)| Potassium: 161mg (5%)| Fiber: 2g (8%)| Sugar: 35g (39%)| Vitamin A: 535IU (11%)| Vitamin C: 0.2mg| Calcium: 67mg (7%)| Iron: 2mg (11%)
Follow Buns In My Oven's board Food I Must Eat Immediately on Pinterest.