February 5, 2015
Carrot Cake Bars with Cream Cheese Frosting
So, my kid had a birthday last week. He turned, omg, 14 years old.
I'm not sure how this is possible since I'm barely even an adult myself, but whatever.
We went into "the big city," by which I mean, it's bigger than our little town of 4,000 and also they have arcades and laser tag and restaurants that are not located inside bowling alleys where they serve cheese that came from a cow instead of cheese that came from a jar. Not that I dislike jarred cheese. It's just not my favorite thing on a sandwich. Call me crazy!
I think I got off topic. My son. He is taller than me, has a 'stache, and his feet are ginormous. Can someone please remind him that he's my baby and to please act and dress accordingly? k, thanks.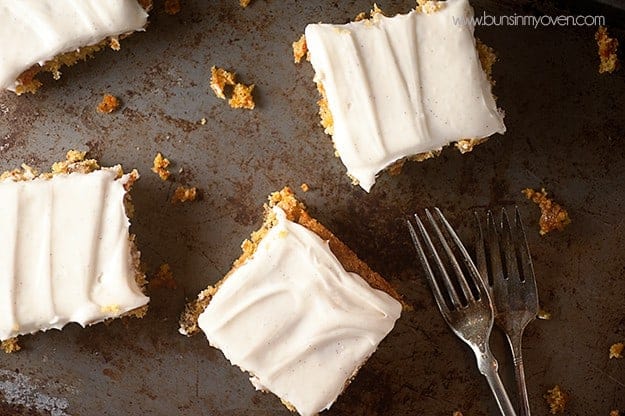 So, y'all may have heard that an Easter Bunny is going to be poppin' by soon, flinging his eggs around the yard (seriously, would someone just tell me once and for all…are those eggs rabbit poop or what?!) and so I thought we could celerbate with the bunny's favorite treat! Carrot Cake…but this time, in bar form.
I figure everyone already has a traditional carrot cake recipe or has already been bombarded with them on other blogs, so I thought I'd throw a curve ball at the cake. But, not literally, because that would be messy.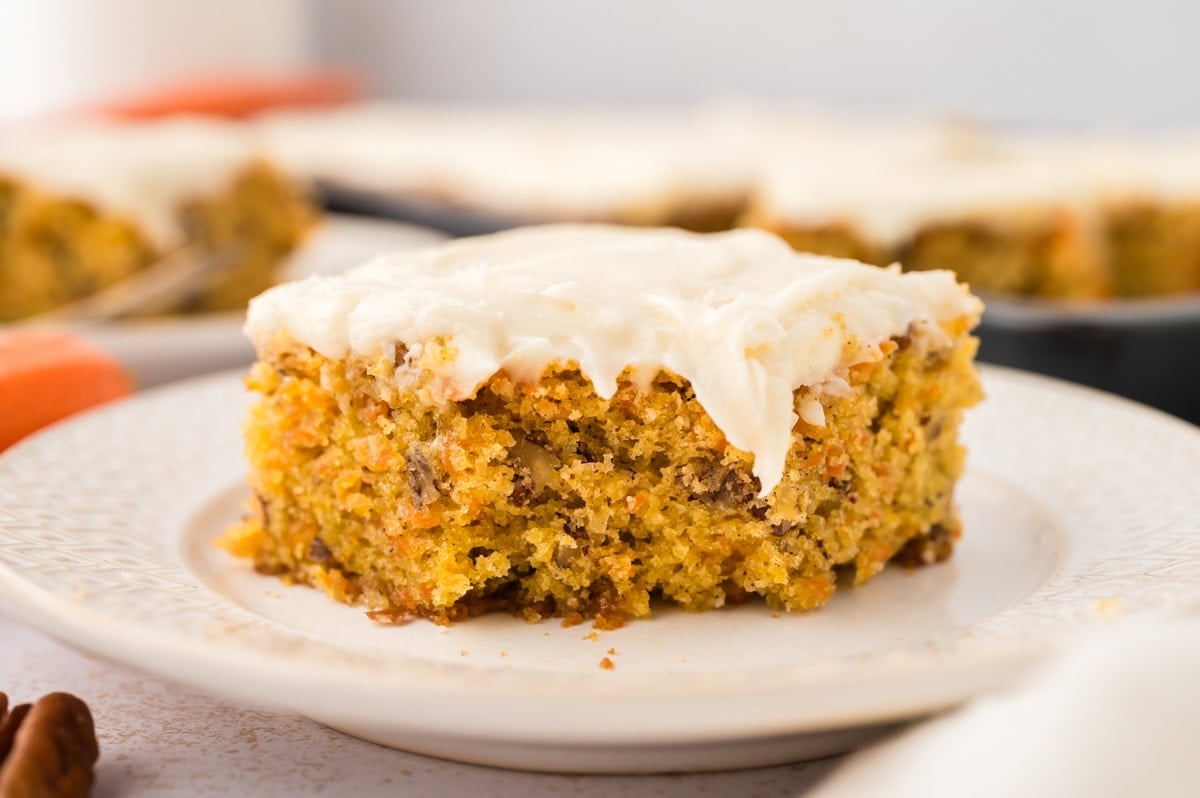 Carrot cake bars! These are kinda cakey, kinda brownie-y. You can eat them with your hands, which is always a win, but you can also use a fork. It really doesn't matter how you eat these, as long as you do it while wearing festive bunny ears, surrounded by that evil plastic Easter grass.
Carrot Cake Bars
Ingredients:
For the bars:
2 cups flour
2 cups sugar
2 teaspoons baking powder
1 teaspoon ground cinnamon
1/2 teaspoon salt
1/2 teasoon baking soda
3 cups shredded carrots (about 6 medium carrots)
4 eggs, beaten
1 cup melted butter
1 cup chopped pecans
For the frosting:
8 ounces cream cheese, room temperature
2 teaspoons vanilla bean paste or extract
3 to 3 1/2 cups powdered sugar
Directions:
Preheat oven to 350 degrees.
In a large bowl, stir together flour, sugar, baking powder, cinnamon, salt, and baking soda. Stir in carrots, eggs, and butter until just combined. Fold in the pecans.
Spread the batter evenly in a 15x10 rimmed baking sheet.
Bake 25 minutes or until a toothpick inserted near the center comes out clean. Cool in the pan.
To make the frosting, place the cream cheese and vanilla paste in the bowl of a stand mixer and beat until smooth and creamy. With the mixer on low, gradually add the powdered sugar until the frosting reaches the consistency you prefer.
Spread frosting on the cooled bars. Cut into 36 bars.
recipe lightly adapted from BHG's Brownies & Bars, 2014
Share this: