What? You guys didn't think I was going to, like, wait another minute after Thanksgiving to start with the Christmas recipes, did you?
Uh, no. Not happening. I'm all about the Christmas cookie life, my friends.
My tree has been up for two weeks, our house is fully decorated, and when my cookie jar starts looking empty, I immediately bake up a batch of my kids' new favorite chocolate Christmas cookie. 'Tis the season, you guys!
My kids love decorating gingerbread men, but nah. That's too much work for me. I do one kind of cut-out cookie per year and that kind is always my mama's butter cookies. They are the best cut-out cookies I've ever had and I just don't have the patience to be rolling out multiple batches of dough and cutting out ten million and one shapes for kids who are going to get bored of the decorating after five minutes anyway.
Gingerbread bars it is!
These bars are thick and chewy. They're so soft and that cream cheese frosting on top really is just divine.
I don't like my gingerbread too spicy, so I didn't use a ton of ginger in this recipe. You can up it, if you like a stronger ginger flavor. I think these are perfectly mellow, though.
Anyway, I hope you love these chewy gingerbread cookies as much as we do!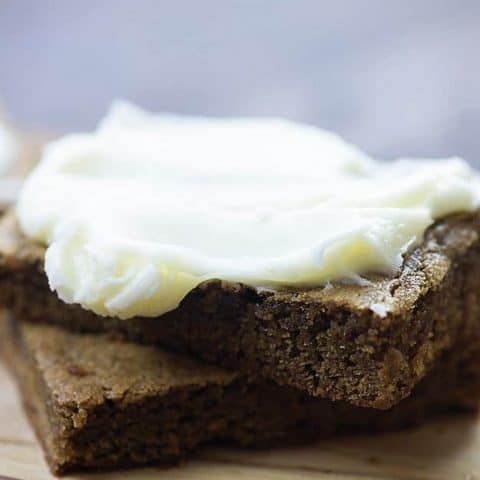 Chewy Gingerbread Cookie Bars
These gingerbread cookie bars are so much easier than cutting out little men. And that cream cheese frosting on top is divine!
Prep10 minutes
Cook30 minutes
Total40 minutes
Ingredients
2/3 cup butter room temperature
1 3/4 cups brown sugar
1/4 cup molasses
2 eggs
1 tablespoon pure vanilla extract
2 cups all-purpose flour
2 teaspoons ground ginger
1 teaspoon baking powder
1/4 teaspoon baking soda
1/4 teaspoon salt
8 ounces cream cheese room temperature
1/4 cup butter room temperature
3 cups powdered sugar
1 teaspoon vanilla
Instructions
Preheat oven to 350°F. Spray a 9x13 baking dish with non-stick cooking spray.

In a large bowl, cream together the butter, brown sugar, and molasses using an electric mixer.

Beat in the eggs and vanilla.

Stir in the flour, ginger, baking powder, baking soda, and salt until just combined.

Use a rubber spatula to spread the mixture into the prepared baking dish. Bake for 25-30 minutes or until a toothpick inserted in the center comes out clean.

Cool completely before frosting.

To make the frosting, beat together the cream cheese, butter, powdered sugar, and vanilla in a large mixing bowl until smooth and creamy.

Spread frosting over the cooled bars and serve.

Store in the fridge for up to 5 days.
Nutrition Information:
Serving: 1bar| Calories: 373kcal (19%)| Carbohydrates: 55g (18%)| Protein: 3g (6%)| Fat: 16g (25%)| Saturated Fat: 10g (63%)| Cholesterol: 64mg (21%)| Sodium: 147mg (6%)| Sugar: 42g (47%)