January 5, 2017
Barbecue Mac Grilled Cheese Sandwiches
Y'all want to talk about mean, bad, and horrible things for a minute? Let's start with slow cookers.I know, I know. Y'all love your slow cooker! It's so easy and it's so hands free and you don't even have to think about it.
Except, nope! You totally have to think about it. All day long. As the delicious smells waft from the slow cooker into your home office you think about the slow cooker and what is inside it, and how it will taste, and when you can eat it, and if possibly you could sneak a bite right now, and maybe you should lift the lid just to check on it, and, and, and.
It's evil and bad and I love my slow cooker so much it hurts.
Last night I made the mistake of putting my delicious looking chuck roast in the slow cooker before bed.  The smells, y'all. They kept me up half the night. I drooled like I've never drooled before. The dreams I had were amazing and delicious, but somehow not quite satisfying.
Then I jumped out of bed this morning, shredded the beef, dumped in a bit of BBQ sauce and I gobbled up a few pieces of that delicious meat!
I used my tried and true barbecue beef sandwich recipe as the base for this sandwich. It's easy, it's delicious, and it smells amazing.
Now, you can certainly serve this shredded beef on buns the traditional way, like you would pulled pork. But when you get tired of that? These grilled cheese sandwiches are here to save the day. What makes them so exciting? We took our side of macaroni and cheese and plopped it on some bread with some extra cheese and a helping of meat before grilling it to crispy, crunchy perfection. What a fabulous sandwich! The textures and flavors were amazing.
I'm leaving the recipe pretty general, because you probably don't need 12 sandwiches at once. The amount of beef and macaroni and cheese called for in the recipe will create at least that many sandwiches, though! And on second though, maybe you do need 12 of these.
They're good, y'all.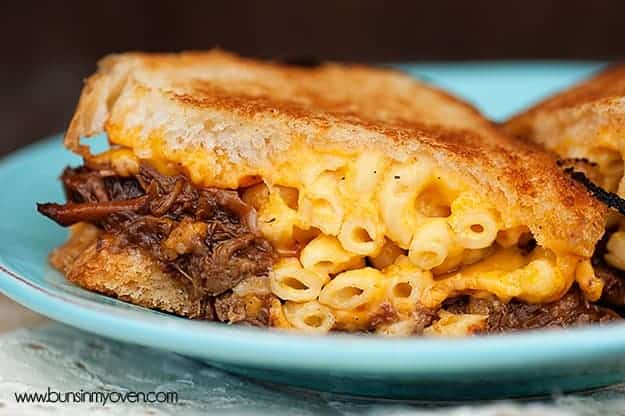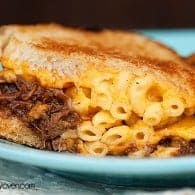 Barbecue Mac Grilled Cheese Sandwiches
Ingredients:
Directions:
Preheat a skillet over medium heat.
Spread butter on one side of each slice of bread.
Place one slice of bread, butter side down, in the skillet.
Top with 1 slice of cheddar cheese, a large spoonful of the shredded beef, another slice of cheddar, a scoop of macaroni and cheese, a third slice of cheddar, and the second piece of bread.
Cook until the bottom piece of bread is crispy and golden. Carefully use a spatula (and your fingers to hold the sandwich together!) to flip. Continue cooking until the bottom slice of bread is cripsy and golden.
Repeat to make as many sandwiches as desired.
Let sit 3 minutes before cutting and serving.
Share this: