January 6, 2013
Pumpkin Muffins with Cream Cheese Filling

Oh, hi. I'm back from my impromptu vacation.
I spent the week at the beach. I ate ridiculous food. I had sand in places that one should never have sand. I almost got eaten by a shark. <— True. Ish.
I also missed you all terribly. I felt guilty all week for not having recipes ready to go for y'all. What kind of slacker blogger am I? How can I expect you guys to survive an entire week without meeeeeeeeee?
Okay, so it looks like you did fine on your own. Nice work.
I'm back, though. With a doozy.
These pumpkin muffins are ridic. They are so moist and full of pumpkin flavor. Oh, and there is this creamy, tangy, sweet cream cheese filling hiding out in the center.
A reader (Hi, Rachael!) asked me on facebook to recreate Starbucks Pumpkin Spice Muffin, but I haven't had a chance to try one yet. I don't know how this compares, but I can only imagine my version knocks their version right out of the water. These are seriously just amazing. Some of the yummiest muffins to ever grace my kitchen.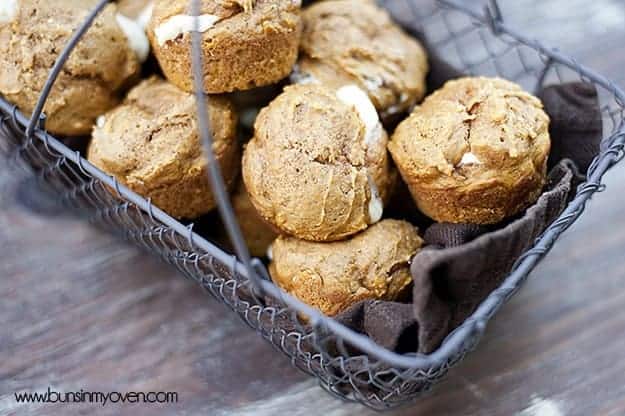 Pumpkin Muffins with Cream Cheese Filling
Ingredients:
For the muffins:
For the muffins:
1/4 cup butter, softened
1/2 cup sugar
1/4 cup packed brown sugar
2/3 cup canned pumpkin
1/2 cup buttermilk
2 eggs
2 cups all-purpose flour
1 teaspoon baking soda
1/2 teaspoon baking powder
1 teaspoon cinnamon
1/4 teaspoon ginger
1/8 teaspoon cloves
1/4 teaspoon salt
For the cream cheese filling:
4 ounces softened cream cheese
2 tablespoons granulated sugar
1 teaspoon vanilla extract
Directions:
Pre-heat oven to 350 degrees.
Cream together butter and sugars until creamy.
Beat in pumpkin, buttermilk, and eggs.
Combine the dry ingredients in a small bowl and mix into the batter. Stir just until combined. Set aside.
Combine the cream cheese, sugar, and vanilla and mix until smooth and creamy.
Grease or line a muffin tin with papers and drop one to two tablespoons of the batter into each muffin cup.
Drop one teaspoon of the filling in each muffin cup.
Add one more tablespoon of batter to each muffin cup to cover the filling.
Bake for 24-27 minutes or until baked through. Cool for 5 minutes before removing to a cooling rack.
Have you entered yet to win the $100 cooking.com gift card? I also a Chuck E. Cheese gift card up for grabs! And, while you're clicking around, be sure to check out my thoughts on keeping your kitchen fresh with GE.
Share this: