December 11, 2013
Chocolate Peanut Butter Candy Bars
I apologize. I just left you all here wondering if I had met my demise in a big vat of melted chocolate. Or perhaps I had eaten one too many slices of bacon and suffered some sort of medical emergency? Or maybe I just ate too many of the goodies found on this blog and gained so much weight that my laptop no longer actually fit on my lap and therefore I could no longer blog.
None of the above were true. I abandoned my blog for good reason though. Our house just recently went on the market, and surprise! People want to come and look at it! And they expect it to be clean! And baking just means I have to hide more dishes in my dishwasher (and, yes, sometimes the oven as well) when people call up and ask to drop by in 30 minutes. My dishwasher is full enough and I didn't have the room for mixing bowls and baking dishes!
The only thing that has come out of my kitchen lately has been, well, piles of dirt after I've swept up the floor for the fifteenth time. Selling a house is hard work and most of that work is done with a broom. I hate brooms. I also hate wood floors. And dirt. I really hate dirt.
(The main reason for all the dirt? This boy. Boys are full of dirt. It's a fact.)
Today I decided that I was going to make a mess in the kitchen and whip up some delicious treats. If a realtor happened to call and ask to see my house I was going to say no. I was going to say my blog is more important than selling this house and I must make these chocolate peanut butter candy bars to share with my blog and please don't make me sweep my floors again today.
Thankfully (I think) nobody was interested in seeing my house today.
These Chocolate Peanut Butter Candy Bars are divine. They are full of (you guessed it!) chocolate and peanut butter (duh!) and also some graham cracker crumbs and ritz crackers. Oh, yes. These little guys are delicious.
Graham cracker crumbs, sugar, milk, and butter melt together on the stove to create the yummy, chewy, sticky, and gooey filling that binds this all together. It's spread over layers of ritz crackers and then topped off with melted chocolate and peanut butter.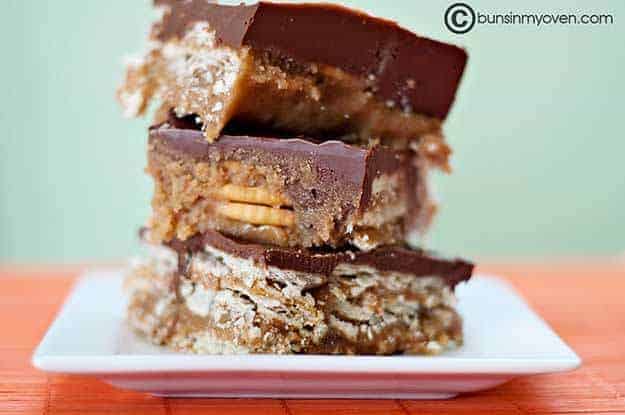 The end result is something amazing. My kids cried when they took their first bites. That might have been because I was shouting something about how if they got one single crumb on the kitchen floor they'd have to lick it up, because so help me, I am not sweeping the floor again for as long as I live! Then again, maybe they were just crying because these bars are so darn delicious. It's hard to say.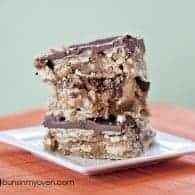 Chocolate Peanut Butter Candy Bars
Ingredients:
1 1/2 cups graham cracker crumbs
1 cup white sugar
3/4 cup packed brown sugar
3/4 cup butter, cubed
1/3 cup milk
2 sleeves Ritz crackers (about 80 crackers)
1 1/2 cups semi-sweet chocolate chips
1 1/4 cups peanut butter
Directions:
In a large saucepan, combine the cracker crumbs, sugars, butter, and milk. Bring to a boil, stirring constantly. Cook and stir for about 5 minutes more.

Grease a 9x13 pan and place a single layer of Ritz crackers along the bottom. Top with half of the graham cracker crumb mixture. Repeat layers once and then top with the remaining Ritz crackers.

In a microwave safe bowl, combine the chocolate chips and peanut butter. Microwave on low, stopping to stir occasionally. Do not over cook or the chocolate will burn. Pour over the crackers and refrigerate until firm. Cut into bars and enjoy!

adapted from Taste Of Home, April/May 2010
Share this: