January 14, 2015
Honey Wheat Bread. It's Good Stuff, Man.
This honey wheat bread makes the perfect sandwich bread!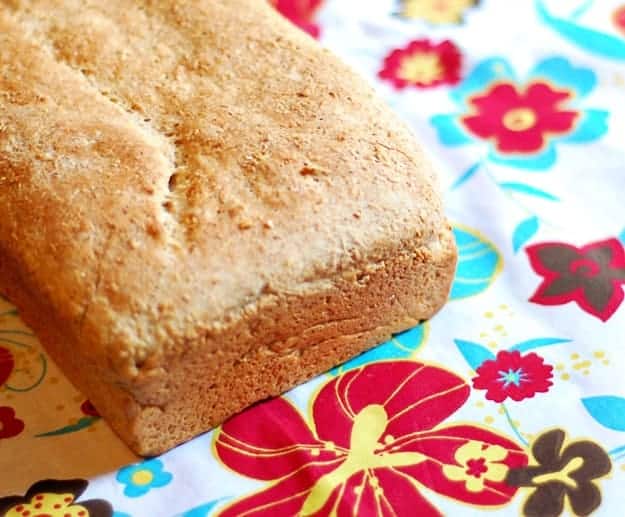 It's kind of odd that I named my blog Buns In My Oven. I don't often make buns or bread or any other delicious yeasty goods. Every time I do, though, I remember. I remember that oh, yes, it absolutely is worth the time and oh, it most certainly is worth the effort. And, who am I kidding here, effort? I put the ingredients in my kitchenaid, attach the dough hook, and flip the switch on. Baking bread is easy! Why don't I do it more?
I don't suppose I'll be allowed to buy sliced sandwich bread that often anymore after letting my son get a taste of this Honey Wheat Bread. He's addicted. Poor thing, only nine years old and already he needs an intervention.
(I'm in a hurry today and didn't take pictures of the actual making of this bread. I promise you didn't miss much.I'm also going to skip the step by step instructions and my general non-stop talking. I know. It's inhumane! It's rude! It's, well, all I have time for today.)
Honey Whole Wheat Bread
Ingredients:
1 cup warm water (around 110 degrees faFahrenheit
2 teaspoons active dry yeast
3 tablespoons honey
3 tablespoons vegetable oil
1 1/2 cups whole wheat flour
1/2 tsp salt
2 cups all purpose flour
Directions:
Dissolve yeast in warm water and add honey. Using the dough hook on your stand mixer (or do this the old fashioned way) stir in the whole wheat flour, vegetable oil and salt. Slowly add in half of the all purpose flour. Knead the dough for a few minutes adding more flour as needed until it all comes together. You may not need to use the entire two cups of all purpose flour (or you may need to use more, depending on The Bread Baking Gods, also known as The Weather.) The dough should form a ball and be slightly sticky to the touch. Place in a greased bowl and allow to rise until doubled, about 60 minutes. Punch down dough and shape into a loaf. Place in well greased 9x5 loaf pan and allow to rise until the dough is about 1 inch above the pan, about 60 minutes. Bake at 375 degrees for 25-30 minutes.
A few notes: I used too large of a pan and mine didn't rise above the edges. It still tasted fine, but didn't look as pretty. I also baked this on a rainy day, which is, apparently, a big no-no in bread baking. Something about the humidity, blah blah science blah. My bread still turned out. Also, when dough needs to rise, I turn my oven on low for a minute or two and then turn it off and stick the dough in the oven to rise. It seems to rise a bit better that way. One last thing: Carbs are yummy. You should eat them as often as possible. Preferably covered with butter.
Share this: