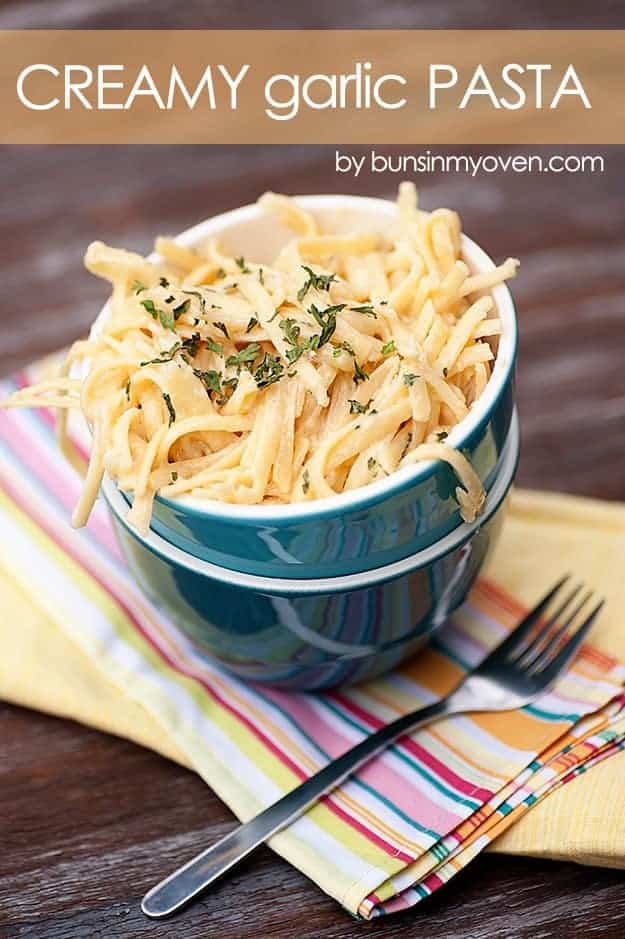 I'm basically physically incapable of resisting a recipe that has the word creamy in the title.
I mean, no. I can not pass it up.
If it's creamy, I will eat it. (Go ahead. Make the that's what she said joke. I deserve it.)
Anyway, I was pinning all the things one day, when I came across this recipe for Creamy Garlic Pasta from The Cheese Pusher and it sounded like a simple, flavorful dinner that would be pretty much perfect for a cheesy, creamy, garlic pasta lover like myself.
So, I made the pasta. Then I stuffed it all in my face. It was fabulous. The flavor is really similar to alfredo, but there aren't nearly so many calories as my standard alfredo sauce. It certainly isn't low calorie fare, but I'm pretty sure that pasta was specifically made to make you hate skinny jeans, so you know. It's cool.
Make this, eat it, live it, love it. That's my motto.
Creamy Garlic Pasta
Yield: 4 servings
Prep Time: 5 minutes
Cook Time: 15 minutes
Total Time: 20 minutes
Ingredients:
2 teaspoons olive oil
2 tablespoons butter
4 cloves garlic, minced
1/4 teaspoon salt
3 cups chicken stock
8 ounces linguine
8 ounces Parmesan cheese, grated
3/4 cup heavy cream
2 tablespoons chopped fresh parsley
Directions:
In a large stock pot, heat the olive oil and butter over medium heat. When the butter has melted, add the garlic and cook until fragrant, about 1 minute.
Add the salt and chicken stock to the pan. Raise the heat to high and bring the stock to a boil.
Break the linguine in half and add it to the chicken stock. Cook according to package directions. (The amount of liquid left in the pot will determine how thick your sauce is. If you'd like it thicker, drain off most of the remaining liquid. I drained out about 1/4 cup.)
Reduce heat to medium and add the cheese to the pasta, stirring to combine. When cheese has melted, remove from the heat and stir in the cream and parsley.