My kiddos love these Valentine's Day treats and I love how easy they are to make. So gooey and full of red and pink candies!
So, I have a mom confession to make.
I'm not much for Valentine's Day. I don't go all out and decorate the entire house in pink hearts. I usually set out a bowl of conversation hearts, buy all the pink and red m&m's, and eat an entire package of Reese's hearts while hiding in the pantry from my children.
As you can see, my entire Valentine's Day experience revolves around candy. As God intended. 😉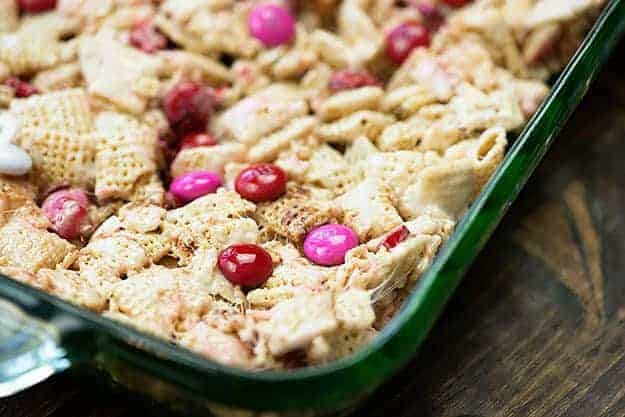 When my kids were younger, we'd make Valentine's Day boxes and I'd spend hours coercing them into signing their name on tiny little cards to pass out to their friends before sending them to bed and just faking their name myself. Big, scribbly handwriting – it's not hard, you guys.

Now that they're older, they both tend to ignore the holiday for the most part. Aside from the Reese's hearts. They always think they're going to find my hiding spot and steal them, but I DON'T MESS AROUND WITH REESE'S HEARTS. They will never find them.
These marshmallow treats are ready in about 20 minutes.
This year, I wanted to up my game a bit, so I made these cereal bars. So easy, so festive, so fun.
These Valentine's Day treats start like Rice Krispies treats, but they are extra fun with Chex cereal. I use rice or corn in these bars. Both work great.
To make marshmallow treats that are nice and soft and chewy, be sure that you don't over cook your marshmallows. Stir them into melted butter over low heat just until they're melted.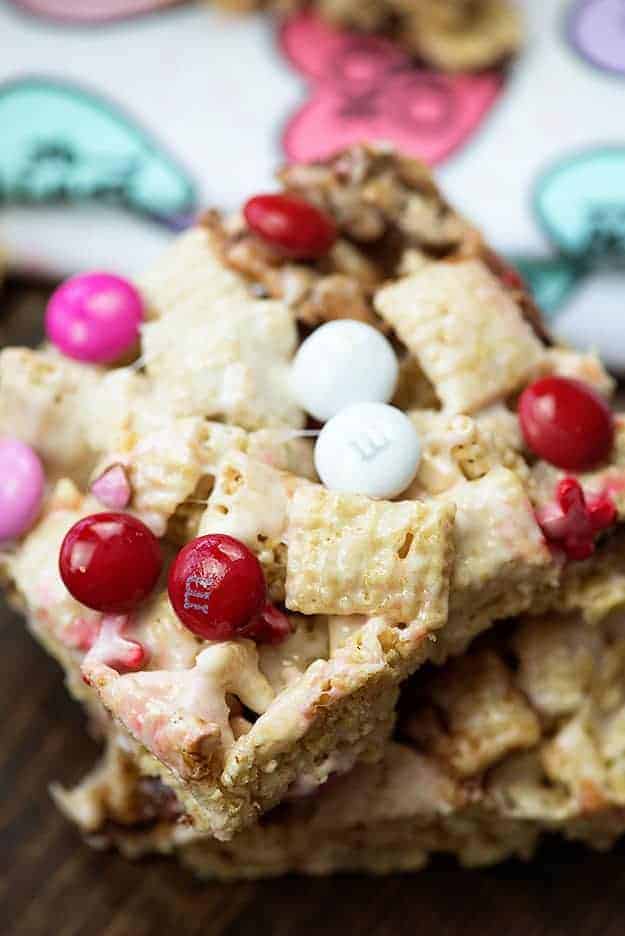 I do online grocery orders and I placed an order for some Valentine's Day sprinkles to add to these treats. I got a pack of weird ones, but I went ahead and tossed them in anyway. They're big chunky xoxoxo's. So cute, but kinda weird for these treats. If you can find red and pink nonparaeils, those would be perfect. Here's some on Amazon.
I love that these cereal bars only take about 10 minutes of hands on time. Let them cool, cut into squares, and devour!
Your kids are going to love these Valentine's Day treats!
For more Valentine's Day treats, try my cookie dough fudge, chocolate covered Peeps, cookies and cream fudge, and red velvet cookies.
I've been thinking about sprinkling some of these red and pink m&m's on my chocolate banana bread recipe, too. Weird?
Valentine's Crunch Bars
These cereal bars are ooey gooey good! The kids love the m&m candies hiding inside the bars and I love how quick these are to prepare.
Prep5 minutes
Cook8 minutes
Total23 minutes
Instructions
Heat a large pot over medium heat. Add the butter and melt.

When the butter has melted, stir in the marshmallows. Continue stirring, until marshmallows have just melted. Remove from the heat.

Stir in the cereal until mostly coated in marshmallows.

Add the sprinkles and most of the m&m candies. Reserve a handful of m&m's for sprinkling over the tops of the bars. Stir the mixture together.

Press the mixture into a greased 9x13 baking dish. Press the remaining m&m's onto the top of the bars.

Let cool 10 minutes before cutting and serving.
Tips & Notes:
You can create these bars for any holiday by switching out the sprinkles and m&m candies with various colors!
Nutrition Information:
Calories: 263kcal (13%)| Carbohydrates: 46g (15%)| Protein: 2g (4%)| Fat: 8g (12%)| Saturated Fat: 5g (31%)| Cholesterol: 12mg (4%)| Sodium: 181mg (8%)| Potassium: 30mg (1%)| Fiber: 1g (4%)| Sugar: 28g (31%)| Vitamin A: 655IU (13%)| Vitamin C: 4.6mg (6%)| Calcium: 71mg (7%)| Iron: 4.8mg (27%)