These stuffed waffle sandwiches are the perfect handheld breakfast! The waffle is made of biscuit dough and stuffed with cheesy scrambled eggs.
I'm pretty excited about this recipe, guys!
I've been on a big waffle kick. Remember my waffled barbecue chicken sandwiches? The best. Cheesy, meaty, and full of barbecue sauce. Like a grilled cheese, but better!
I love how fun it is to cook random things in the waffle iron. Also, I love to just cook plain ol' waffles. I don't want to brag, but I have the very best waffle recipe ever. Seriously, crispy on the outside, fluffy on the inside, waffle perfection. If you haven't tried those waffles yet, you should probably get on it!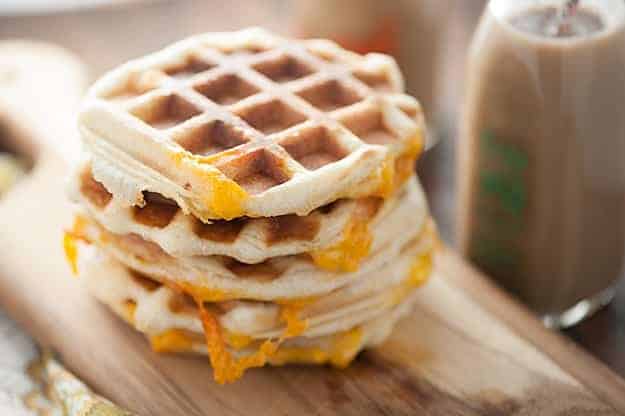 So, I thought it would be fun to make a little brunch recipe using my waffle iron in a weird way. Cuz that's how I roll. (This is the exact waffle iron I use for actual waffles, and this is the type of waffle iron I use for waffling other foods.)
Anyway, I grabbed a tube of biscuit dough, because errbody loves a good biscuit. And then I stuffed it with scrambled eggs, because errbody loves scrambled eggs. I added some cheese and I sealed it up and then I popped it in my waffle iron.
Dudes. Biscuit waffles. They are amazing. It's like this perfect little handheld breakfast sandwich. You could add some crumbled bacon or diced ham, too! And, Lord have mercy, but I really think maybe you should dip these biscuit waffles in my sausage gravy.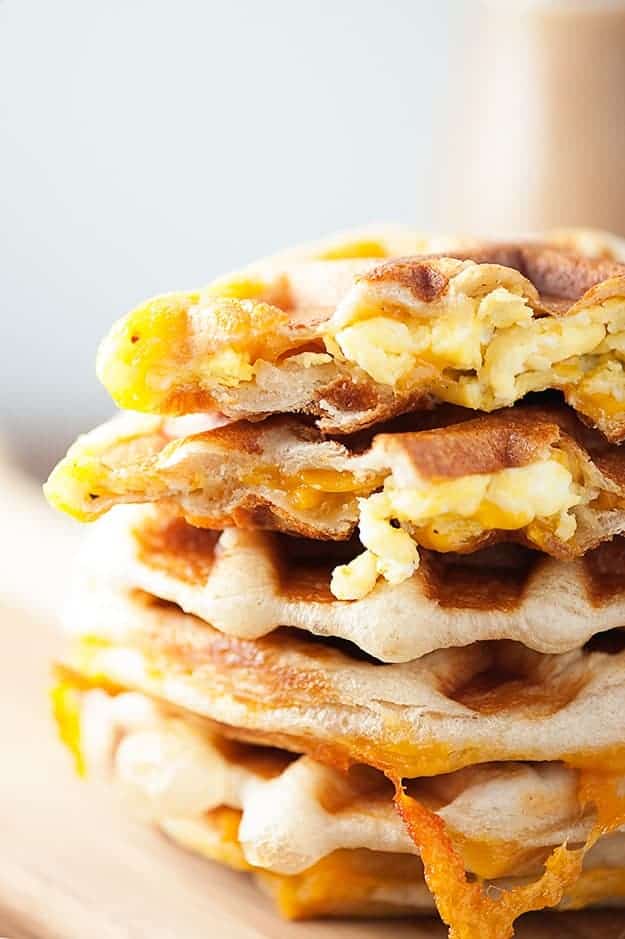 My kids were super excited about these little savory breakfast or brunch sandwiches. And how fun would they be to serve at your next brunch get-together?
I've been working with Davidson's Safest Choice Eggs for a couple of years now and I used them for this recipe. I always have them in my fridge, because they're pasteurized which means that I don't need to worry about eating them raw. I'm not one to just eat raw eggs on the regular, but I absolutely admit to sneaking cookie dough or cake batter every now and then. It's nice to not worry about the eggs when that happens. They're also great for runny eggs at breakfast time! Love them.
Stuffed Biscuit Waffles
These stuffed waffle sandwiches are the perfect handheld breakfast! The waffle is made of biscuit dough and stuffed with cheesy scrambled eggs.

Prep10 minutes
Cook15 minutes
Total25 minutes
Ingredients
3 large eggs
1 tablespoon milk
1/4 cup shredded cheddar cheese
1 tube refrigerated biscuit dough
Salt and pepper to taste
Instructions
Heat a medium non-stick skillet over medium low heat.

Crack the eggs into a medium bowl and whisk together with the milk.

Scramble the eggs until just slightly wet. Stir in the cheese and remove from the heat.

Heat the waffle iron and spray with non-stick cooking spray.

Butterfly each biscuit by running a sharp knife through the middle of the biscuit just to the other side. Do not fully split the biscuit in half.

Stuff the biscuits with the eggs and press the edges to seal the eggs inside.

Place a biscuit in the waffle iron and gently close the lid. Don't press it fully closed. Let cook for one minute.

After one minute, fully close the waffle iron and continue cooking for two more minutes.

Remove from the waffle iron and continue cooking the remaining biscuits.
Nutrition Information:
Calories: 252kcal (13%)| Carbohydrates: 28g (9%)| Protein: 6g (12%)| Fat: 12g (18%)| Saturated Fat: 2g (13%)| Cholesterol: 74mg (25%)| Sodium: 593mg (26%)| Potassium: 155mg (4%)| Sugar: 2g (2%)| Vitamin A: 135IU (3%)| Calcium: 66mg (7%)| Iron: 2.3mg (13%)