Our Steak Chili recipe uses chunks of steak in place of the traditional ground beef, making for a bold, hearty chili that packs a rich flavor! We like to top this steak chili with shredded cheddar and a dollop of sour cream.
We love a big, bold chili in this house and this steak chili is just the ticket!
Rather than loading it up with crumbled ground beef, we sear off chunks of steak (or chuck roast, for a more economical version), load up the chipotle peppers, veggies, and beans, and turn this into a hearty, rich chili that is packed with beef!
Making chili from scratch can seem a little intimidating and I've certainly been known to use the packets of chili seasoning (in fact, people RAVE about my chili when I make it that way, haha). This steak chili is so simple though and the extra bit of effort is so worth it!
One of my favorite things about this chili is the addition of chipotle peppers. They add such a depth of flavor, along with some spice. I've made this with two peppers and I must be a wimp because it was too spicy for us. We now use just one – but you can adjust to suit your tastes!
You'll want to serve this up with our sweet cornbread or jalapeno cheddar cornbread for the ultimate cozy dinner on a cold night.
Ingredient Notes:
This post contains affiliate links. As an Amazon associate and member of other qualifying programs, I earn from qualifying purchases.
Chuck Roast – It's hard to beat chuck roast when it comes to great beefy flavor! It's a bit more economical than ribeye or sirloin steak, but those will also work well for this recipe. Use whatever cut of beef you prefer.
Seasoning – You'll need some kosher salt and pepper for seasoning the beef. For the chili mix ingredients, you'll need chili powder, smoked paprika, cumin, and oregano.
Garlic & Onion – They'll add lots of flavor to this homemade steak chili recipe!
Chipotle Pepper – We add in some minced chipotle pepper in adobo sauce to add some spicy heat to the chili. You'll find this in a can near the Hispanic foods at most grocery stores.
Tomato Paste – This is basically super concentrated tomato flavor! A little bit goes a long way. Plus, you'll be adding crushed tomatoes.
Crushed Tomatoes – A 28 ounce can of crushed tomatoes is going to add even more oomph to this steak chili recipe!
Beef Broth – The broth will make up most of the liquid in the chili and it'll add even more beefy flavor to the dish.
Beer – I use whatever beer my husband happens to have on hand, or skip it and add an extra cup of beef broth. The bitter flavor in the beer works well in chili. It's a lot like adding coffee or even unsweetened cocoa powder.
Sugar – This will go in with the broth and beer to help balance out the flavors a bit.
Kidney Beans – You could prepare some dried beans if you want but I'd keep things easy and just stick to a can of kidney beans! For extra beans, add in a can of pinto beans too!
Toppings – Don't forget to top your chili off before serving! We like cheddar cheese, jalapenos, green or red onions, sour cream, and saltine crackers. Some Fritos are also a great choice for mixing with chili!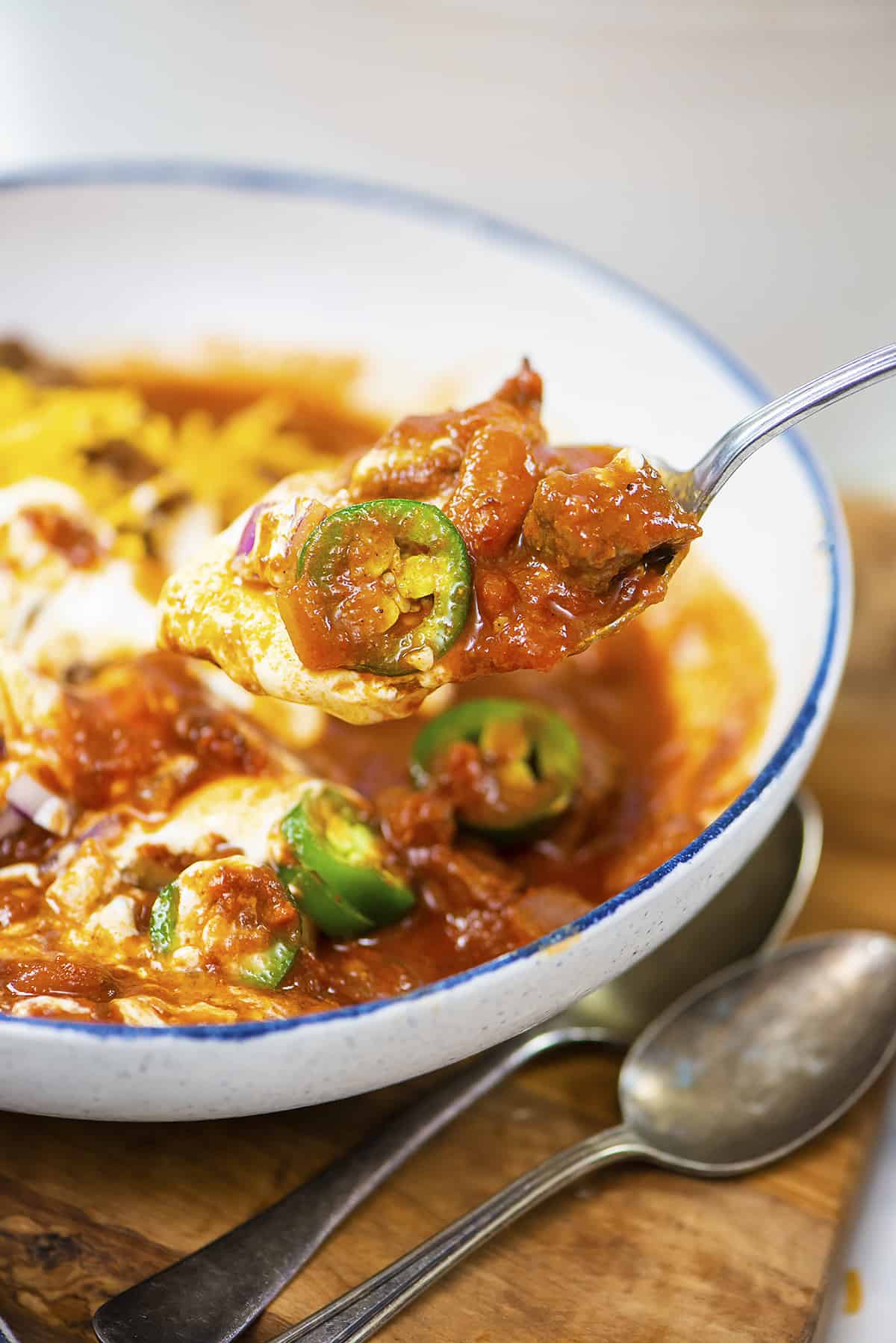 What Readers are Saying!
"I made this last night and it was fantastic. I'm not sure where all this talk about hot is coming from; I put two chipotle peppers in and it was fine. I guess it is all a matter of taste." – Tom
What We Love About This Recipe:
Steak chili is a great way to switch things up from the usual ground beef chili. It's got even more beefy goodness!
We keep this chili pretty simple and classic with steak, chili, beans, onion, pepper, and tomatoes but you can easily modify it by adding or swapping in other veggies or chili ingredients!
This is perfect on a cold night or for a large gathering. Serve this up with a variety of toppings and you've got some happy campers.
How To Make Steak Chili:
Prepare: Trim the fat from the chuck roast, dice it up, season with salt and pepper, and sear it in some oil in your favorite Dutch oven. We're not cooking the beef through, just getting some color on it.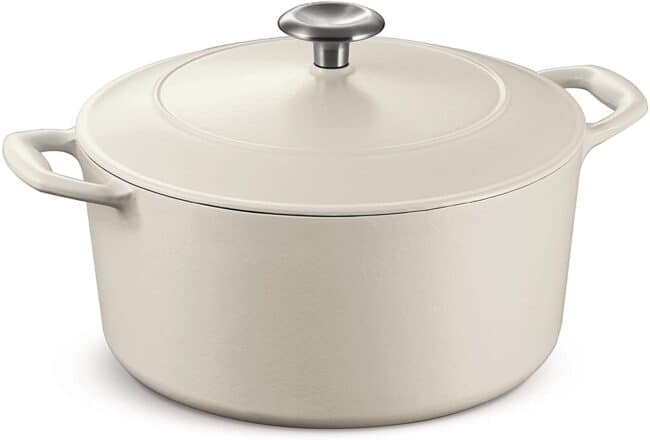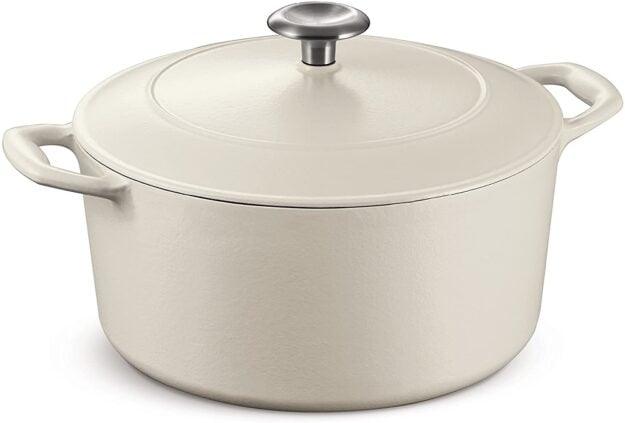 This gorgeous Dutch oven is perfect for making soup, pot roast, and more. It goes from stove to oven as needed and looks pretty enough to leave out on your stovetop as decoration.
Veggies & Seasonings: Remove the beef from the Dutch oven and add some more oil. Saute the onions and garlic and then stir in the chipotle pepper and tomato paste. Let those cook for a couple of minutes and then stir in the chili powder, paprika, cumin, and oregano. Let the spices toast a bit – they'll get nice and fragrant.
Chili Seasoning: You can now stir in the chili powder, smoked paprika, cumin, and oregano. Let it cook for another minute or so.
Broth: You can now return the browned chuck roast to the pot, and then pour in the beef broth, your choice of beer, and the can of crushed tomatoes. Add in the sugar and stir all that up until well combined!
Simmer: Bring the chili to a boil and then reduce the heat to a simmer. Cover the pot and cook at a low simmer for 1.5 hours before removing the lid and cooking uncovered for 30 more minutes. Stir in the drained and rinsed beans and let things cook for another 5 minutes and then dig in!
Beans: Drain and rinse the can of kidney beans and pour them into the pot. Stir it up and let it cook for 5 more minutes to warm up the beans.
Serve: When you've finished preparing the steak chili serve it up while it's good and hot, and don't forget all the chili toppings!
What are good toppings for chili?
Nothing beats a hot bowl of chili and a huge variety of toppings! We like to load ours up! Here are a few favorites:
Shredded Cheddar
Sour Cream
Sliced Jalapenos
Diced Red Onion
Diced Green Onion
Fritos
Saltines or Oyster Crackers
Crumbled Tortilla Chips
Cilantro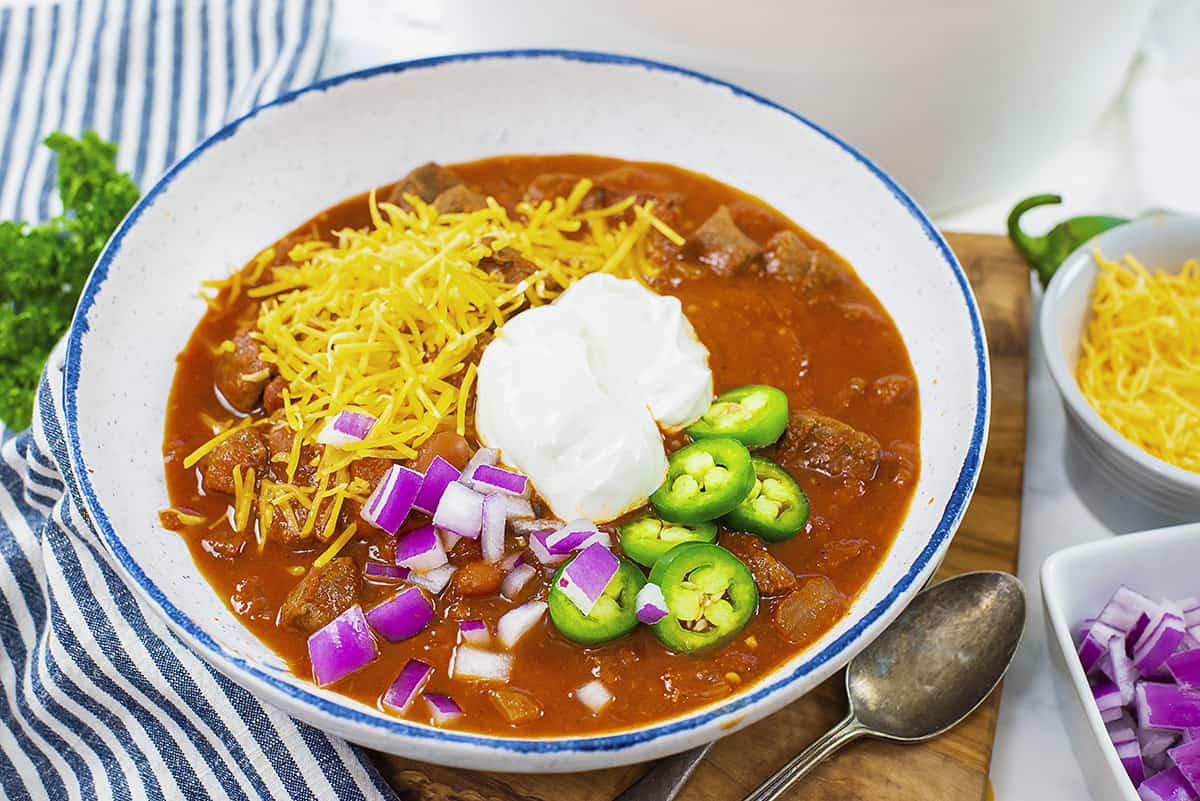 FAQs:
How to store steak chili?
You can keep this chili stored much like any other chili recipe! It'll last for at least 3 to 4 days if well covered in the refrigerator. Heat it up on the stove.
Can you freeze steak chili?
Yep! This will freeze as well as any other chili recipe does. Let it cool completely before transferring to a freezer safe zip top bag or container. Chili should last for at least 3 months when frozen.
What kind of beans are best for chili?
We use kidney beans in our chili, but pinto beans are also very good!
How can chili be thickened?
We let our chili cook covered until the beef is tender and then we remove the lid and continue simmer to thicken it up. The longer the chili simmers, the thicker it will get as the liquids evaporate.
MORE HOMEMADE CHILI RECIPES!
Steak Chili
Steak chili is rich and hearty, perfect for serving up to friends and family on a cold night!
Prep20 minutes
Cook3 hours
Total3 hours 20 minutes
Ingredients
2 pounds chuck roast see notes
1 teaspoon kosher salt
1 teaspoon cracked pepper
2 tablespoons vegetable oil divided
1 large onion chopped
4 cloves garlic minced
1 chipotle pepper in adobo sauce minced
6 ounces tomato paste
3 tablespoons chili powder
2 tablespoons smoked paprika
2 tablespoons cumin
1 tablespoon oregano
28 ounces crushed tomatoes
2 cups beef broth
1 cup beer see notes
2 teaspoons sugar
14 ounces canned kidney beans drained and rinsed
Cheddar jalapeno, green or red onion, and sour cream, for topping
Instructions
Trim the fat from the roast and dice into small, bite-sized cubes. Season with salt and pepper.

Add 1 tablespoon of oil to a large dutch oven over medium heat. Once hot, add the beef, working in batches as needed, and sear. Once the beef is browned on the outside but not cooked through, remove to a plate.

Add the remaining tablespoon of oil to the pot. Once hot, add the onion and cook for 5 minutes, until softened. Stir in the garlic and cook for 30 seconds.

Add the chipotle pepper and tomato paste and stir to combine. Let cook for 2-3 minutes and then stir in the chili powder, paprika, cumin, and oregano. Cook for 1 minute more.

Return the beef to the pot and top with the tomatoes, beef broth, beer, and sugar. Stir to combine.

Bring to a boil, reduce to a simmer, and cook at a low simmer, covered, for 1 ½ hours. Remove the lid and continue cooking for 30 minutes.

Drain and rinse the beans and add to the pot. Cook for 5 minutes to warm.

Taste and season with additional salt, if needed.

Serve hot, topped with cheddar, jalapeno slices, onion, and sour cream.
Tips & Notes:
Beef: We're using chuck roast as it's a bit more economical, but you can use any cut of steak that you like, such as sirloin or ribeye.
Spice Level: We don't like super spicy food, so we keep it to just one chipotle pepper. It has a little kick without being at all overwhelming. You can add more if you like a spicier chili or stir in ground cayenne.
Beer: I use whatever beer my husband happens to have on hand, but you can also just skip the beer and add an extra cup of beef broth.
Beans: My family is pretty on the fence about beans, so I kept it to just one can of kidney beans. If you like chili that is heavy on the beans, stir in an extra can. Pinto beans are delicious in chili too!
Toppings: Fritos, tortilla chips, crackers, cheese, sour cream, peppers, onions, and whatever else you can dream up is likely tasty on your chili! Crumbled cornbread is a good addition too!
Nutrition Information:
Serving: 1bowl| Calories: 301kcal (15%)| Carbohydrates: 21g (7%)| Protein: 23g (46%)| Fat: 15g (23%)| Saturated Fat: 5g (31%)| Polyunsaturated Fat: 2g| Monounsaturated Fat: 7g| Trans Fat: 1g| Cholesterol: 63mg (21%)| Sodium: 870mg (38%)| Potassium: 978mg (28%)| Fiber: 6g (25%)| Sugar: 8g (9%)| Vitamin A: 1868IU (37%)| Vitamin C: 13mg (16%)| Calcium: 101mg (10%)| Iron: 6mg (33%)
This recipe was originally published in March 2011. It was updated February 2023.