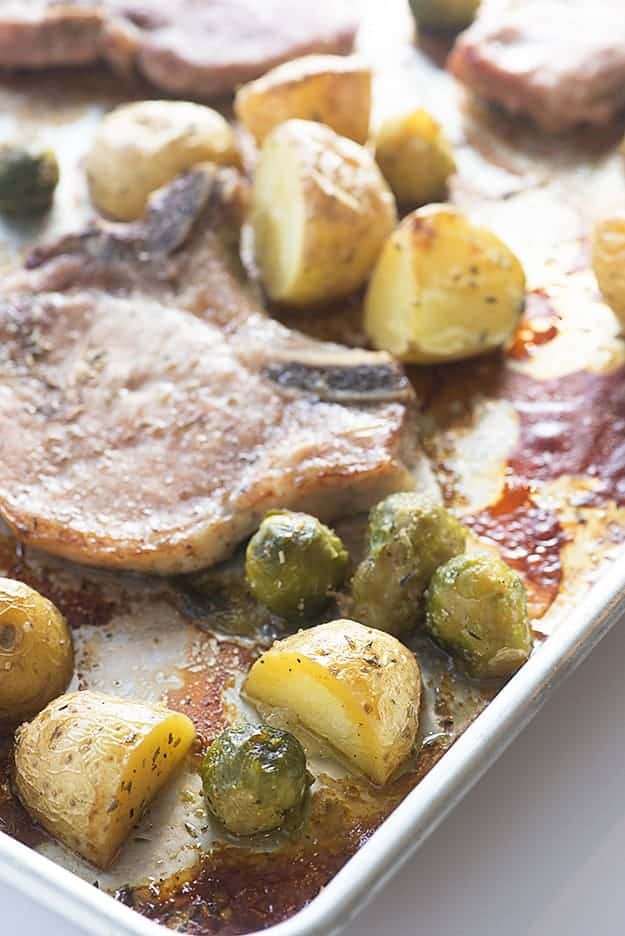 Happy Monday, y'all!
So, let me tell you a story about last week.
It involved 4 huge pieces of furniture that I ordered online being delivered to my front porch, completely blocking the front entrance to my house, a call to the police after having my son's car window shot out with a BB gun while being parked in our driveway, and watching the movie Annabelle and basically being nervous about my daughter possibly bleeding on one of her many dolls by accident.
It was a stressful week.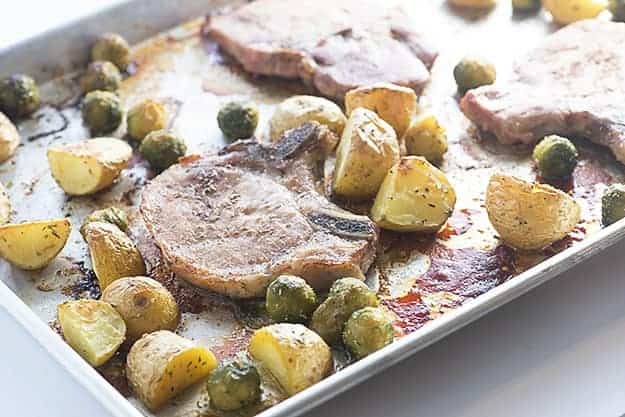 My husband was out of town, so it was up to the son and I to haul the furniture into the house. We're putting a home theater in the basement, so they were theater chairs and, while they weren't terribly heavy, they were terribly large and difficult to maneuver. Then they sat in my foyer until Friday, waiting for my husband to get home and do something with them.
My husband was out of town, so it was up to me to call the insurance company and deal with the police over the vandalism of my son's car. Which, really, was actually super quick and painless, but why would someone shoot out a car window just for fun? The police said that a few months ago they had between 100-200 incidents of this. Like, what? People need to get a life.
My husband was out of town when I watched Annabelle, so I had to survive that on my own. Luckily, I had a couple friends over to watch it with me – we do this scary movie girls' night thing and it's so fun! Then the husband came home about 15 minutes after the movie ended, so I was able to sleep. But still. My daughter is a crafter, so she has exacto knives and scissors all up in her craft room, which just so happens to be right next to her bedroom where she stores all of the dolls. What if one day she cuts herself and then bleeds into a doll's eyeball? If you haven't seen the movie Annabelle, that probably doesn't concern you much. If you have seen the movie, you understand my terror.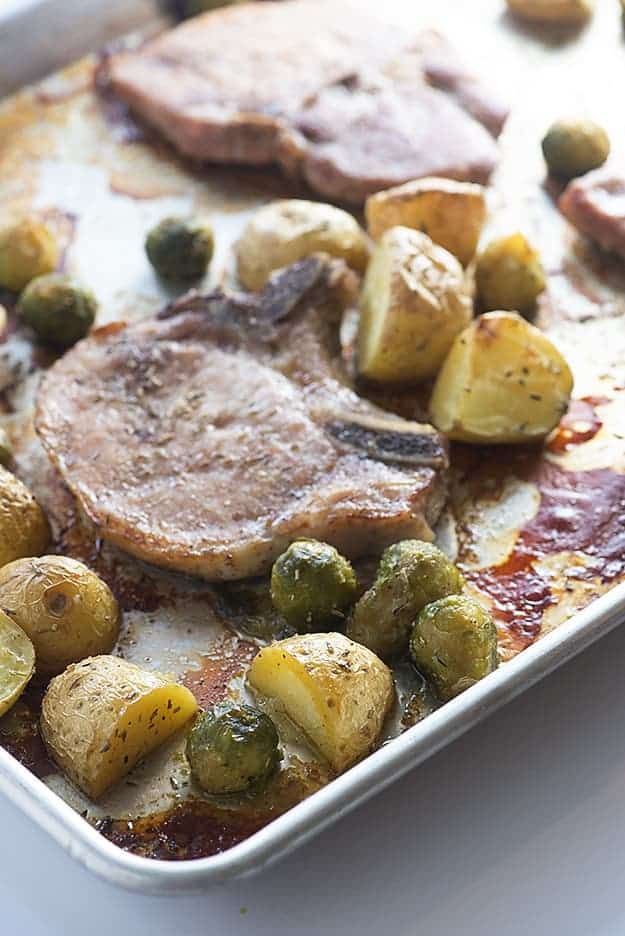 Anyway, let's talk about food. That's what y'all really came here for right?
I have a tasty little sheet pan dinner for you today. I'm all about the easy dinners and this one is perfect for fall! I used frozen Brussels sprouts, because that was all I could find when I made this, but fresh are even better! Do whatever works for you though.
You can also swap in carrots for the Brussels sprouts, if you think your kids will freak at the site of the green things. Mine definitely prefer carrots, but it's my job to ruin their lives, so Brussels sprouts for days, my darlings.
Enjoy!
Sheet Pan Pork Chops, Potatoes, and Brussels Sprouts
This simple one dish dinner is the perfect way to get dinner on the table in a hurry!
Prep10 minutes
Cook35 minutes
Total45 minutes
Ingredients
4 center cut pork chops about 3/4 inch thick
1 pound baby Dutch yellow potatoes
2 cups Brussels sprouts fresh or frozen
1/4 cup olive oil divided
1 tablespoon Italian seasoning
1 tablespoon garlic salt
1 teaspoon pepper
Instructions
Preheat oven to 400 degrees. Line a large baking sheet with foil or spray with non-stick cooking spray.

Rub two tablespoons of olive oil on the four pork chops to coat.

Toss the potatoes and Brussels sprouts with remaining two tablespoons of oil.

Add the Italian seasoning, garlic salt, and pepper to a small bowl and stir to combine.

Sprinkle half of the seasoning mixture over the pork chops.

Sprinkle remaining seasoning over the vegetables and toss to coat.

Place pork chops on prepared baking sheet and arrange vegetables around them.

Bake for 15 minutes. Flip pork chops over and bake for 20 more minutes.
Nutrition Information:
Calories: 576kcal (29%)| Carbohydrates: 26g (9%)| Protein: 46g (92%)| Fat: 32g (49%)| Saturated Fat: 8g (50%)| Cholesterol: 137mg (46%)| Sodium: 129mg (6%)| Fiber: 5g (21%)| Sugar: 2g (2%)