This donut hole recipe is baked instead of fried! Pumpkin donut holes are the perfect Fall treat!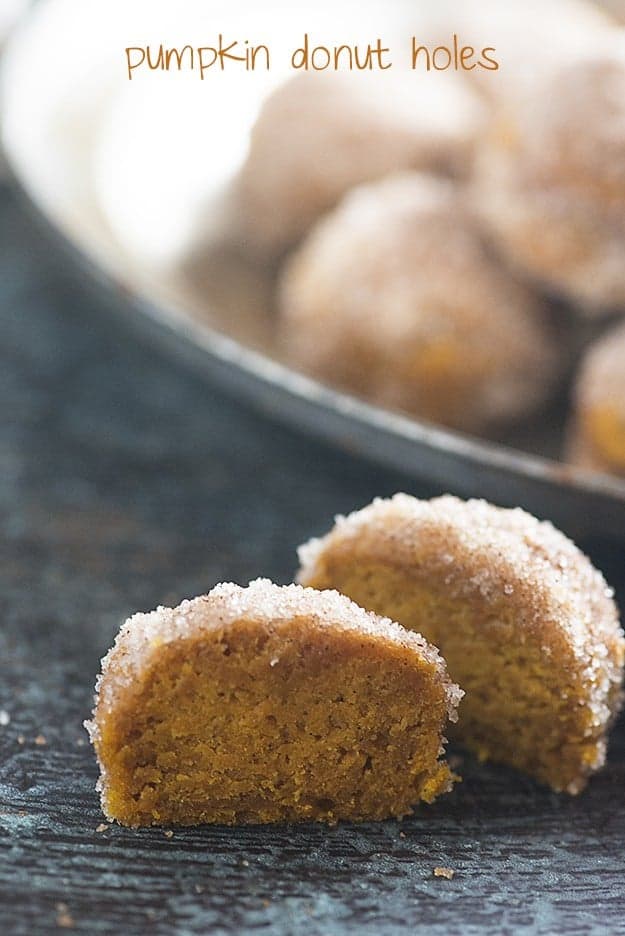 Please, nobody throw things at me.
I know it's still August, but I can not hold out another minute in the pumpkin department. I've been working on pumpkin recipes for a month now to be prepared for you guys this Fall, and I'm sorry. These are so good, I could not keep them from you another second. It would have been wrong.
I'm a total sucker for pumpkin donuts and pumpkin muffins, but I wanted to do something a little different this time around. I made baked donut holes instead!
These are a cross between a donut and a muffin and they are so divine.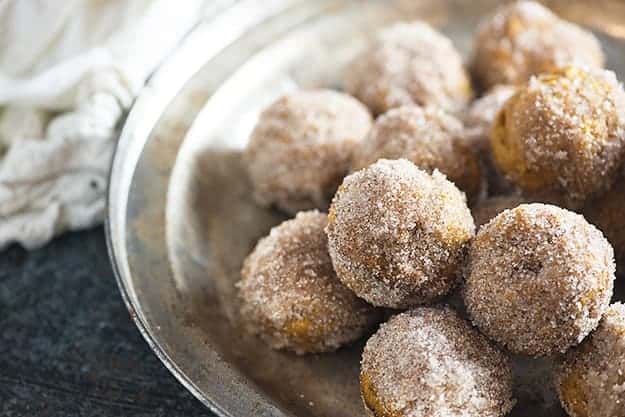 Please, don't expect something light and fluffy from these guys. I packed in as much pumpkin as I possibly could so that these would be dense and rich and fudgy. I like my pumpkin goods to remind me of pumpkin pie in both taste and texture!
Speaking of baked goods that are packed with pumpkin, please tell me that you've tried my pumpkin coffee cake. It has two full cans of pumpkin, a swirl of cinnamon sugar, and it's topped with a crunchy streusel topping. It's by far my most favorite pumpkin treat and the recipe I'm most proud of creating.
Anyway, back to these little pumpkin donuts. They're baked instead of fried, because I know how much y'all hate frying things. I just bake these in a mini muffin tin to keep them small like donut holes. You can definitely use a regular muffin tin and call these muffins, but adjust your bake time as needed.
Don't be freaked out by the fact that the entire donut hole gets bathed in a bowl of melted butter. It is divine. Be sure to use salted butter for that step, because the saltiness paired with the cinnamon sugar coating is outrageous.
The rich butter paired with the slightly crunchy cinnamon sugar topping gives these the taste of a fried donut. You're going to love this recipe! You can also try my applesauce donut muffins, if you're not quite ready to jump on the pumpkin train.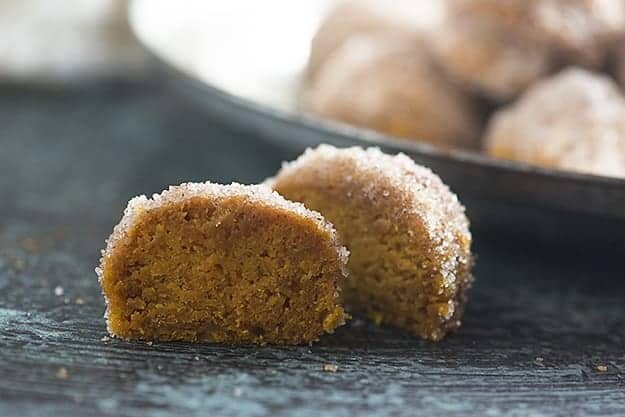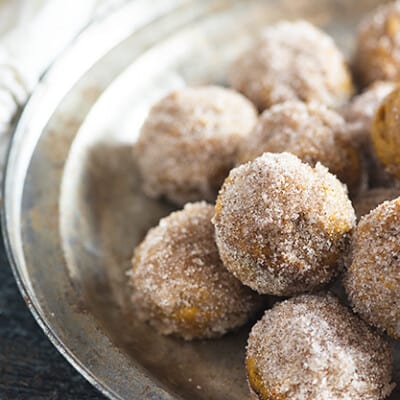 Pumpkin Donut Holes
Pumpkin donut holes that are baked instead of fried! These are crispy on the outside and so perfect on the inside.
Prep10 minutes
Cook17 minutes
Total27 minutes
Ingredients
1 cup softened butter divided
1 cup white sugar divided
1/2 cup brown sugar
1 egg
1 teaspoon vanilla
15 ounces pumpkin puree
2 cups flour
1/2 teaspoon baking soda
3 teaspoons ground cinnamon divided
1/2 teaspoon ground nutmeg
Instructions
Preheat oven to 350 degrees. Spray a mini muffin tin with non-stick cooking spray.

In the bowl of a stand mixer, beat together 1/2 cup of butter, 1/2 cup white sugar, and brown sugar until light and fluffy. Beat in the egg, vanilla, and pumpkin until well combined.

Gradually stir in the flour, baking soda, 2 teaspoons of cinnamon and nutmeg.

Fill the muffin wells 2/3 full. Bake for 17 minutes or until a toothpick inserted in the center of a muffin comes out mostly clean. Do not overbake these as you're looking for a fudgy center.

Let cool for 10 minutes before removing the muffins from the tin.

Melt the remaining 1/2 cup of butter in a small bowl.

Stir together the remaining 1/2 cup of sugar and teaspoon of cinnamon and place in a second small bowl.

Dunk each muffin in the butter and then roll in the cinnamon sugar mixture to coat.
Nutrition Information:
Calories: 128kcal (6%)| Carbohydrates: 17g (6%)| Protein: 1g (2%)| Fat: 6g (9%)| Saturated Fat: 4g (25%)| Cholesterol: 22mg (7%)| Sodium: 26mg (1%)| Fiber: 1g (4%)| Sugar: 10g (11%)