Our Better Than Sex Cake is a sweet, ultra moist, extra easy cake that everyone raves about! This irresistible cake starts with a box of devil's food cake mix to keep dessert quick and painless.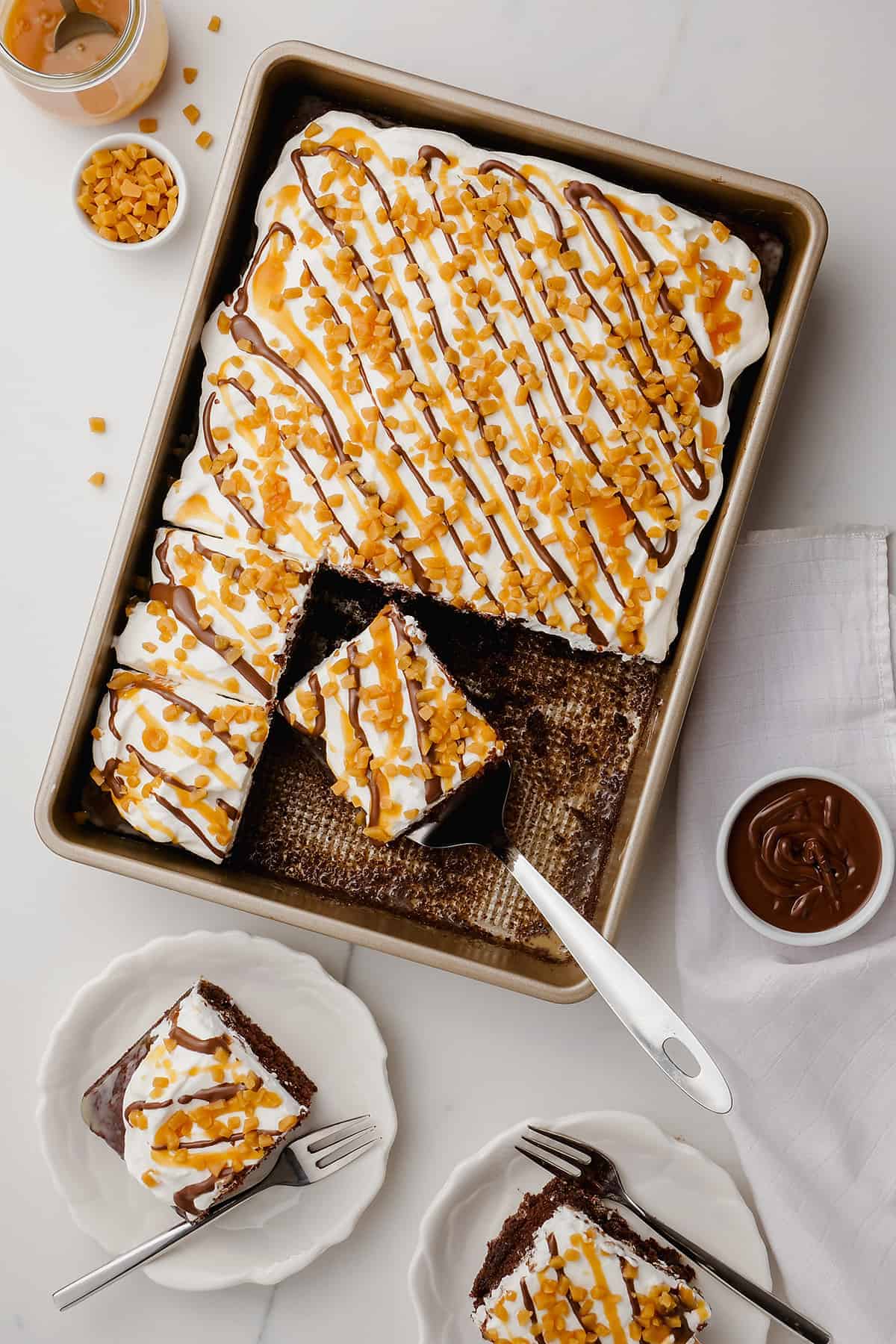 My first job was in a small family-owned restaurant where they served up some tasty desserts.
One of the more popular cakes was quilt cake. I'd never heard of quilt cake before, but I was sure to give it a try.
Y'all, it was just Better Than Sex Cake going by another, more family-friendly, name.
Ever had Better Than Sex Cake? It's a single layer chocolate cake that's filled with a mixture of caramel and sweetened condensed milk. Instead of frosting, it's topped off with whipped topping, toffee bits, and caramel and chocolate syrup.
This one is beyond easy to make, but it's so decadent and delicious!
The cake is super moist, with loads of sweet chocolate and caramel throughout.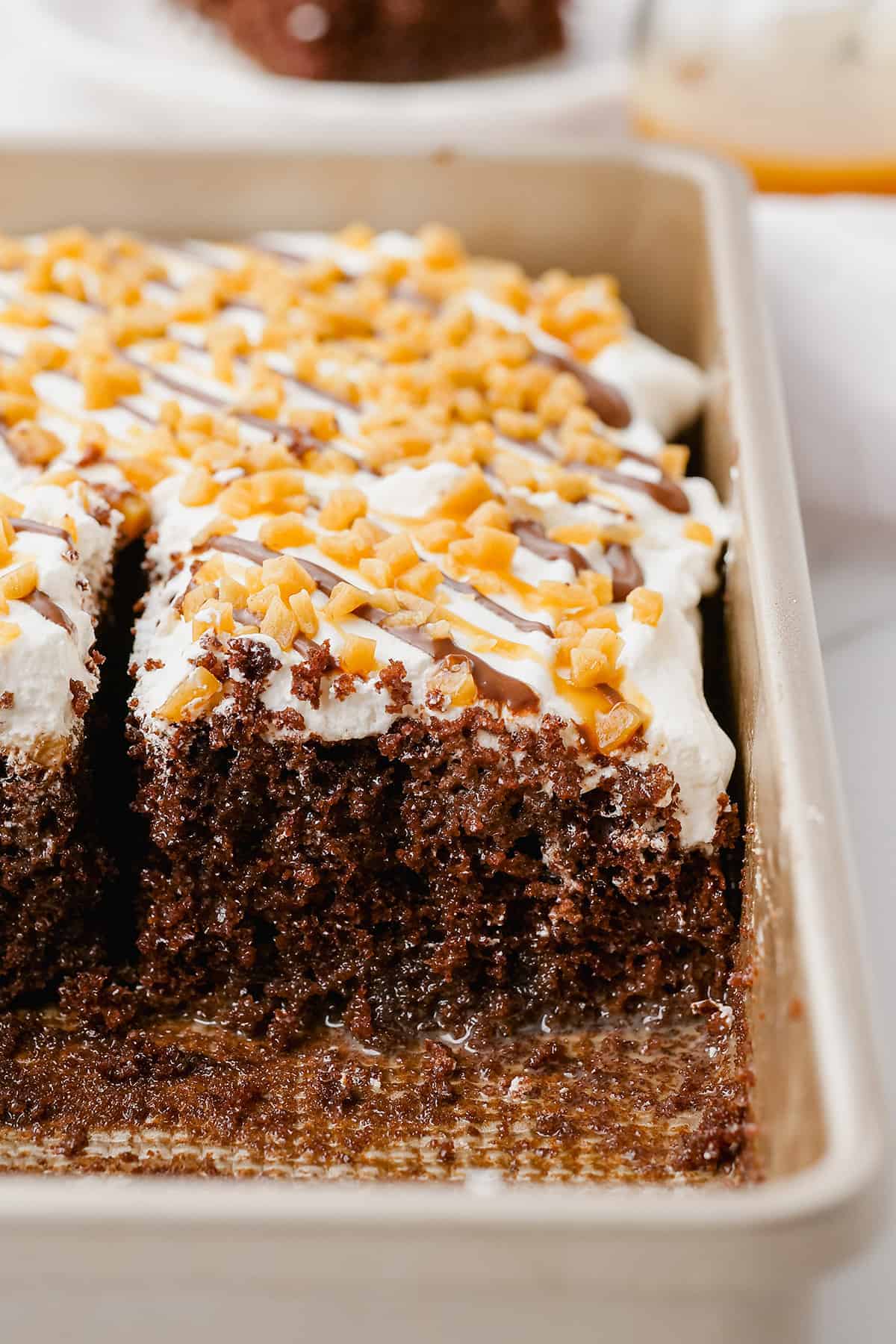 What's with the name?
Look, I'm not here to argue if this cake really is better than sex, because I have a feeling that this is going to be pretty dependent on your own personal situation. 😉
But, that's what it's called and who am I to change the name of a classic dessert that has been around for ages?
Not a fan of the name? It also goes by Better Than Robert Redford Cake, Better Than Anything Cake, Better Than You Know What Cake, and Better Than Best Cake…and of course, I saw it called Quilt Cake at the restaurant I used to work at.
Pick a name and give this one a try – it's delicious no matter what you all it.
Ingredients: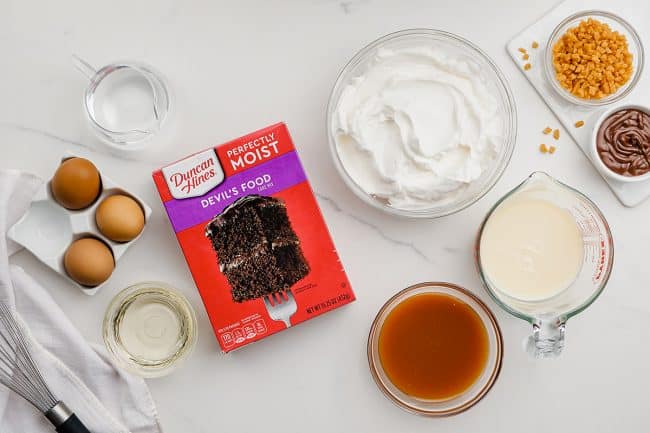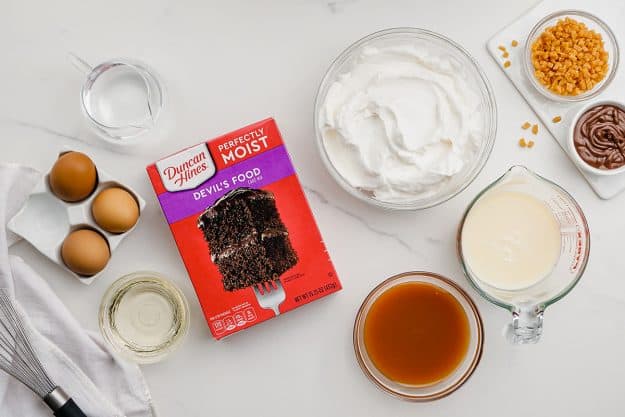 Devil's Food Cake Mix – You could use any chocolate cake mix here, but we like Devil's Food because it's richer, darker, and fluffier than regular chocolate cake. Yes, there is a difference! 🙂
Sweetened Condensed Milk – This is a thick, sweet milk that you'll find in a can in the baking section.
Caramel Sauce – We use a jar of caramel ice cream topping.
Frozen Whipped Topping (Thawed) – I suppose you could make your own whipped cream, but we're not afraid of a little Cool Whip in our house!
Chocolate Syrup
Toffee Bits – Plain old toffee bits are great here, but you could also use the chocolate covered bits.
What We Love About This Recipe:
Not only is this quick and easy to make (just 6 ingredients!), everyone raves about it. The cake is so moist, thanks to the caramel sauce and condensed milk soaking into it. The 'frosting' couldn't be simpler and it's the perfect finishing touch on this decadent cake.
How to Make:
Cake: Grab your favorite box of cake mix from the store and follow the instructions on the box, baking in a 9×13 pan.
When the cake has finished baking, immediately poke holes in it using the handle of a wooden spoon or skewer or something similar.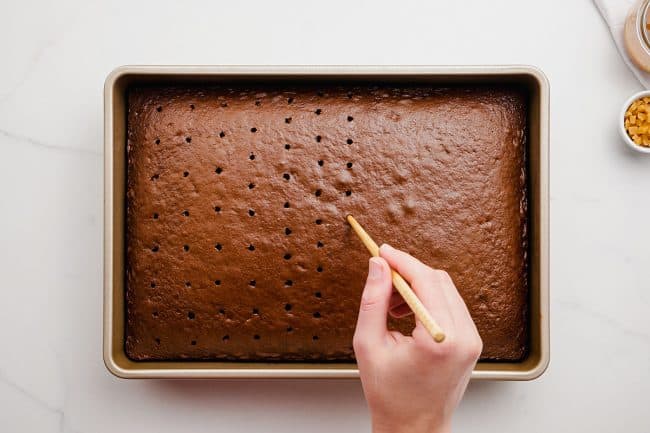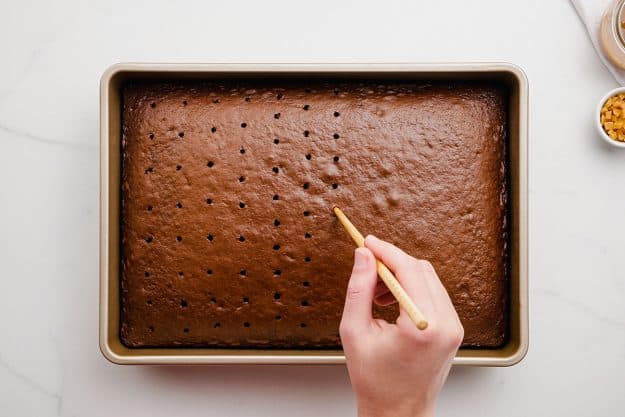 Mix: In a mixing bowl, add the sweetened condensed milk and the caramel ice cream topping and whisk until they are well combined. This tasty mixture is then going to be drizzled evenly over the cake, letting it get soaked up into the holes that you created.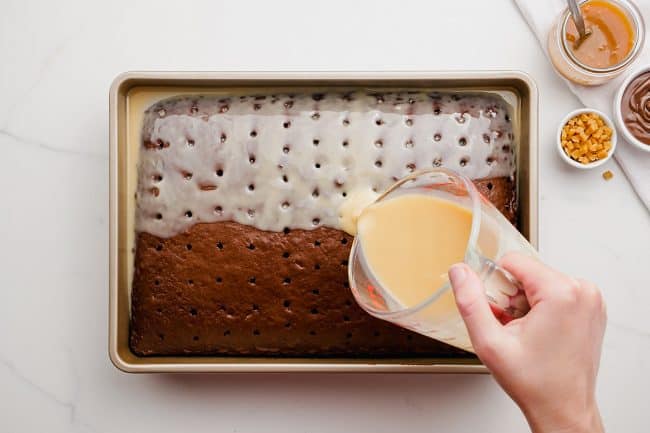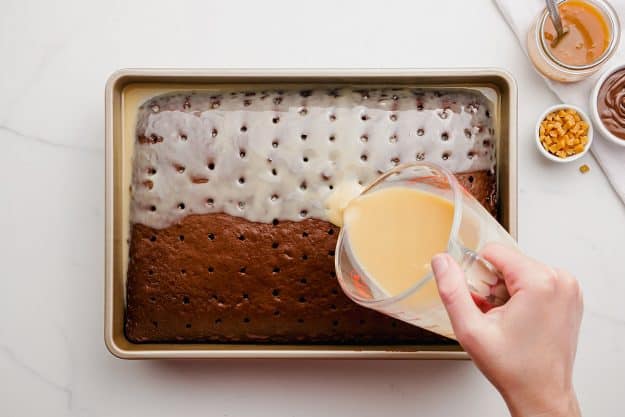 Top: This cake needs a little time to chill, so let it cool completely before moving it to the refrigerator and allowing it to set for at least an hour.

Once the cake has chilled, top it with the thawed whipped topping and drizzle on plenty of caramel sauce and chocolate syrup before finally topping with the toffee bits and serving!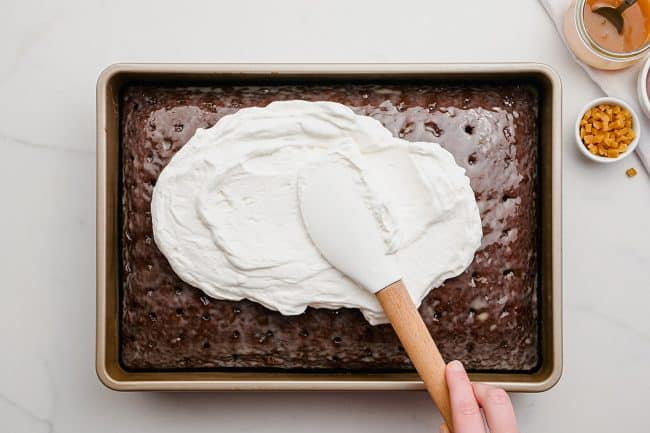 Helpful Tip!
We used plain toffee bits here, but Heath bits work just as well. The only difference is they have a chocolate coating around the toffee.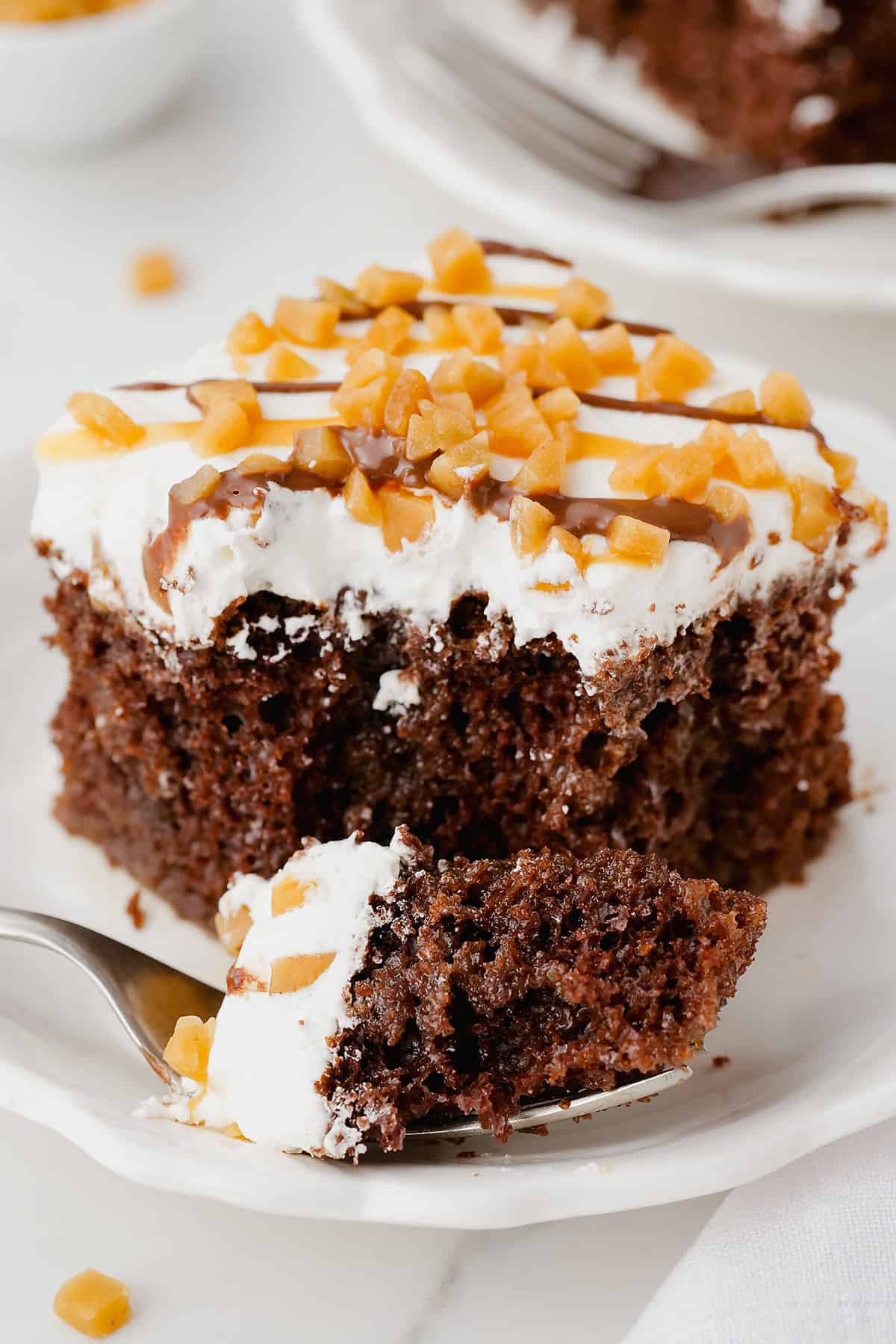 more cake recipes!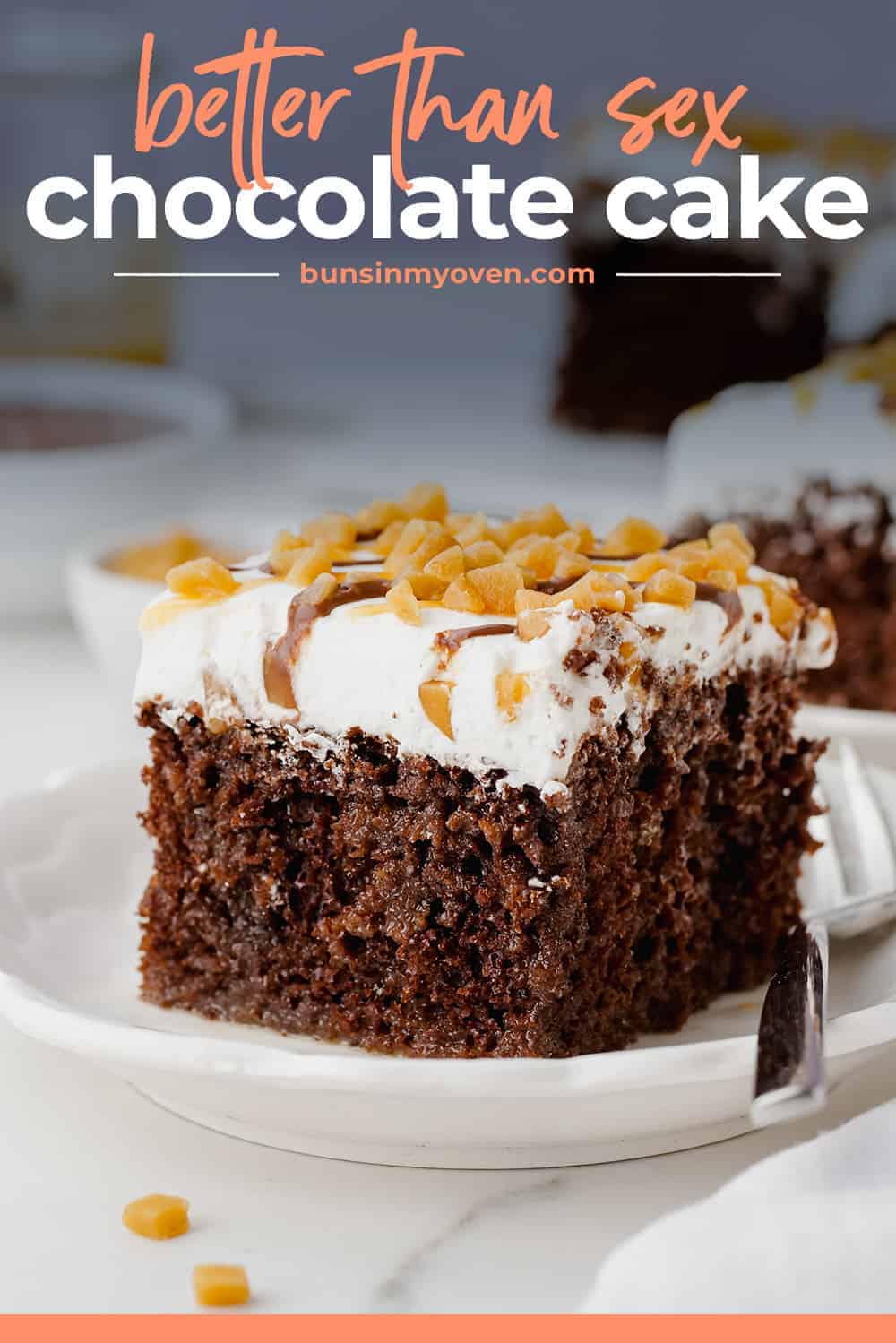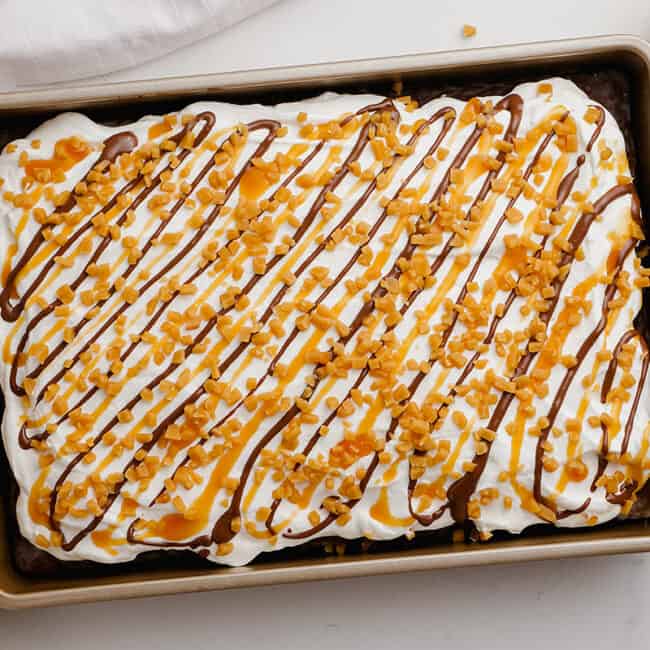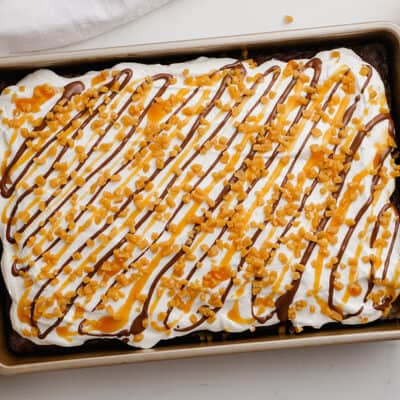 Better Than Sex Cake
Just 6 ingredients to make this classic Better Than Sex Cake. Everyone raves about this recipe, but the kids have taken to calling it 'Better Than Anything Cake' and that's fine by me. 😉
Prep10 minutes
Cook30 minutes
Cooling Time2 hours
Total2 hours 40 minutes
Ingredients
1 box (15 ounces) Devil's Food cake mix
14 ounces sweetened condensed milk
6 ounces caramel ice cream topping plus more for drizzling over the top
8 ounces frozen whipped topping thawed
Chocolate syrup for drizzling
1/3 cup toffee bits
Instructions
Prepare the cake mix according to package directions and bake in a 9×13 pan as directed on the box.

When cake is fully caked, remove from the oven and immediately poke holes in the cake using the handle of a wooden spoon or a skewer.

Add the condensed milk and caramel topping to a mixing bowl and whisk to combine.

Drizzle the caramel mixture evenly over the cake, letting it soak down into the holes you created.

Let cake cool completely and then transfer to the refrigerator for at least one hour.

Spread the whipped topping over the top and drizzle with caramel and chocolate syrup. Sprinkle with toffee bits.
Tips & Notes:
We prefer Devil's Food cake, because it's lighter, fluffier, and more chocolate-y than plain chocolate cake. You can use any flavor of box mix that you prefer though. Store cake tightly covered in the refrigerator for 3-4 days.
Nutrition Information:
Serving: 1slice| Calories: 212kcal (11%)| Carbohydrates: 37g (12%)| Protein: 4g (8%)| Fat: 6g (9%)| Saturated Fat: 4g (25%)| Trans Fat: 1g| Cholesterol: 21mg (7%)| Sodium: 116mg (5%)| Potassium: 162mg (5%)| Fiber: 1g (4%)| Sugar: 26g (29%)| Vitamin A: 210IU (4%)| Vitamin C: 1mg (1%)| Calcium: 124mg (12%)| Iron: 1mg (6%)