These peanut butter and jelly cookies are soft cookie bar perfection. I vote that we all eat them for lunch today!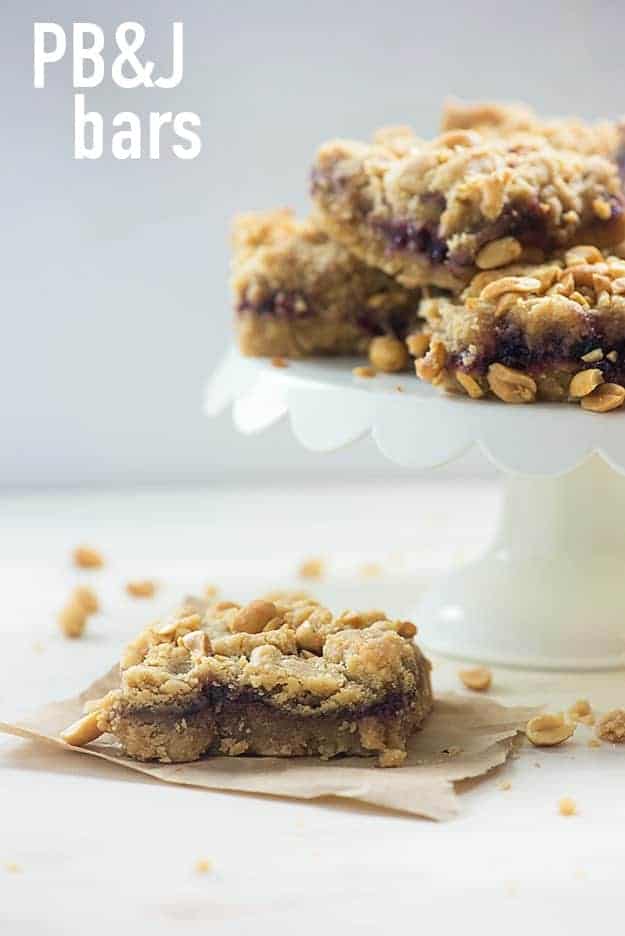 Hi, friends!
Gosh, it seems like it's been awhile since we've chatted! If you've been following me on Instagram, you probably caught a glimpse of my latest travels!
The family and I went on our first trip to Europe – we sailed the British Isles with Princess Cruises and it was seriously just amazing. We were able to visit England, Guernsey, Ireland, Scotland, and France all in one trip. I love cruising and I'll tell you more about it another day. In the meantime, feel free to go check out all of my photos on Instagram. So many pretty places.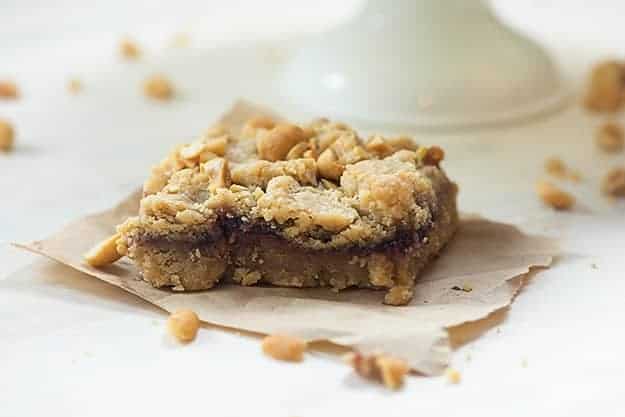 Now that I'm home, I'm super excited to be back in the kitchen. It's lovely to take a few weeks off, that is for sure. But the kitchen is my happy place and I'm feeling refreshed and inspired and ready to bake allllll the things.
These peanut butter and jelly cookies are seriously the best. This is an old Ina Garten recipe that used to be super popular. I thought it was high time we brought it back into the spotlight. These cookie bars are just heavenly. They're so soft, full of peanut butter, loaded with jelly, and sure to be a hit with kids and adults alike.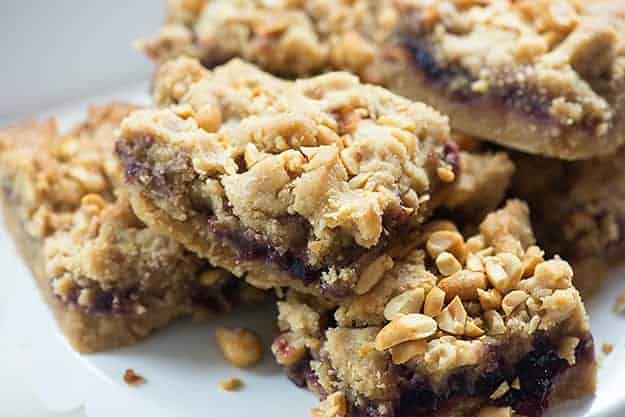 I kind of think we should all eat them for lunch. What do you guys think?
Give my oatmeal bars and Christmas crunch bars a try too!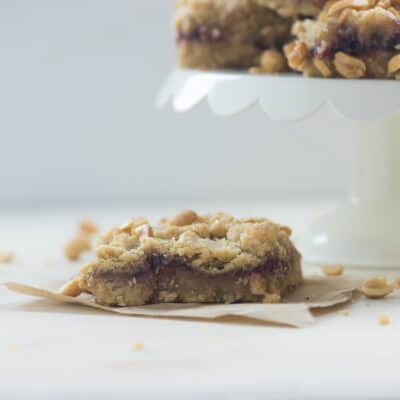 Peanut Butter and Jelly Cookie Bars
These peanut butter and jelly cookies are soft cookie bar perfection. I vote that we all eat them for lunch today!
Prep15 minutes
Cook45 minutes
Total1 hour
Ingredients
1/2 pound unsalted butter, room temperature 2 sticks
1 1/2 cups sugar
1 teaspoon vanilla extract
2 large eggs room temperature
2 cups creamy peanut butter
3 cups all-purpose flour
1 teaspoon baking powder
1 1/2 teaspoons kosher salt
1 1/2 cups raspberry jam
2/3 cups salted peanuts coarsely chopped
Instructions
Preheat oven to 350 degrees. Line a 9×13 baking dish with parchment paper, grease and flour parchment paper.

In the bowl of a stand mixer, cream together the butter and sugar until light yellow. Beat in vanilla, eggs, and peanut butter on low speed until everything is combined.

In a small bowl, sift together the flour, baking powder, and salt. Slowly add the flour mixture to the peanut butter mixture. Mix just until combined.

Spread half of the dough in the bottom of the prepared pan. Spread jam evenly over the top of the dough. Use your hands to make large balls of dough with the remaining half of dough, then flatten them out and place them over the jam. The dough will spread a bit in the oven, so it's okay if there are bare spots. Sprinkle with the chopped peanuts and bake for 45 minutes.

Cool completely before cutting into squares and serving.
Nutrition Information:
Calories: 582kcal (29%)| Carbohydrates: 66g (22%)| Protein: 13g (26%)| Fat: 31g (48%)| Saturated Fat: 11g (69%)| Cholesterol: 53mg (18%)| Sodium: 413mg (18%)| Potassium: 343mg (10%)| Fiber: 3g (13%)| Sugar: 37g (41%)| Vitamin A: 390IU (8%)| Vitamin C: 2.8mg (3%)| Calcium: 48mg (5%)| Iron: 2.1mg (12%)