These Parsnip Fries are a healthy twist on fries, roasted with honey and herbs, and perfect for a simple side dish.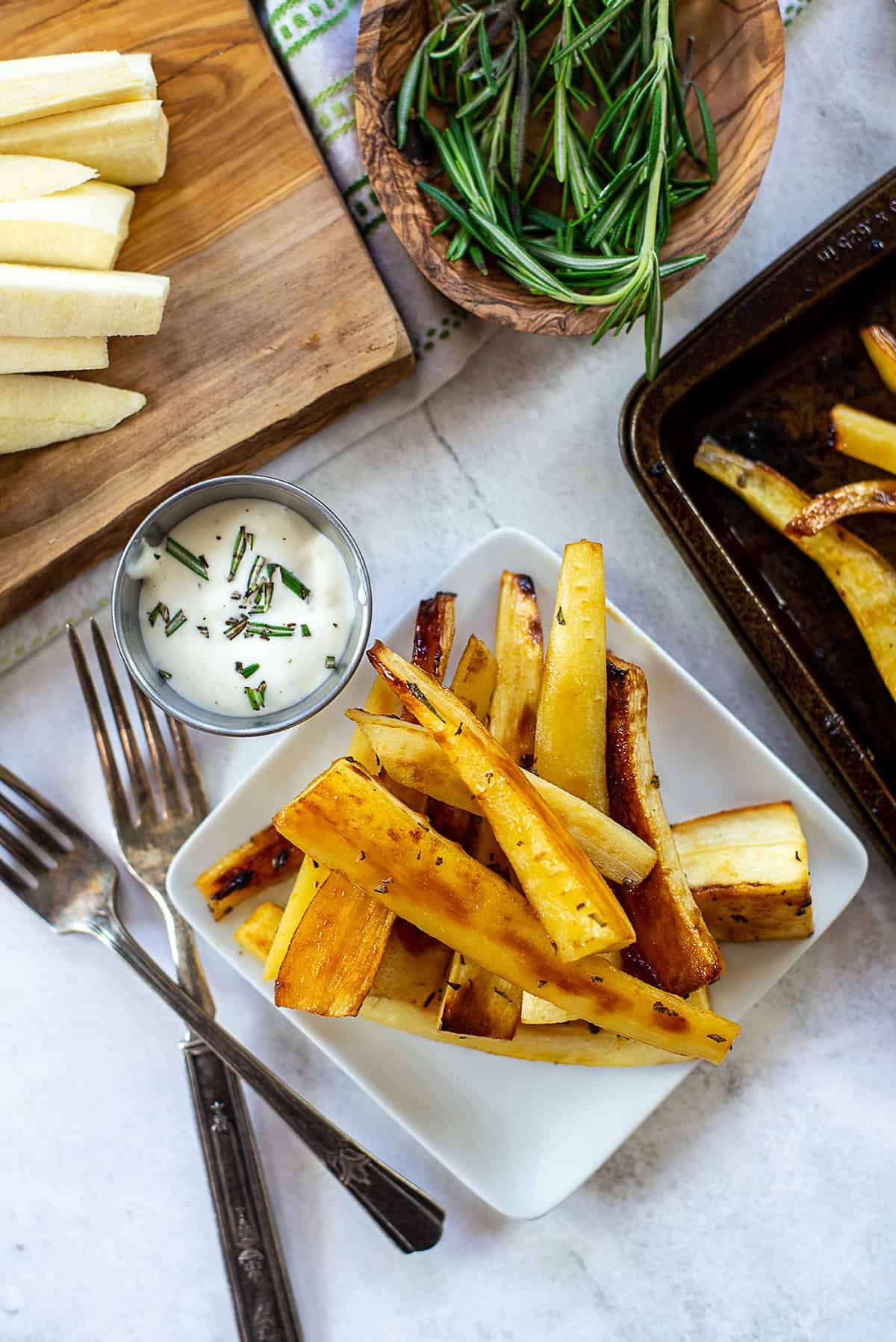 I served parsnips for dinner the other night, you guys.
I'm not going to lie. My kids were scared.
"What's wrong with that carrot?" the oldest asked.
"Why is that potato shaped that way?" the youngest wondered.
Yeah. I'm the mom who apparently never introduced my children to the mighty parsnip.
I mean, ok, I'm not the world's biggest vegetable lover, but we do still eat some form of veggie every day. (We're counting French fries as vegetables, right? Then yeah. Totally every day.)

So, I decided that the best way to introduce the kids to parsnips was to cut them up like French fries, toss them in some honey, and roast them in a hot oven. Honey roasted anything is going to be a hit with my people, especially when it's French fry-shaped and colored.
I've learned that roasted veggies are usually a hit with my family. See my honey roasted sweet potatoes or my maple glazed carrots. We've even done air fryer green beans, which is basically just roasted green beans in the air fryer!
Ingredient Notes:
Parsnips – You'll need a couple pounds of parsnips that are peeled, washed, and cut into the shape of a fry! Look for parsnips that are small or medium in size. The giant parsnips have a woody, fibrous center that isn't all that appetizing.
Honey – This ingredient isn't just for sweetening the fries up, it'll also help hold the seasonings in place. The sweetness contrasts nicely with the rosemary.
Seasonings – You'll add some salt, pepper, and rosemary to these parsnip fries!
Olive Oil – The parsnip fries will cook up in the olive oil, which gets mixed with the honey and rosemary to make the perfect coating for these fries.
What We Love About This Recipe!
French fries are one of our favorite snacks, and while these aren't quite the same, they make a nice healthy substitute! It's also hard to get the kids to try new things but when you call it a fry, drizzle it in honey, and roast it to bring out the sweetness, they are much more likely to give it a try!
How to Make Parsnip Fries:
Parsnips – To prepare this recipe you'll first need to wash and peel the parsnips and then slice them into strips that resemble French fries. Try to keep them fairly uniform in size so that they cook evenly!
Season – Place the parsnips on a rimmed baking sheet. Add the honey, olive oil, and rosemary to a small bowl and stir to combine. Drizzle that mixture over your parsnips.
Use your hands to toss the parsnip fries around a bit to make sure they get coated in the honey mixture. It's going to add lots of good flavor!
Helpful Tip!
It's important that you use a rimmed baking sheet and parchment paper or you could end up with a sticky mess in the oven from the honey!
Bake: All that's left now is to pop the baking dish in the oven. After about 8 minutes you'll want to stir the fries up and flip them, and then finish baking for another 7 minutes or until they are tender!
We like to serve these easy honey roasted parsnip fries good and hot with some salt and pepper!
FAQs:
What are parsnips?
They're a root vegetable that are in the same family as carrots. They look similar to carrots, but they don't exactly taste the same. When cooked, parsnips are even sweeter than carrots, with a delicious nutty, earthy flavor.
Can I store parsnip fries?
Yes, they should last covered in the fridge for about 2 to 3 days. You can easily reheat them in the oven.
Are parsnips keto friendly?
Parsnips have around 18 grams of carbs and 5 grams of fiber per 100 grams. While a small amount of parsnips would fit within a keto diet, they're probably not the best choice if consumed often or in large quantities.
MORE ROASTED ROOT VEGETABLES!
Parsnip Fries
Honey and rosemary give these parsnip fries a delicious flavor and the hot oven brings out their natural sweetness and amps up the nutty flavor.
Prep10 minutes
Cook25 minutes
Total35 minutes
Ingredients
2 pounds parsnips
2 tablespoons honey
1 tablespoon olive oil
1/2 teaspoon rosemary
salt and pepper to taste
Instructions
Preheat oven to 450 degrees.

Rinse and peel the parsnips and then cut into equal sized strips. Place parsnips on a rimmed baking sheet.

Add the honey, olive oil, and rosemary to a small bowl and whisk to combine. Drizzle over the parsnips.

Sprinkle the parsnips with salt and pepper and toss to coat in the mixture.

Bake for 15-20 minutes, stirring halfway through cooking, or until parsnips are golden brown and tender.

Serve hot.
Tips & Notes:
Feel free to adjust the seasonings to suit your tastes. Our kids like to dip these in ranch dressing.
Nutrition Information:
Calories: 233kcal (12%)| Carbohydrates: 49g (16%)| Protein: 3g (6%)| Fat: 4g (6%)| Saturated Fat: 1g (6%)| Polyunsaturated Fat: 1g| Monounsaturated Fat: 3g| Sodium: 23mg (1%)| Potassium: 856mg (24%)| Fiber: 11g (46%)| Sugar: 20g (22%)| Vitamin A: 1IU| Vitamin C: 39mg (47%)| Calcium: 82mg (8%)| Iron: 1mg (6%)