Liege waffles made at home! We top these sweet waffles with nutella and strawberries but the options are really endless!

Can we just take a moment here to discuss my newest obsession?
Liege waffles. OMG.
Have you ever had these little bites of heaven? They're seriously outrageous.
Wait! Don't roll your eyes and click away. Liege waffles are NOT like the traditional breakfast waffle that you grew up eating!

This liege waffle recipe is made with a yeast dough (don't freak out, this is totally easy!) and I personally think they make a better dessert than breakfast.
What makes these waffles so special is the little chunks of Belgian sugar in the dough. You fold it in right before cooking the waffles and the chunks of sugar caramelize and create these little pockets of sugary heaven that will honest to God make you weak in the knees.
I would have a really hard time deciding on my favorite way to eat these. Plain, straight from the waffle iron ranks right up there near the top though. Topped with Nutella and strawberry is certainly delicious too.
I first saw liege waffles over on Oh, Sweet Basil and she topped hers with cookie butter and raspberries. Brilliant, I say.
Her recipe is a Waffle Love copycat. I've never had a Waffle Love waffle before, so I searched high and low for the perfect authentic liege waffle.
I'm super happy with this recipe, but do plan to try Carrian's Waffle Love copycat at some point!
You can buy the Belgian pearl sugar (affiliate) right from Amazon. I know you don't want to buy special sugar just for a waffle, but please trust me on this: Worth it. WORTH IT. SOOOO WORTH IT. Sorry…I'm a little obsessed.
And, if you're in the market for an excellent waffle iron (affiliate link), I could not be more happy with mine. It works perfectly for any kind of waffle you'd like to make!
Looking for a more traditional waffle? Try this waffle recipe. It's the best Beglian waffle out there!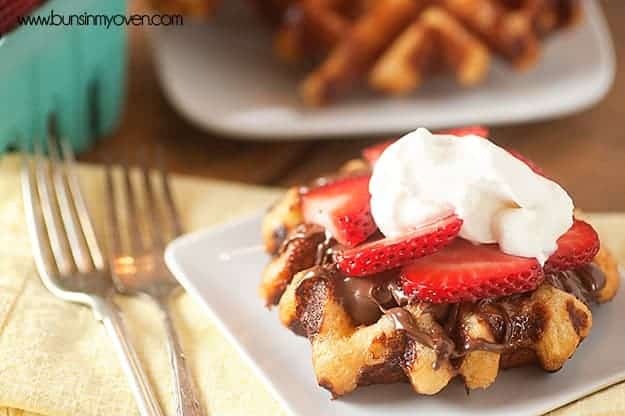 Liege Waffles with Nutella and Strawberries
Liege waffles are made with a yeast dough (don't freak out, this is totally easy!) and I personally think they make a better dessert than breakfast.

Prep10 minutes
Cook20 minutes
Total1 hour 30 minutes
Ingredients
2 1/2 teaspoons active dry yeast
1/3 cup warm water about 110F
1 1/2 tablespoons granulated sugar
1/8 teaspoon salt
2 cups flour
3 large eggs
1 cup melted butter
1 teaspoon vanilla
3/4 teaspoon ground cinnamon
1 cup pearl sugar
Nutella and sliced strawberries for topping
Instructions
Add the yeast, warm water, and sugar to a small bowl and let sit for 10 minutes or until yeast is foamy.

Add the flour, salt, and cinnamon to the bowl of a stand mixer. Make a well in the center of the flour and pour the yeast into the well.

Turn mixer, fitted with the paddle attachment, to low and begin mixing. Crack in the eggs one at a time, making sure each is incorporated before adding the next.

With the mixer on low, slowly stir in the melted butter. Increase speed to medium and beat for 1 minute or until everything is well combined. Batter will be thicker than a normal waffle batter, but much wetter than a traditional yeast dough.

Place the mixing bowl in a warm spot and cover. Let rise 45 minutes or until doubled. Gently fold in the sugar pearls and let rest for 15 more minutes.

Heat your waffle iron (mine only has one heat setting, if yours has more than one setting start at a medium heat and experiment) and spoon about 1/4 cup of batter into the center of your waffle iron. Close and cook for about 3 minutes or until golden brown and crisp. Use a fork to remove the waffles from the iron. Be careful of the melted sugar as it's very hot and will burn you if you touch it.

Top waffles with Nutella and strawberries or just eat them as is.
Nutrition Information:
Calories: 463kcal (23%)| Carbohydrates: 53g (18%)| Protein: 7g (14%)| Fat: 25g (38%)| Saturated Fat: 15g (94%)| Cholesterol: 130mg (43%)| Sodium: 268mg (12%)| Potassium: 101mg (3%)| Fiber: 1g (4%)| Sugar: 27g (30%)| Vitamin A: 810IU (16%)| Calcium: 24mg (2%)| Iron: 1.9mg (11%)
More waffle recipes: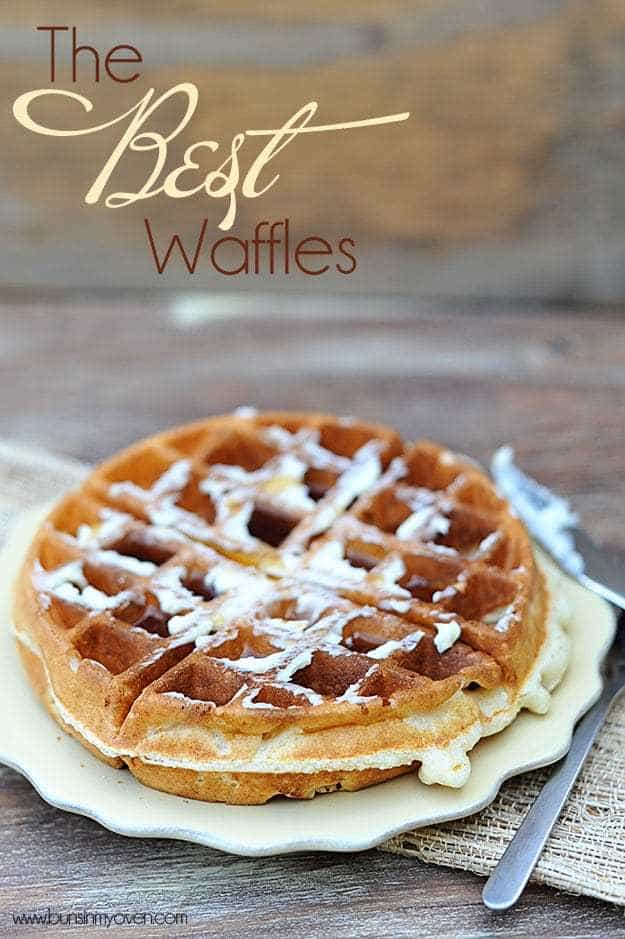 The BEST breakfast waffles, ever.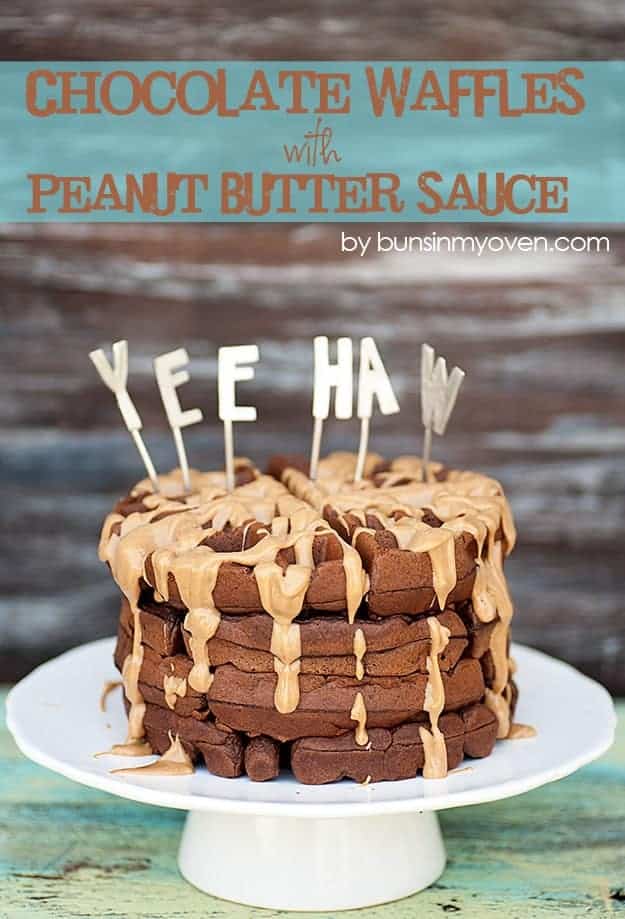 Chocolate Peanut Butter Waffles, because duh.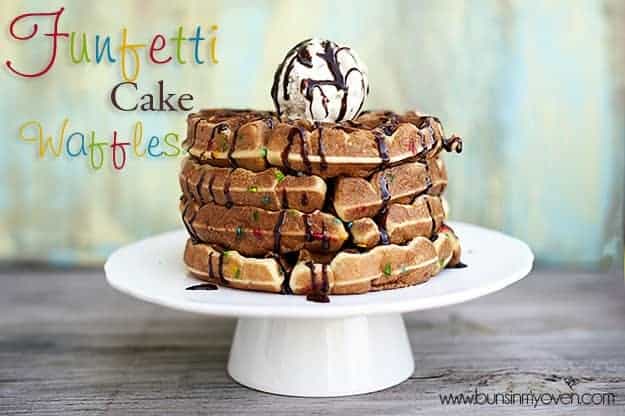 And, my favorite way to celebrate a birthday! Funfetti Waffles!
This post contains affiliate links.