These blueberry cake donuts are baked instead of fried and topped with a perfectly sweet glaze.

Thank you, baby Jesus, for Netflix.
I spent last Monday through Friday laid out on my couch, huddled under an old comforter hacking up a lung. I'm sorry, that's gross, but it's true.
It was just a cold, not the dreaded flu, so I guess I can consider myself lucky. I watched the entire first season (20 whole hours) of The Lying Game, which by the way, is totally a teeny bopper show. Not a 30 year old married mother of two show. But, I persevered. Any other Lying Game watchers out there?
In between all of the lazing around, napping, and television watching I managed to do quite a bit of baking. Now, yeah, I know. It's kind of gross to bake when you're sick, but I figured the heat killed all of the germs. Google told me it was true and we all know the Internet can't lie.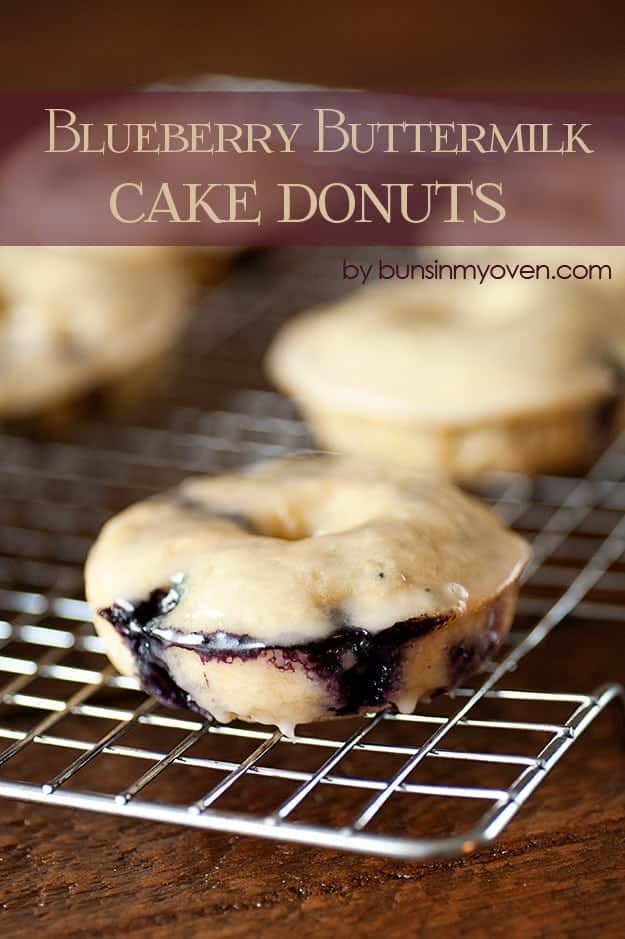 These little donuts seemed like a good idea, because blueberries are total health food and when you're sick you need health food. It would basically be irresponsible of me not to eat each and every one of these donuts myself.
So, that's what I did. I cured myself with a donut diet. A blueberry donut diet. I'm sure they'll be writing books about it and presenting me with awards any day now. Right?
These baked donuts are soft and cakey with little bursts of blueberry goodness throughout. I glazed them in a simple powdered sugar glaze, because I'm sorry, but it's not a donut if it's not covered in sugar. Speaking of which, you could totally toss these in a little powdered sugar instead of making a glaze. I love powdered sugar donuts!
These are super easy to make, but you will need a donut pan for this recipe. BUY ONE HERE. You'll use it, I promise. Check out all the other baked donuts I have shared here!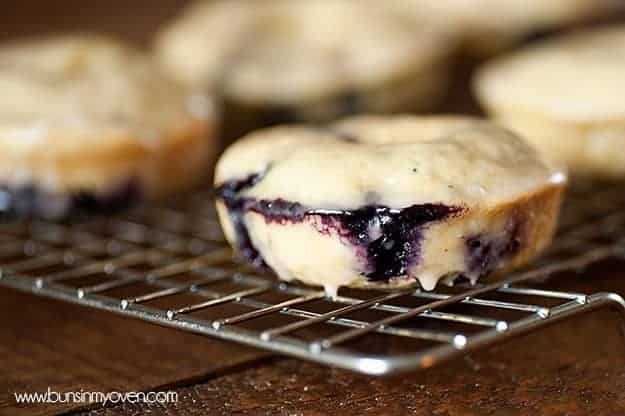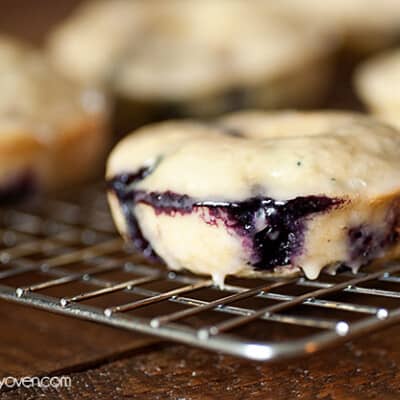 Glazed Blueberry Donuts
These blueberry cake donuts are baked instead of fried and topped with a perfectly sweet glaze.
Prep5 minutes
Cook10 minutes
Total15 minutes
Ingredients
For the donuts:
1 cup flour
1/3 cup white sugar
1 teaspoon baking powder
1/8 teaspoon ground nutmeg
1/8 teaspoon ground cinnamon
1/2 teaspoon salt
1/3 cup buttermilk or regular milk with a teaspoon of white vinegar added
1 large egg beaten
1 teaspoon vanilla
1 1/2 teaspoons oil
1/2 cup fresh or frozen blueberries
For the glaze:
1 1/2 cups powdered sugar
1/4 cup milk or water
1 teaspoon vanilla
Instructions
Preheat the oven to 325 degrees. Lightly grease a donut pan.

In a large bowl, whisk together the flour, sugar, baking powder, nutmeg, cinnamon, and salt.

In a small bowl, stir together the butter milk, egg, vanilla and oil.

Add the wet ingredients to the dry and stir with a wooden spoon until fully incorporated.

Fold in the blueberries, trying not to break them up too much.

Fill the donut pan and bake for 10-12 minutes or until lightly browned and cooked through.

Remove from the oven and cool in the pan for a few minutes before transferring to a wire rack.

Sift the powdered sugar (I usually just whisk it really good to break up any clumps) and place in a small bowl.

Stir in the milk and vanilla until fully combined.

When the donuts are cool, dunk the tops of the donuts in the glaze.

Return the donuts to the wire rack for 5 minutes to let the glaze set.
Nutrition Information:
Calories: 282kcal (14%)| Carbohydrates: 60g (20%)| Protein: 4g (8%)| Fat: 2g (3%)| Cholesterol: 33mg (11%)| Sodium: 225mg (10%)| Potassium: 142mg (4%)| Sugar: 43g (48%)| Vitamin A: 85IU (2%)| Vitamin C: 1.2mg (1%)| Calcium: 63mg (6%)| Iron: 1.2mg (7%)