August 27, 2018
Fiesta Egg Salad Chip Dip
This avocado egg salad recipe is a delicious spin on traditional egg salad. We eat it with tortilla chips, but it also tastes great rolled up in a tortilla for an easy lunch or between a couple of slices of bread!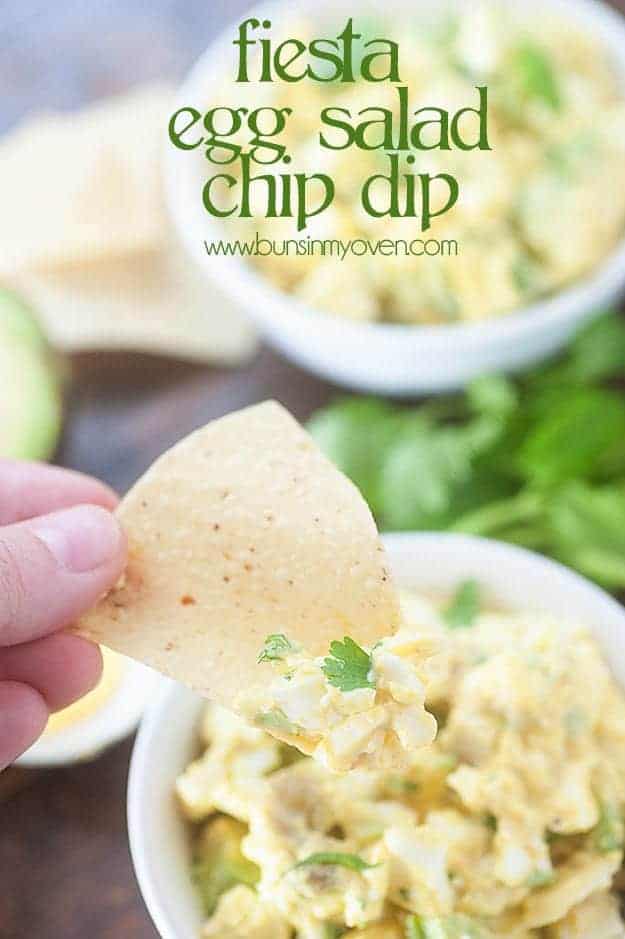 Kids, man. They're the worst. Always expecting to be fed. It's kind of ridiculous, am I right?
I feed them breakfast. I feed them lunch. And then they have the audacity to be hungry again at 3pm?
When we finish up school they are always starving! It doesn't matter what time it is or when they last ate. It's like, school is out, feed me now.

I can often be heard replying to their demands for food, attention, help, etc. by shouting "Do I look like your mother or something?!" They just roll their eyes and keep pestering me.
We're such a loving family. Y'all should really aspire to be more like me. I win at mom-ing.
Anyway, I can't take the whining, so I generally break down and find a good snack to hold them over until dinner time. This means something with a little protein. Egg salad is the perfect option, especially when you toss in some avocado and serve it with chips.
Everyone knows that kids always ask for chips. Chips for lunch, chips for dinner, chips for snacks. Always with the chips.
The problem with *just* chips is that they never seem to keep the kids full for long. If I give them chips for a snack at 3pm, they're hungry again at 4. So, a protein packed dip is the perfect choice for my kiddos! And for me, too. This is some good stuff!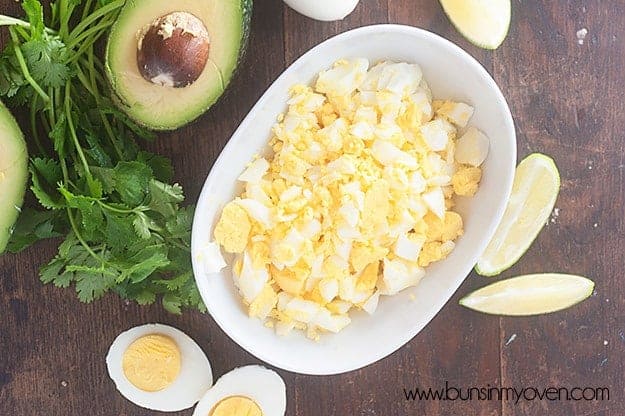 I took my favorite flavors and married them with my favorite food. Mexican meets egg salad. (You do remember my favorite Cheddar Bacon Egg Salad, right?) Life is good. I served this to my kiddos with tortilla chips, at their request, but this would make a great lunch rolled up in a soft tortilla too!
A single egg has 6 grams of protein and with 4 eggs and a spoonful of Greek yogurt, this dip is clocks in at 25 grams of protein! Split that between 2 kids and you have a snack that will keep those bellies full until dinner time!
Did I mention that this works great for hungry football fans? It does.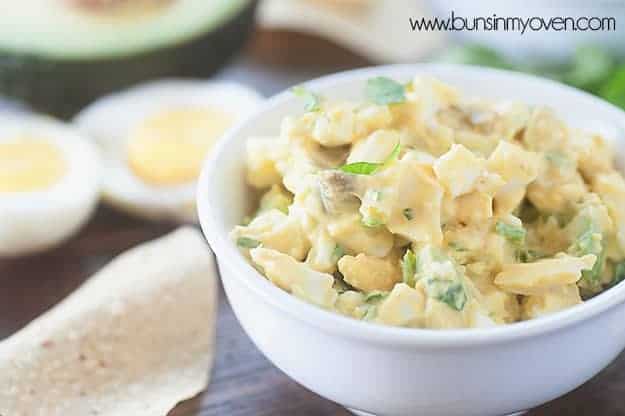 I'm a total Instant Pot convert over here and use it religiously for all of my boiled egg making needs.
I do the 5-5-5 method, which just means that I put my eggs in the pot with a cup or two of water (I don't measure and it doesn't seem to make a difference), set the vent to sealing, and then cook on manual pressure for 5 minutes. Once that is done, I let them naturally release for 5 more minutes and then turn the vent to venting and open the lid. I take the eggs out and immediately pop them in a bowl of ice water for another 5 minutes to cool down.
This results in perfectly hard boiled eggs without the green ring every time, but the BEST part is that they peel like a freakin' dream. The shells just slide right off. Highly recommend!
Purchase an Instant Pot right here on Amazon. It also makes amazing rice and I even make pressure cooker carnitas and pressure cooker mac and cheese with it. Perfection.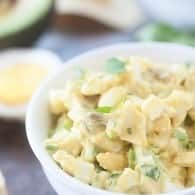 Fiesta Egg Salad Chip Dip
Servings: 4 servings
Course: Appetizer
Cuisine: American
Keyword: easy appetizer recipes, easy dip recipes, game day recipes
Calories: 100 kcal
This avocado egg salad recipe is a delicious spin on traditional egg salad. We eat it with tortilla chips, but it also tastes great rolled up in a tortilla for an easy lunch or between a couple of slices of bread!

Ingredients
4 hard boiled eggs
2 tablespoons smashed avocado
2 tablespoons chopped cilantro
1 tablespoon minced onion
1 tablespoon diced green chiles or jalapenos
1 tablespoon 0% fat Greek yogurt or sour cream
1/2 teaspoon salt
1/2 teaspoon pepper
1/4 teaspoon chili powder
1/4 teaspoon cumin
Tortilla chips for dipping
Instructions
Add the avocado, cilantro, onion, chiles, Greek yogurt, salt, pepper, chili powder, and cumin to a small bowl and stir to combine.

Chop the boiled eggs into small pieces and stir into the avocado mixture to coat.

Serve immediately with tortilla chips for dipping or wrapped in a soft flour tortilla.
Nutrition Facts
Fiesta Egg Salad Chip Dip
Amount Per Serving
Calories 100 Calories from Fat 54
% Daily Value*
Fat 6g9%
Saturated Fat 1g6%
Cholesterol 186mg62%
Sodium 370mg16%
Potassium 117mg3%
Carbohydrates 3g1%
Protein 7g14%
Vitamin A 310IU6%
Vitamin C 1.7mg2%
Calcium 36mg4%
Iron 0.7mg4%
* Percent Daily Values are based on a 2000 calorie diet.
Nutrition Disclaimer: All information presented on this site is intended for informational purposes only. I am not a certified nutritionist and any nutritional information shared on bunsinmyoven.com should only be used as a general guideline.