This is a sponsored post written by me on behalf of Glad & M&M'S® for IZEA. All opinions are 100% mine.
This weekend we had our annual Christmas baking extravaganza and I'd love to share the details with you, along with a recipe for one of our favorite (and easy!) treats!
I was asked to write about our little family's holiday baking party by M&m's, Glad, and Target, so the first item on my checklist was hit up Target for supplies. Go to Target? For work? Oh, gee, twist my arm.
While I was there I spotted Target's exclusive new M&M flavor…White Chocolate Peppermint. They're only available at Target! I bought all the bags, so sorry. None left for you! I also snagged a pack of the little holiday mini M&M's, because you can't decorate sugar cookies without candy, amirite? Don't tell, but I also stocked up on the peanut butter version, too. I'm obsessed with those.
From there I wandered deeper into the holiday section and found the exclusive Glad holiday edition packaging. They must be popular, because there was only one package left! I snagged it. It's a nice deep container with a cute holiday design. Perfect for storing and gifting holiday treats!
I did end up finding a few more packs in the grocery section of the store, so check their too!
While there, I also loaded up on sprinkles and frosting and Santa hats, because who decorates cookies without Santa hats? No one.
The next day I spent the morning baking up a batch of perfect sugar cookies. They're thick and sturdy and, best of all, you don't need to chill the dough. My kids did the cookie cutting while I tried to contain the flour. We both could have done a better job, if I'm being honest. 😉
Next up, we all donned our Santa hats and started decorating cookies like it was going out of style! Sprinkles everywhere, man. Totally worth it though.
And, it would not even be Christmas if we didn't make our FAVORITE holiday candy! Buttons! We're all pretty obsessed with these, mostly because the kids can do them all by themselves.
You just need a bunch of pretzel rings (Rold Gold makes these and they're the easiest brand to find, but I prefer the Kitchen Cooked brand, because they seem to be an eensy bit smaller.), chocolate candies (think Kisses, Rolos, mini truffles, a few chocolate chips), and M&M's!
The kids lay out the rings, unwrap all the candy, pop it in the oven, and then do the honors of smooshing the melty chocolate with an M&M. I have to say that the white chocolate peppermint M&M's were divine in these candies!
When we were all done baking, we packaged everything up in our Glad holiday containers to keep them fresh for deliveries to friends and neighbors!
Do you have a holiday baking party with your family every year?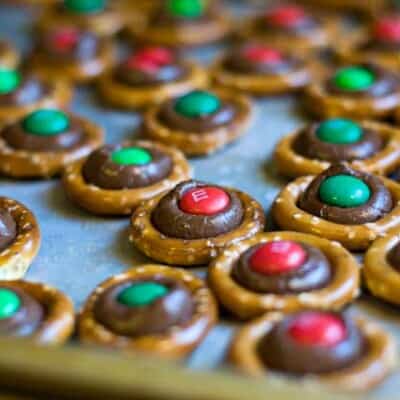 Buttons
Buttons are the simplest little holiday treat!

Prep5 minutes
Cook5 minutes
Total10 minutes
Ingredients
40 pretzel rings
40 Hershey's Kisses
40 M&M's
Instructions
Preheat oven to 200 degrees.

Line a baking sheet with parchment paper. Lay all the pretzel rings out and place a chocolate candy in the center of each ring.

Bake for 3-4 minutes or until the chocolate is shiny and wet looking.

Remove from the oven and immediately press an M&M into the top of the chocolate and smoosh it down so that the chocolate fills the center of the pretzel.

Cool completely before removing from the pan.
Nutrition Information:
Calories: 37kcal (2%)| Carbohydrates: 5g (2%)| Fat: 1g (2%)| Saturated Fat: 1g (6%)| Sodium: 24mg (1%)| Potassium: 12mg| Sugar: 4g (4%)| Vitamin A: 10IU| Vitamin C: 0.1mg| Calcium: 10mg (1%)| Iron: 0.1mg (1%)