These butter pecan bars are such a simple treat that starts with a box of cake mix and a bunch of tasty pecans!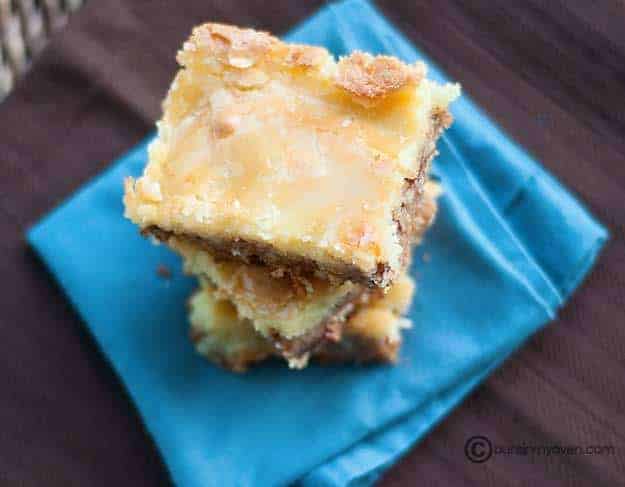 My husband and I just celebrated our tenth anniversary. I know! Ten years! And I haven't killed him yet!
Or, maybe it should be: Ten years! And he hasn't killed me yet!
Or how about: Ten years! And we're both still alive!
Yeah. I think that last one sounds about right.
How about a little engagement story? Oh, I know, you don't care how I got engaged, but this is quick and it involves food. Kinda.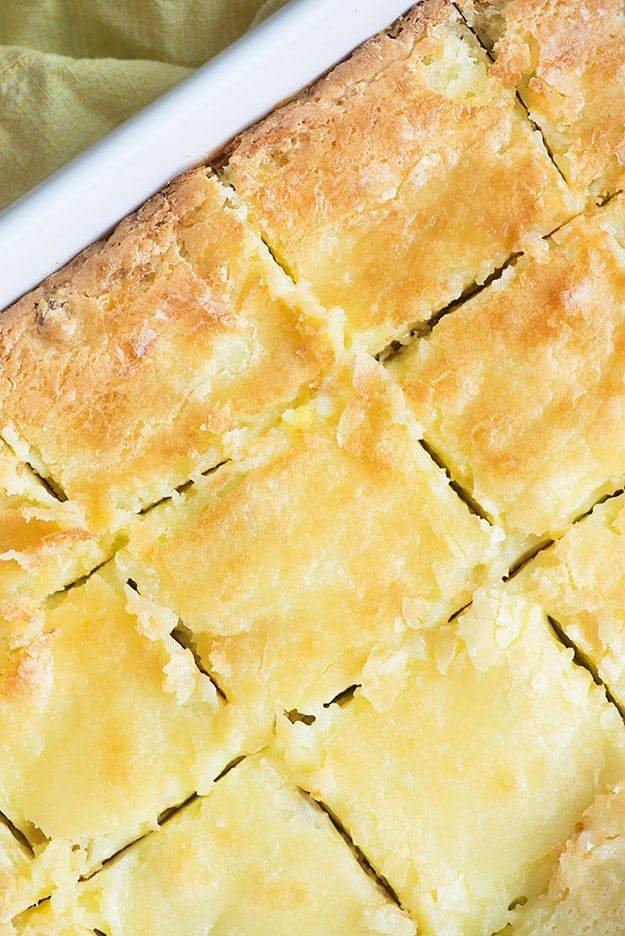 You see, my husband and I started dating when I was 16 and, well, I was pregnant not too long after I turned 17. A month or so after our sweet baby boy was born, my husband proposed.
We were driving home from somewhere and he just drove right past our apartment.
"Uh, honey? I think you missed your turn," I said, ever so politely to him. And, okay, maybe I was irritated. How did he forget where we lived? Also, I was barely 18 with a newborn baby. Everything irritated me.
"I'm just heading to the store for some ice cream," he replied in a weird tone of voice.
"We don't have room in the freezer for anymore ice cream! We have lots of ice cream at home!"
"But we don't have Butter Pecan ice cream! I want Butter Pecan!" he whined. And, okay, so maybe he didn't whine. Maybe he just stated this in his manly voice.
I proceeded to go on about how Butter Pecan was the worst ice cream flavor ever. In the midst of my rant about ice cream flavors that were not chocolate based, he turned into the parking lot of a golf course that I had worked at the previous summer and parked right where I had told him I loved him for the first time.
"Uh, honey, what the heck are you doing?"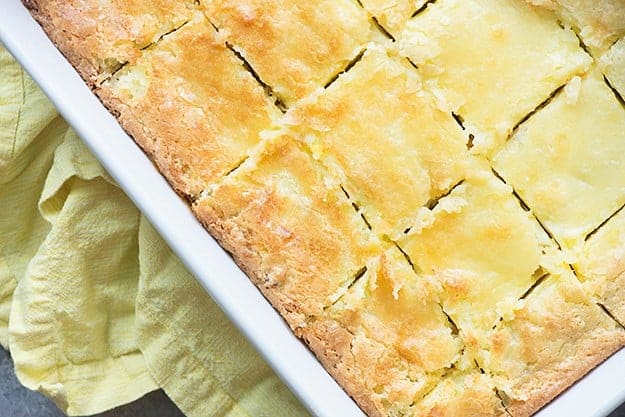 "I think we've got a flat tire." he said in that weird tone of voice that I would one day come to realize was his LYING VOICE.
We both got out, he dropped to one knee, and he proposed.
The end!
I'm sorry. That was long and boring, wasn't it? Well, let me make it up to you with these amazing Butter Pecan Squares. See? See how I tied it all together?
To see how to make this butter pecan bars recipe, watch the video below!
I have since matured a wee bit (both in terms of food and just in general) and I've come to realize that anything with the name Butter Pecan is pretty darn delicious. These bars are no exception. They are so buttery, so rich, so sweet, so full of delicious flavor that they will just blow your mind.
They might even have you running around sharing your engagement story with the internet! They're powerful, is what I'm sayin'.
The original recipe called for a box of yellow cake mix, but while I was standing in front of hundreds of box mixes, the Golden Butter cake mix jumped right off the shelf and begged me to take it home. I think it knew that it would fit right in at my house full o' butter.
Enjoy these at room temperature with a fork or eat 'em with your hands right out of the fridge. Either way, they're amazing.
Check out my homemade brownies, Nutella brownies, and whipped icing for more dessert ideas!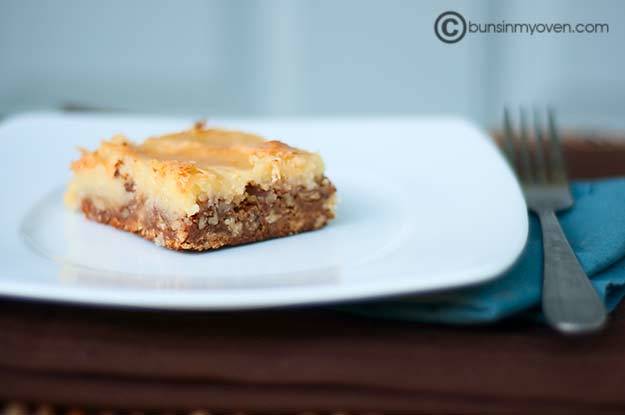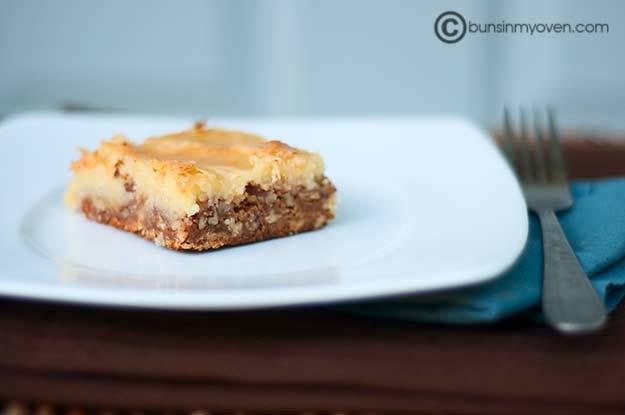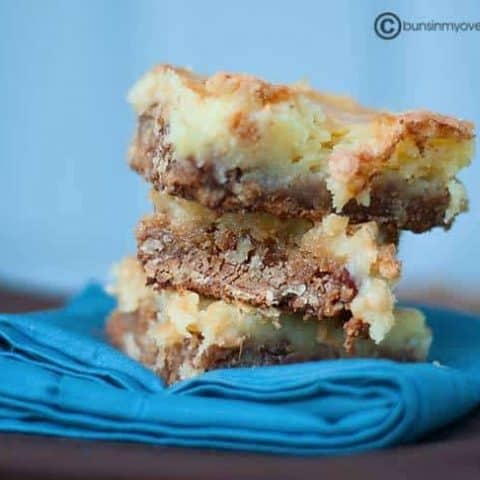 Butter Pecan Squares
These butter pecan bars are such a simple treat that starts with a box of cake mix and a bunch of tasty pecans!
Prep10 minutes
Cook45 minutes
Total55 minutes
Ingredients
1 box Butter cake mix 18.25 ounces
3 large eggs
1/2 cup butter softened
2 cups chopped pecans
8 ounces cream cheese room temperature
3 1/2 cups powdered sugar
Instructions
Pre-heat oven to 350 degrees.

In a large mixing bowl, combine the cake mix, 1 egg, butter, and pecans. Mix well.

Press into a greased 9x13 pan.

In the bowl of a stand mixer, beat together the cream cheese, 2 remaining eggs, and the powdered sugar until well combined. Pour over the crust.

Bake for 45-50 minutes or until the top is golden brown and the center is set. It should be gooey, but not runny.

Cool completely before cutting, 1-2 hours. Store in the refrigerator.
Nutrition Information:
Calories: 427kcal (21%)| Carbohydrates: 55g (18%)| Protein: 4g (8%)| Fat: 22g (34%)| Saturated Fat: 8g (50%)| Cholesterol: 65mg (22%)| Sodium: 345mg (15%)| Potassium: 103mg (3%)| Fiber: 1g (4%)| Sugar: 40g (44%)| Vitamin A: 425IU (9%)| Vitamin C: 0.2mg| Calcium: 99mg (10%)| Iron: 1.2mg (7%)