This beer cheese bread recipe is divine warm from the oven and slathered in butter!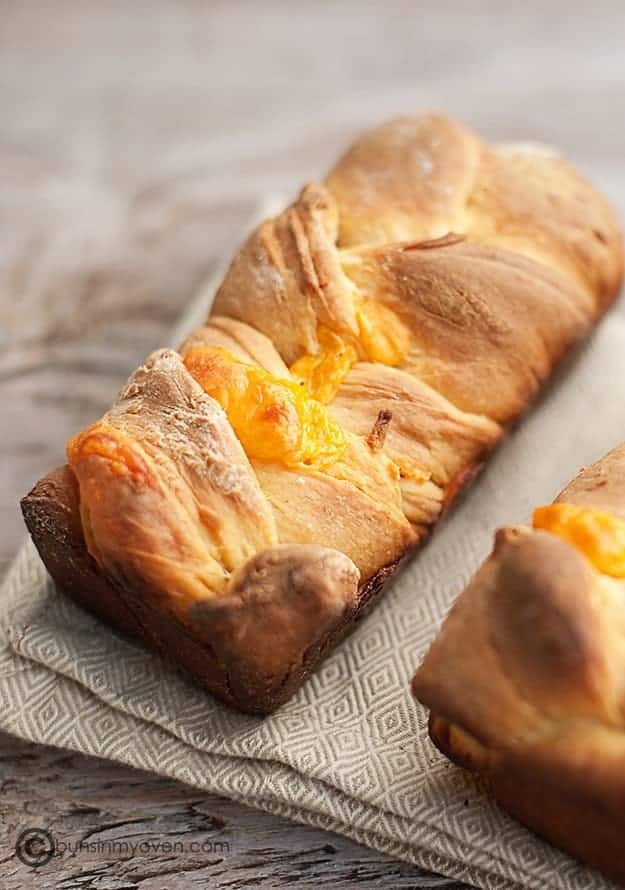 I was home alone yesterday morning, so I decided to call the husband at work.
"Hey!" I said when he picked up, "I have two questions for you."
"What's that?"
"Well, number one, are you planning on leaving me once the kids are in college and out of the house?"
"What? No? What? Why would you ask that?"
"Just checking."
"Are you planning on leaving ME when the kids are out of the house?"
How dare he? Why would he even think such a thing? Doesn't he know how much I love him?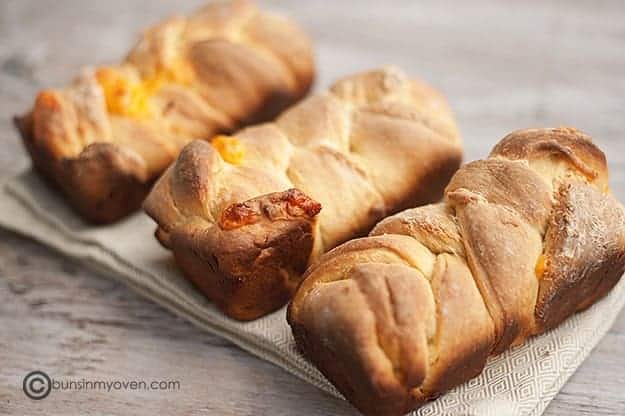 Outraged, I replied "OF COURSE NOT."
Men are so dumb.
"So, question two," I said. "If I put you on speaker phone will you call the dog? I want to see if she comes to the phone."
After a big sigh, he replied, "Did you really call me at work for this?"
"Of course I did. Where else would I call you at? You're at work, aren't you?" Duh, I was thinking.
"Fine. I'll do it once. I'll say her name in my regular voice, but only one time. Ready?"
He's so boring.
"Alright, you're on speaker, go ahead."
"Biscuit."
The dog just sort of cocked her head at me, like why are you speaking to me with the boy's voice? Total let down.
I share this story with you to illustrate how truly awesome it must be being married to me.
Not only do I call the spouse at work so that he knows I'm thinking of him while he's away, I also bake him Beer Cheese Bread.
Okay, sure, the first time I made this he didn't even get any. I couldn't help it. I meant to just slice off one piece for myself and suddenly I looked down and realized that there were just a few stray crumbs left on the counter. So, of course, I bent over and licked them right up.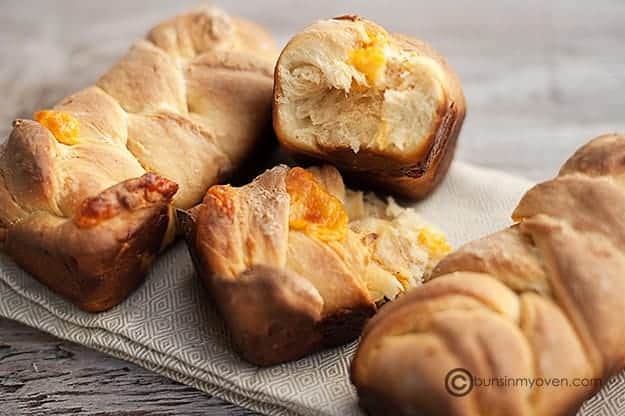 Yeah. This bread is just that good.
Serve it with soup or use it to make grilled cheese. Your mind will officially be blown.
Looking for other bread recipes? This blueberry bread is very popular with my other readers. My personal favorite bread recipe is banana bread.
Beer cheese bread recipe
The recipe below calls for baking this bread in 2 8×4 inch loaf pans, but I used 5 mini loaf pans for the pictured loaves. I had grand plans to wrap these up pretty and share them with family and friends. Once again, I accidentally ate them all myself.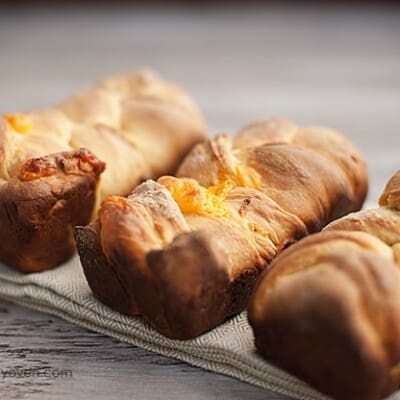 Beer Cheese Bread
This beer cheese bread recipe is divine warm from the oven and slathered in butter!
Prep2 hours
Cook40 minutes
Total2 hours 40 minutes
Ingredients
12 ounces beer any kind, but I love Fat Tire Amber Ale
12 ounces Velveeta
2 tablespoons sugar
1 tablespoon salt
2 tablespoons unsalted butter
5 cups bread flour
2 packets rapid-rise yeast
8 ounces cheddar cheese cut into small cubes
Instructions
In a large pot over medium heat, stir together the beer, Velveeta, sugar, salt, and butter until just melted.

Remove from the heat and allow to cool until it's just warm - around 110 degrees. Too hot and it will kill the yeast, too cold and your bread won't rise! Stir occasionally as it's cooling to keep the cheese incorporated and to help speed up the cooling process.

In the bowl of your stand mixer fitted with the dough hook, combine 2 cups of the bread flour and the 2 packets of rapid rise yeast.

Pour the warm beer mixture into the flour and yeast and turn your mixer until low speed and gradually add the remaining flour until the dough is a shaggy and cleans the sides of the bowl.

Turn mixer to medium and knead dough for 5 minutes.

Pour the cubed cheddar cheese into the mixer and allow it to incorporate into the bread dough.

Remove the dough from the mixer and grab any stray cheese cubes from the bottom of your mixing bowl and poke them throughout the dough.

Place dough in a greased bowl and allow to rise in a warm place until doubled - about an hour, but sometimes a bit more.

Punch the dough down and separate into two equal balls.

Place one ball of dough on a floured surface and press into a rectangle shape about 10x6 inches.

Cut the dough into three long strips, leaving 1/2 inch intact at the top of the rectangle. Braid the dough and tuck the ends under.

Repeat with second ball of dough.

Spray two 8x4 loaf pans with cooking spray and place the loaves inside.

Return to a warm spot and let rise again, about 1/4 inch above the pan.

Bake for 350 degrees for 35-40 minutes, tenting the top with foil for the final 10-15 minutes of baking time.

Turn the loaves out onto a wire rack to cool.
Nutrition Information:
Calories: 218kcal (11%)| Carbohydrates: 26g (9%)| Protein: 10g (20%)| Fat: 7g (11%)| Saturated Fat: 4g (25%)| Cholesterol: 22mg (7%)| Sodium: 690mg (30%)| Potassium: 105mg (3%)| Sugar: 2g (2%)| Vitamin A: 315IU (6%)| Calcium: 185mg (19%)| Iron: 0.4mg (2%)
adapted from Bernard Clayton's New Complete Book of Breads