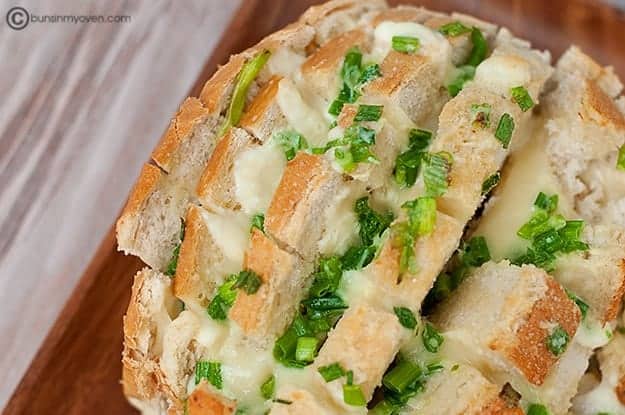 Okay, so look. I'm a bad influence. I'm just going to admit it and we'll all just move on okay?
I'm like that bad boy that you loved when you were in high school, but if you dated him your dad probably would have ended up in jail, but you were in high school, so really, who cared if your dad was in jail, right? Bad boys are cute, fun, and dangerous. Who cares about Dad when you're in high school?
Well, I'm like the bad boy. You know I'm not good for you, your parents think I'm a terrible influence, and you'll probably get grounded if you sneak into the kitchen one more time to make one of my recipes.
But, just like the bad boy, I'm totally worth it. This bread is totally worth it. Sure, it's a huge loaf of bread stuffed with as much cheese as you can possibly fit and then drizzled with butter, and that might sound boring, but oh no. It's not boring. It's excitement and danger all rolled up into one. Besides, if you're grounded, you can totally eat more delicious food. Who cares about going out at night and partying? Eating tasty food is totally cooler.
At least, that's what I always tell myself on Friday nights when I'm home alone shoving this bread in my face.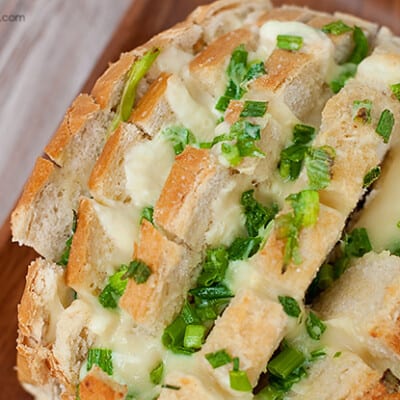 Bloomin' Onion Bread
Once you start picking off pieces of this bread, you won't be able to stop!
Prep20 minutes
Cook25 minutes
Total45 minutes
Ingredients
1 loaf sourdough bread unsliced
12-16 ounces thinly sliced Monterey Jack cheese
1/2 cup butter melted
1/2 cup finely diced green onions
1 teaspoon garlic powder
4 tablespoons grated Parmesan cheese
Instructions
Preheat the oven to 350 degrees.

Cut the bread lengthwise and then widthwise without cutting into the bottom of the bread.

Place on a parchment lined baking sheet. Place the cheese slices between the cuts of bread. Really fill in the bread with as much cheese as you can fit.

Combine butter, green onions, garlic powder, and Parmesan cheese. Pour evenly over the bread.

Cover the bread with foil and bake for 15 minutes. Uncover the bread and bake for 10 minutes longer. Serve hot.
Nutrition Information:
Calories: 584kcal (29%)| Carbohydrates: 44g (15%)| Protein: 24g (48%)| Fat: 34g (52%)| Saturated Fat: 21g (131%)| Cholesterol: 94mg (31%)| Sodium: 878mg (38%)| Potassium: 171mg (5%)| Fiber: 2g (8%)| Sugar: 2g (2%)| Vitamin A: 1020IU (20%)| Vitamin C: 1.7mg (2%)| Calcium: 504mg (50%)| Iron: 3.3mg (18%)
lightly adapted from The Girl Who Ate Everything