September 7, 2017
Monterey Chicken Spaghetti
This monterey chicken spaghetti is packed with spinach and monterey jack cheese for a new chicken casserole recipe the whole family will love.
I had someone email the other day to ask if I happened to be from the midwest. She said she had a hunch.
Now, you guys, I'm pretttttty certain that this hunch was based on the type of food you see on this blog all the time. I didn't ask her, so I can't be sure, but it's a good guess.
Anyway…what type of food is it that I think screams "this girl lives in the middle of the country, surrounded by corn and cows?" Casseroles. Lots and lots of casseroles.
My family especially loves chicken casserole recipes. How about yours?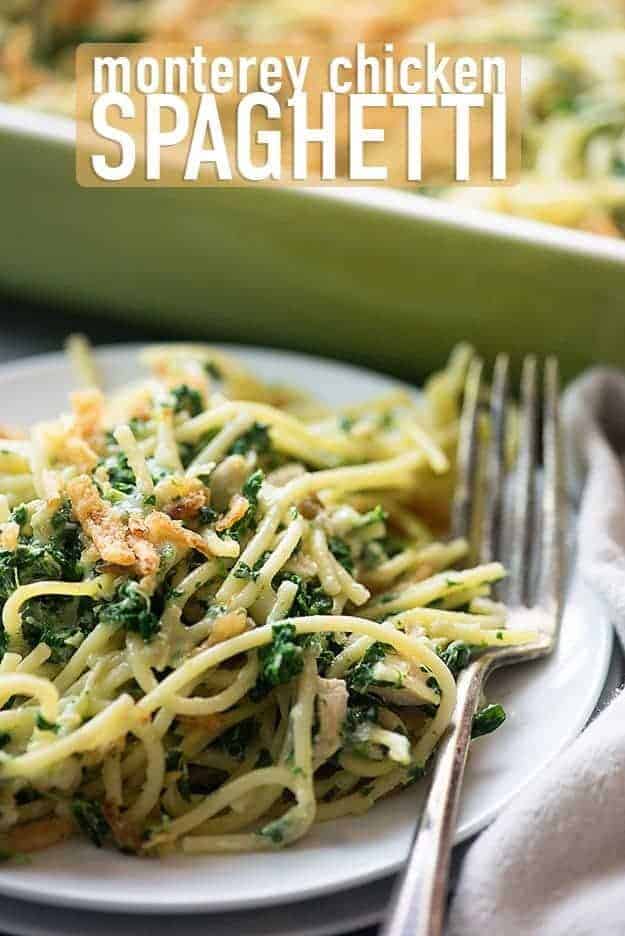 I love them, okay?

I'm always trying new chicken casserole recipes and I've hit on a good one right here. It's a bit of a riff on something I saw in a Taste of Home magazine for Monterey Spaghetti – I've added chicken and omitted the Parmesan, because I'm the boss of my life.
This recipe was super easy to toss together and even my youngest ate it, despite all of the green stuff lurking in her noodles. She side-eyed me the whole time, but we made it through dinner without incident.
Speaking of chicken casserole recipes, check out my Doritos Chicken Casserole, French Onion Chicken, and tamale casserole!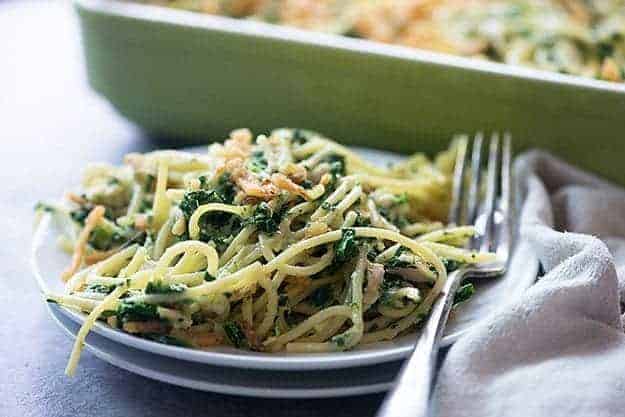 I really love the Monterey jack cheese in this – it's mellow and creamy and just plain works. You could swap it out for something with a stronger flavor, like Gruyere or Swiss or maybe even a white cheddar, but I think it's pretty perfect as it is and I think you'll like it too!
You know the drill – give this a try, snap a photo, tag me on Instagram, and hashtag it #bunsinmyovenrecipe. I can't wait to see those gorgeous casseroles coming out of your ovens!
For more recipes and videos like this, be sure to follow me on Facebook!
If you've tried chicken spaghetti before, let me know what you thought!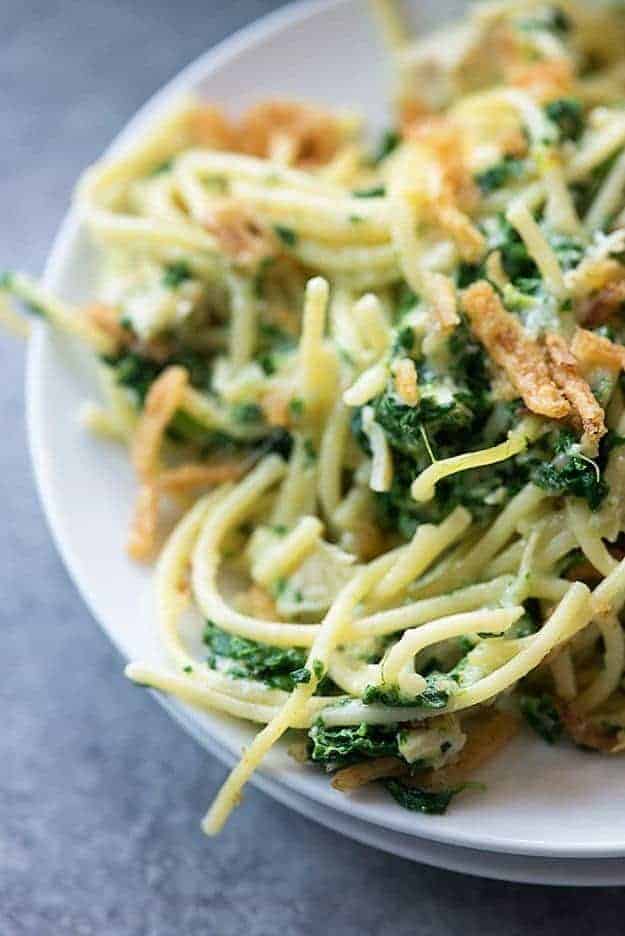 Monterey Chicken Spaghetti
Ingredients:
6 oz. spaghetti, broken into 3 pieces
1 cup shredded or diced cooked chicken
1 egg
1 cup sour cream
½ teaspoon garlic powder
2 cups grated monterey jack
10 ounces frozen spinach, thawed and drained well
3 ounce can french fried onions
Directions:
Preheat oven to 350 degrees. Spray a 9x13 baking dish with non-stick spray.
Bring a large pot of water to a boil and cook the spaghetti according to package instructions. Drain and add to a large mixing bowl.
Add the chicken, egg, sour cream, garlic powder, cheese, spinach, and half of the onions to the bowl and stir well to combine.
Pour into prepared baking dish and top with the remaining onions.
Cover tightly with foil and bake for 20 minutes.
Remove the foil and bake for 5 minutes more.
Serve immediately.
Share this: