December 5, 2014
Cookie Dough Brownies
These cookie dough brownies are loaded with an eggless cookie dough that's perfect for snacking!

I'm pretty sure that my main reason for baking so much is the raw cookie dough/brownie batter/pie crust.
Why does food taste so much more decadent and yummy before you put it in the oven and kill all of the salmonella?
Weird, man.
I'm actually not a fan of salmonella, like, at all. So, I topped these ooey gooey brownies with some eggless cookie dough. Then I burst. You know, from all of the cookie dough brownies that I shoveled in my mouth.
These are rich, but not as rich as I expected. I did cut them fairly small, though. Which just meant that I had to eat two. Whatever.
If you love cookie dough as much as I do, you'll really love these chocolate chip cookie dough pudding pops, chocolate chip cookie dough fudge, and my favorite chocolate chip cookie dough dip!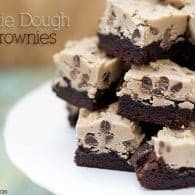 Cookie Dough Brownies
Ingredients:
1 recipe or box of brownie mix, prepared and baked
3/4 cup salted butter, room temperature
3/4 cup light brown sugar, packed
1/2 cup granulated white sugar
3 Tablespoons milk
1 1/2 teaspoons vanilla extract
1 1/2 cups all-purpose flour
1 1/2 cups milk chocolate chips
Directions:
In the bowl of a stand mixer, beat together the butter and sugars until light and fluffy. Beat in the milk and vanilla until well combined.
Slowly add in the flour and mix until combined.
Fold in the chocolate chips.
Top the baked and cooled brownies with the cookie dough.
adapted from Recipe Girl
Share this: