As much as I love to bake, I don't generally make nine thousand different types of Christmas cookies. I'm actually pretty boring when it comes to Christmas cookies. I make my mama's super delicious butter cookies, some peanut butter blossoms, and I always, always, always make buttons. Buttons really aren't cookies though, and, actually, I don't personally make them. I recruit my kids for that.
Buttons are the simplest treats you can make, they take minutes to prepare and bake, and then you just have to wait for the chocolate to harden up. My four year old and nine year old can do these completely by themselves.  Best of all, people just gobble these up!
All you need are round pretzels, also called pretzel rings, Hershey kisses, and m&m's.
Line a baking sheet with parchment paper and spread the pretzel rings out in a single layer. Plop a Hershey's kiss in the center of each pretzel and bake at 200 degrees for about 5 minutes. The kisses hold their shape, so don't wait for them to melt or you'll burn your chocolate! Remove from the oven and smoosh an m&m right down on top of the Hershey's kiss. Let them cool long enough for the Hershey's kiss to harden back up and then go ahead and devour all of them.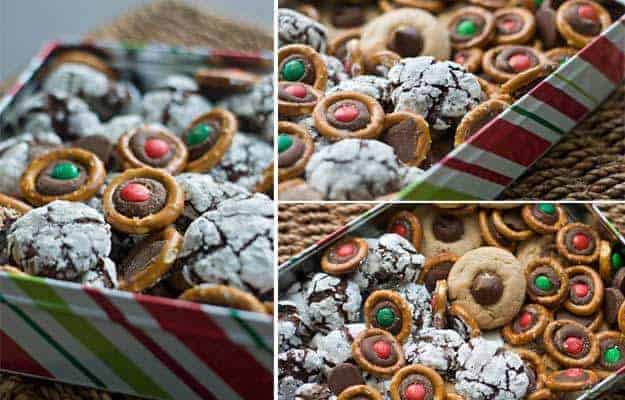 Go make these. Your holiday just isn't complete without them!
I'll be back later in the week to share the recipe for those scrumptious little chocolate cookies covered in powdered sugar "snow" that you see in the above photo!
Updated to add: A lot of people have emailed me to say that they are having a difficult time finding the pretzel rings. I always buy the Kitchen Cooked brand, but even then I can only find them for a few weeks around Christmas. If you can't find the rings, just buy the little square grid shaped pretzels (I think they are made by Snyder's) and put the kiss right on top of the pretzel. They won't look like buttons, but they are just as cute and yummy!
Share this: