August 11, 2017
Hot Corn Dip

Alright, friends. This recipe for hot corn dip was originally shared with you back in 2008, but I'm updating it now in 2016 with some new photos and a video. The original photos were pretty horrendous, and this dip is way too delicious to look so ugly. 😉
This is one of those dip recipes that I make over and over again. Like my skinny pool dip, it gets rave reviews and is always one of the first things to go!
The dip is full of creamy melty cheese, onions, peppers, and plenty of corn! I like this best with fresh corn cut off the cob, but I often cheat and use a can of corn. I mean, I'm lazy. You all know that about me, don't you?
The last time I made this was at one of our family get togethers and everyone was munching on it with chips before the meal. When dinner was served, a couple people put spoonfuls of this dip on their plate and ate it with their fork. It made me laugh, but really…it's not super heavy like a traditional dip. It's more vegetables than anything, so go ahead. Eat it with a fork. I won't judge you!
Also, this is one of those foods that onion haters cry about. They can see how delicious it looks and they really want to dig in, but it's full of onions. Normally I feel bad for the onion haters. I mean, if you'd stop being so picky, your life would be so much more delicious. But on this dip? No. I'm happy they exist, because that means there is more dip for me!
That probably makes me a bad person, doesn't? It's okay. I'll go console myself with a bowl full of hot corn dip and a bag of Tostitos.
And now, for your viewing pleasure, I present you one of the worst photos I've ever taken:
Doesn't that just make you want to dig right in? Haha!
Here's to growth! And better lighting! And an understanding of how my camera functions. 😉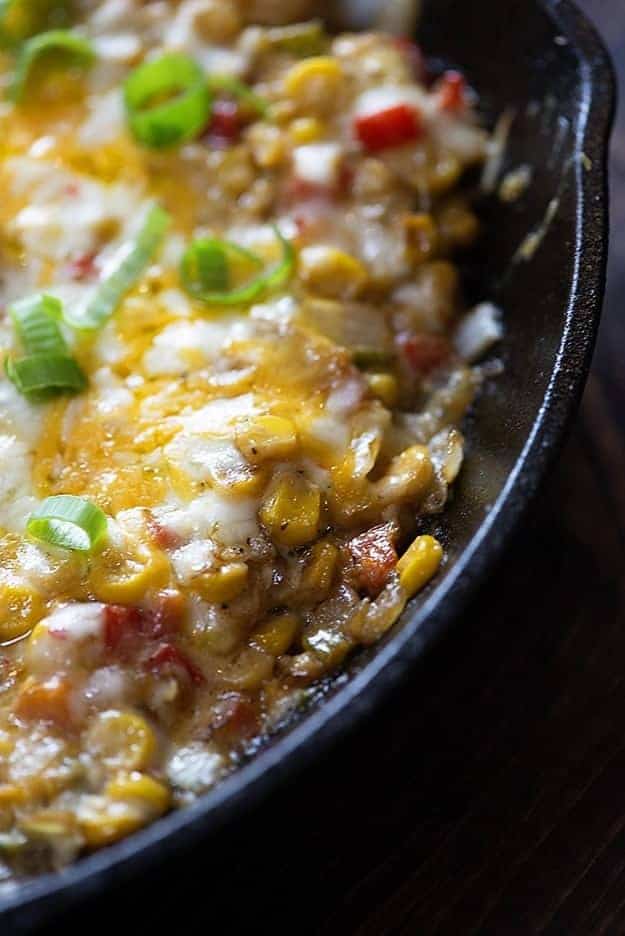 Hot Corn Dip
Ingredients:
2 tablespoons olive oil, divided
2 cups fresh or canned corn
1/2 cup yellow onion
1/4 cup bell pepper
1/4 cup green onions
1 jalapeno, diced - more or less, to taste
1 clove garlic, minced
1/4 cup mayo
1/4 teaspoon cayenne pepper
1 cup grated monterey jack
1 cup grated cheddar
salt and pepper, to taste
Directions:
Heat 1 tablespoon oil in a medium skillet over medium high heat.
Add corn. Season with salt and pepper to taste. Cook for about 5 minutes, until corn starts to brown, stirring occasionally.
Remove corn from skillet and set aside.
Heat remaining oil in pan and add onions and bell pepper. Cook for 2 minutes.
Add in the jalapeno, green onions, and garlic. Cook another 2 minutes.
Add corn back into pepper mixture and still to combine.
Stir in the mayonnaise, cayenne pepper, and half of each cheese. Stir well to combine.
Spread in a baking dish and cover the top with the remaining cheese.
Bake for 15 minutes. Serve hot.
Share this: