VALENTINE'S DAY CRACKER TOFFEE is our favorite holiday treat all dressed up for Cupid! Made with saltine crackers, white chocolate, and a super simple homemade toffee – these cracker toffee bars a big hit!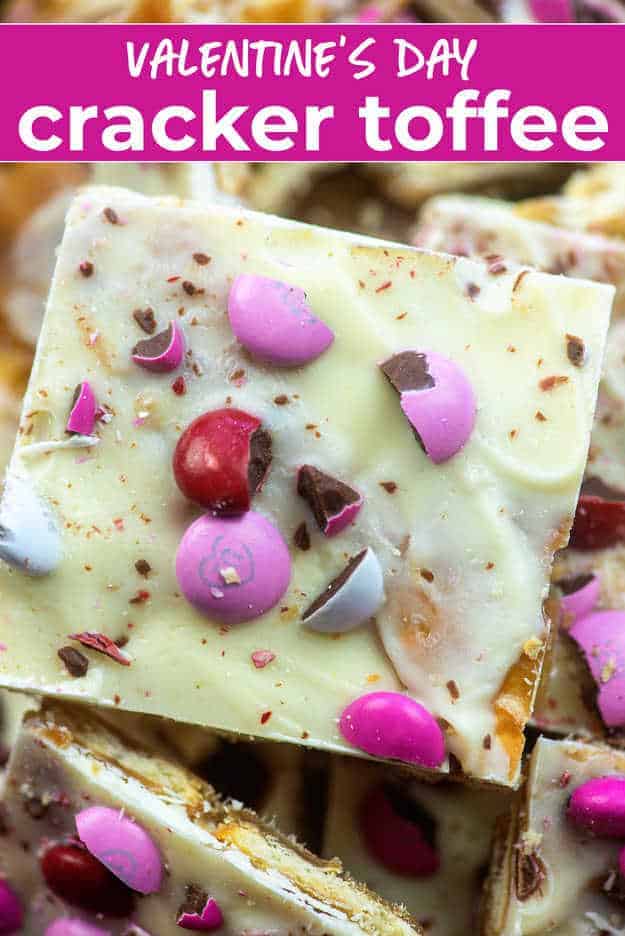 Valentine's Day is coming and all the moms of younger kids know what that means…fighting with your kids to sign their names on their cute little Valentine's cards. 😉
My son went to Kindergarten and 1st grade at a local public school before we pulled him out to homeschool and honestly part of the reason we chose to homeschool was that I didn't want to waste another week of my life arguing with him to PLEASE JUST SIGN YOUR NAME and then giving up and just forging his name in the worst imitation of a 1st grader's handwriting ever.
Then we started homeschooling and realized that the other area homeschoolers had V-Day parties and I was back to arguing with him about why he had to spend 30 minutes signing his name over and over once a year. Kids are fun. 😉
Besides, we all know the real reason I homeschool is because the carpool line is the worst. Ha!
Anyway! Valentine's Day is near and that means it's time for some cracker toffee – any excuse to make this simple, tasty treat!
Saltine Cracker Toffee:
This post contains affiliate links. As an Amazon Associate, I earn from qualifying purchases.
Start this recipe out by lining a sheet pan with parchment paper and then fill it with a single layer of saltine crackers. We LOVE the sweet and salty vibe that this recipe brings.
Next, whip up your toffee – sounds scary, but it's beyond easy!
You'll just need butter and brown sugar. Boil those together for 3 minutes and then pour it over the crackers. You don't even need a candy thermomer!
This mixture goes into a 400 degree oven for 5 minutes. This will help harden up the toffee to the right consistency.
Pull your hot pan from the oven and sprinkle on some white chocolate chips. This goes right back in the oven for just 1 minute to let the chocolate soften. Don't leave it in more than a minute or the white chocolate will burn.
Remove the oven and immediately spread the chocolate over the toffee. I like to use an off-set spatula for this.
Sprinkle on the m&m candies! We use the Cupid's Mix for Valentine's Day.
Tip: I like to chop the m&m's before sprinkling them on because the candy coating flakes a bit and makes this gorgeous pink and red candy dust that just makes the cracker toffee so pretty. This step isn't necessary – we just think it's prettier this way!
Pop this in the freezer for 20 minutes to set and then cut into pieces. The cracker toffee will break apart even more as you remove it from the pan, so don't cut the pieces too small.
Substitutions:
Saltine crackers can be swapped for graham crackers, Ritz crackers, or club crackers!
The white chocolate chips can be replaced with milk, semi-sweet, or dark chocolate if you prefer.
Skip the m&m candies and use Valentine's Day sprinkles instead, if you wish.
Storage:
This will stay fresh in the refrigerator for 1 to 2 weeks. Store in an air-tight container.
We like to package these up in Valentine's Day boxes and share with friends.
More Valentine's Day recipes:
These Valentine's Day Crunch Bars are a serious favorite of ours, along with my famous Valentine's Day cookies!
Chocolate covered Peeps hearts are adorable and fun to make with kids, but if you're feeling more adventurous give my homemade marshmallows a try.
These little Valentine's Day sugar cookies are super cute too!
Valentine's Day Cracker Toffee
Simple, sweet, and pretty in pink! This cracker toffee is the perfect treat to make for your family this Valentine's Day.
Prep15 minutes
Cook10 minutes
Cooling Time40 minutes
Ingredients
40 saltine crackers
1 cup brown sugar
1 cup butter
10 ounces white chocolate chips
½ cup chopped Valentine's m&m candies
Instructions
Preheat the oven to 400 degrees. Line a 18x13 baking sheet with parchment paper. Place all of the saltines salt side up on the baking sheet in an even layer.

Add the brown sugar and butter to a medium sauce pan and bring to a boil over medium heat, stirring occasionally. Boil for 3 minutes.

Carefully pour the boiling mixture over the crackers and put in the oven for five minutes.

Remove from the oven and sprinkle evenly with the chocolate chips. Return to the oven for 1 minute.

Spread the chocolate chips out into an even layer and sprinkle the m&ms over the chocolate.

Let cool on the counter for about 20 minutes. Place in the freezer for 20 more minutes and then cut into small pieces.
Tips & Notes:
The chocolate chips will not change shape in the oven. When you remove the pan from the oven, they should spread easily. Do not overbake or the chocolate will burn.
Nutrition Information:
Serving: 1| Calories: 167kcal (8%)| Carbohydrates: 18g (6%)| Protein: 1g (2%)| Fat: 10g (15%)| Saturated Fat: 6g (38%)| Cholesterol: 19mg (6%)| Sodium: 108mg (5%)| Potassium: 45mg (1%)| Fiber: 1g (4%)| Sugar: 15g (17%)| Vitamin A: 200IU (4%)| Vitamin C: 1mg (1%)| Calcium: 32mg (3%)| Iron: 1mg (6%)