TURKEY AND SWISS PULL APART BREAD is the perfect football food – so cheesy and it's always a hit with hungry football fans! Big thanks to Eckrich for sponsoring this post.
I don't know about you, but I'm here for basically one thing when it comes to football: The food.
Bring on the snacks.
Yes, I'll cheer along when my husband starts jumping around and shouting at the screen, but for the most part you'll find me hovering around the snack table.

This cheesy pull apart bread is basically the perfect football food.
I took a loaf of sourdough bread and stuffed it with oven roasted turkey and swiss cheese and then I drowned it in this dijon garlic butter. I'm in heaven.
This recipe is sponsored by Eckrich. I love using their deli meats for sandwiches so it was a natural fit for this pull apart bread.
You can find Eckrich at the deli counter. Order some of the Oven Roasted Turkey Breast and ask for it to be shredded so that it's falling apart. This will make it so simple to stuff your pull apart bread.
Eckrich has a wide range of hardwood smoked sausages and top-quality deli meats. They're easy to cook with, versatile, and basically perfect for football season and beyond!
How to make this cheesy pull apart bread:
To start, gather up those ingredients: Eckrich Oven Roasted Turkey Breast, shredded swiss cheese, and a loaf of sourdough bread are a good start. You'll also want some butter, dijon mustard, garlic, and parsley to really take this whole thing to the next level.
Grab your loaf of sourdough bread and a serrated bread knife. Slice the bread diagonally into 1-inch thick strips, being careful not to cut all the way through the bread.
Rotate your bread and cut the other direction to create a diamond shape.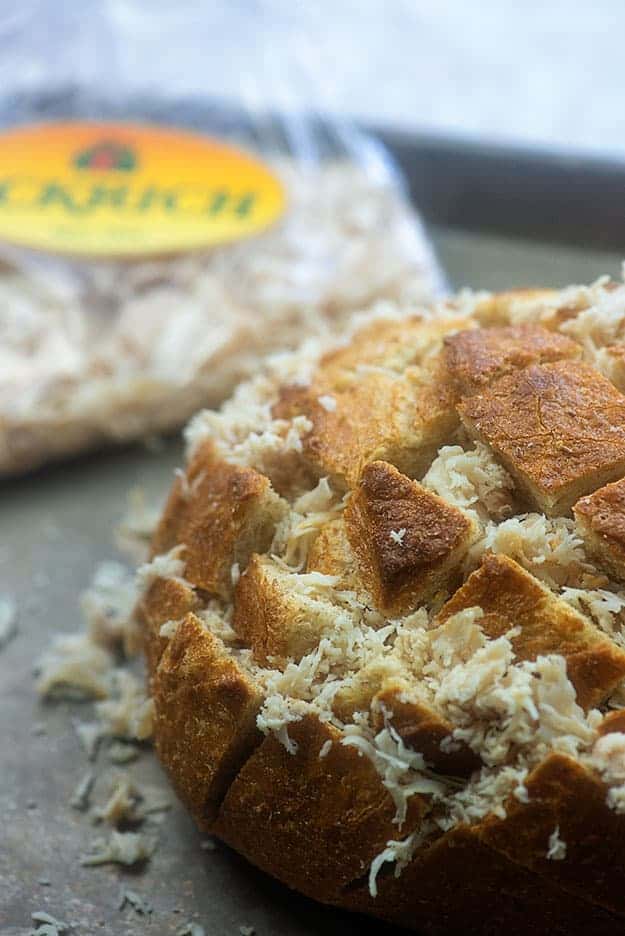 Start stuffing the shaved turkey into the cuts in the bread and then add in your swiss cheese.
Don't be shy! Fill that bread up!
Next, melt some butter in a small bowl and stir in some dijon, garlic, and parsley.
Spoon that mixture over the bread, being sure that it soaks down in the cracks.
Wrap your bread in foil and pop it in the oven to get nice and melty and warm and amazing.
It's time to dig in!
This pull apart bread is perfect for snacking! Just grab a chunk of bread…be careful though. People might try to fight you for it. It's THAT good! 😉
More football food for the next game:
Veggie Pizza: The ranch flavored cream cheese is amazing!
Grape Jelly Meatballs: They sound weird, but you've just gotta try them!
Buffalo Chicken Meatballs: It's impossible to resist buffalo chicken!
Refried Bean Dip: I'm not kidding when I say this is the best!
And here are loads of low carb snacks!
As the Official Smoked Sausage and Deli Meat of the College Football Playoff, Eckrich is excited to bring back their popular "Road to the National Championship" sweepstakes. Fans around the country will have the chance to make a 15-yard throw for $1MM during some of the biggest college football games of the season, including the 2019 College Football Playoff National Championship. Visit www.EckrichFootball.com for details and to enter for a chance to win!
To be the MVP of your next tailgate or homegate, visit www.Eckrich.com for recipe inspiration, product information, and where to buy.
Turkey and Swiss Pull Apart Bread
This bread makes the perfect game day snack! Loaded with Eckrich Oven Roasted Turkey and loads of shredded swiss cheese.
Prep15 minutes
Cook25 minutes
Ingredients
1 loaf sourdough bread
6 ounces Eckrich Oven Roasted Turkey Breast shaved
1 cup shredded swiss cheese
4 tablespoons butter melted
2 teaspoons dijon mustard
1 clove garlic minced
2 teaspoons fresh minced parsley
1/4 teaspoon salt
Instructions
Preheat oven to 350 degrees.

Use a serrated bread knife to slice the bread diagonally into 1 inch thick strips. Do not cut all the way through the bread.

Cut the bread the other direction, creating a diamond shape. Do not cut all the way through the bread.

Fill the bread with the turkey and cheese, being sure to get the meat and cheese deep inside every crack in the bread.

Add the butter, dijon, garlic and salt to a small bowl and mix well to combine.

Spoon the butter mixture over the top of the bread.

Wrap with foil and bake for 20 minutes and then uncover and bake 5 minutes more.

Serve immediately.
Nutrition Information:
Serving: 1| Calories: 569kcal (28%)| Carbohydrates: 68g (23%)| Protein: 27g (54%)| Fat: 21g (32%)| Saturated Fat: 13g (81%)| Cholesterol: 69mg (23%)| Sodium: 1414mg (61%)| Potassium: 253mg (7%)| Fiber: 3g (13%)| Sugar: 4g (4%)| Vitamin A: 574IU (11%)| Vitamin C: 1mg (1%)| Calcium: 271mg (27%)| Iron: 5mg (28%)