Y'all are going to hate me for this.
You'll never forgive me. You'll shun me. You'll kick me off the internet and call me names.
I don't care, though. I deserve to be punished. I've been a bad girl.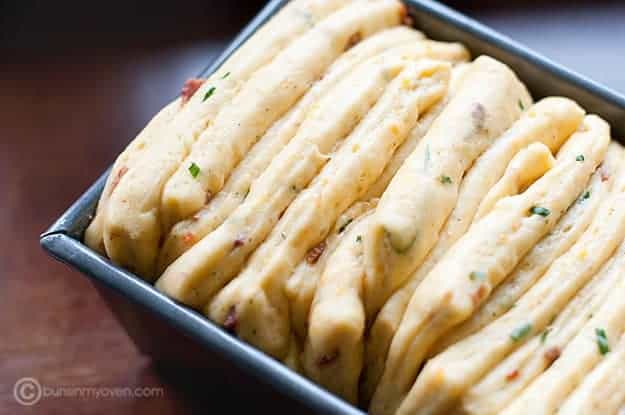 You see, I made this bread. This crazy, outrageous, ridiculous bread stuffed with cheese and bacon and chives and one of those delicious little packets of ranch dressing mix and now I can't stop eating it, talking about it, or dreaming about it.
I'm sorry. I can't help myself.
In fact, let's all just blame Jessica for this. She started it with her stupid Cheesy Puff bread. How dare she? Doesn't she know how dangerous cheesy bread is? I just, you know, took the idea and added bacon and ranch. I really don't think I should be held accountable for completely trashing your diets and ruining all other breads for you.
Trust me when I tell you that this bread is addicting. It's entirely possible that I ate half of the loaf myself and then took to slapping hands anytime someone else came near it. There's no video evidence or anything, though, so I admit to nothing.
Cheesy Bacon Ranch Pull Apart Bread
All my favorite flavors in this pull apart bread - bacon, ranch, and cheese!
Prep20 minutes
Cook35 minutes
Rise Time2 hours
Total55 minutes
Ingredients
1 3/4 cups all-purpose flour
1 cup whole wheat flour
1 tablespoon sugar
2 1/4 teaspoons instant yeast
1 teaspoon salt
1 packet dry ranch dressing or dip mix
4 slices bacon cooked and crumbled
1/4 cup chopped chives
1/3 cup milk whole or 2%
1/4 cup butter
1/4 cup water
2 eggs
12 ounces freshly grated sharp cheddar cheese
Instructions
In the bowl of your stand mixer fitted with a dough hook mix together 1 cup of the all-purpose flour and all of the whole wheat flour with the sugar, yeast, salt, chives, bacon, and ranch dressing.

In a small saucepan over low heat, heat the milk and butter until the butter is melted. Set aside for 1 minute and then add the water to the milk/butter mixture.

Add the milk mixture to the flour and stir to combine. Add eggs one at a time, mixing until each is well combined. This will take a few minutes.

Add in the grated cheddar cheese and mix well. Add the remaining flour and knead until the flour is well incorporated. The dough will be quite sticky, but resist adding more flour.

Transfer dough to an oiled bowl and let rise, covered, for one hour.

Punch down the dough. Lightly flour your workspace and roll the dough out into a large rectangle about 12 x 15 inches.

Use a pizza cutter to slice the dough from top to bottom in 6 strips. Stack the strips on top of each other and then cut them all again into 6 squares.

Butter and flour a 9x5 loaf pan. Layer the squares into the pan cut side down - the squares should be standing up, not laying down flat. It will appear as though your dough is too small for your pan, but when it rises it will fill it up. Cover the dough with a towel and let rise for one hour.

Preheat the oven to 350 degrees. Bake for 30-35 minutes or until the top is golden brown.
Nutrition Information:
Calories: 2882kcal (144%)| Carbohydrates: 289g (96%)| Protein: 157g (314%)| Fat: 123g (189%)| Saturated Fat: 61g (381%)| Cholesterol: 587mg (196%)| Sodium: 5654mg (246%)| Potassium: 1555mg (44%)| Fiber: 26g (108%)| Sugar: 19g (21%)| Vitamin A: 3165IU (63%)| Vitamin C: 5.8mg (7%)| Calcium: 1640mg (164%)| Iron: 18.4mg (102%)
adapted from How Sweet Eats