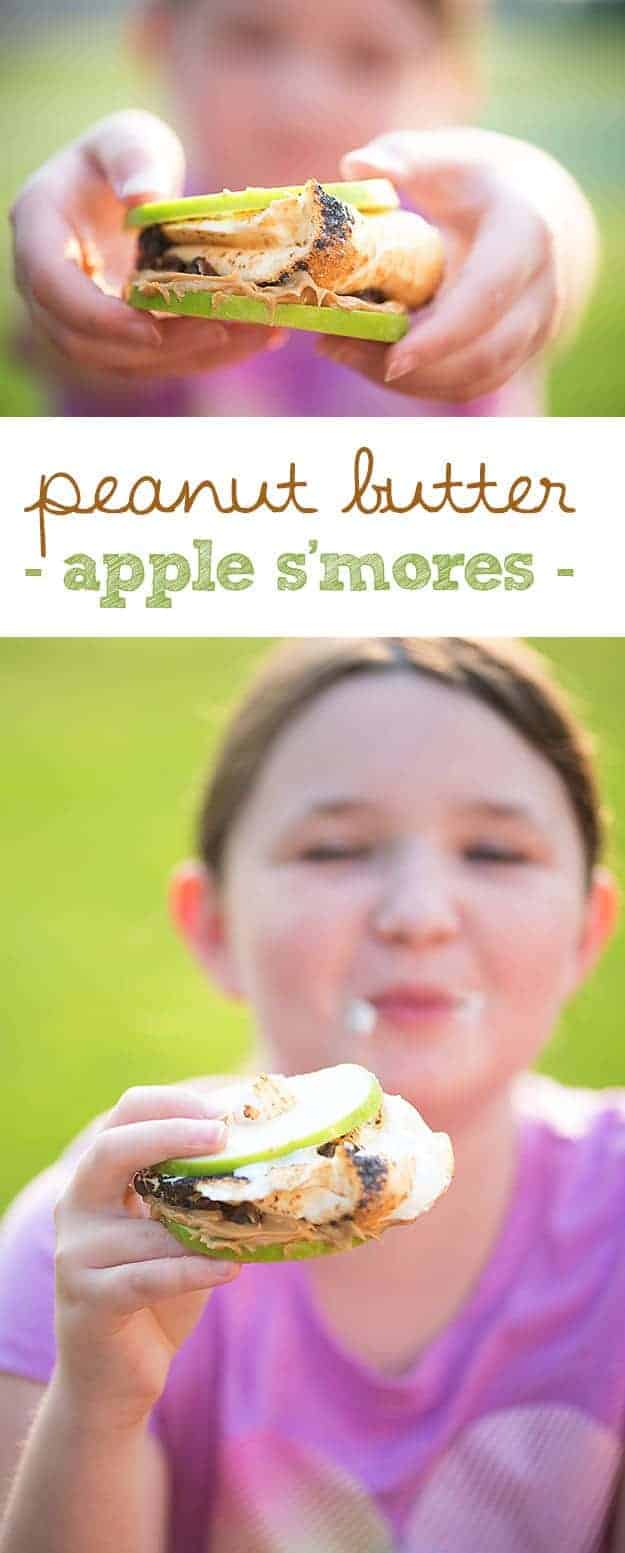 We are not what you would call an outdoorsy type of family.
We like the internet. We like central air. We super like not having bugs crawl on us.
Nature is kind of dirty and sticky and sweaty and that's not really our thing.
But! A couple of years ago, I lost my mind during an online Black Friday sale, as one does, and I purchased a little fire pit for our back yard. My husband has never rolled his eyes so hard in his life.
Us. Outside. Sitting around a fire. I mean, he was totally game for it, but he knew that the kids and I would sit out there for about 2 minutes and then retreat back to the safety of the house.
He underestimated the power of the s'mores, though. Sure, we already do our weekly Saturday Night S'mores Party (click to find out how to make s'mores indoors!), but the lure of an open fire and big sticks and humongous marshmallows really drew us in.
We used the heck out of the fire pit until we moved to a new house and someone forgot to put it on the moving truck. *sigh*
We've been scoping out some fancy fire pits now that my little cheapie one is gone forever. I want one that will last and that looks pretty, but my husband thinks that the power of the roasted marshmallow is going to wear off any day and the fire pit will just sit out back without any visitors. He's wrong, of course.
I mean, I have an entire category on this blog devoted to s'mores recipes!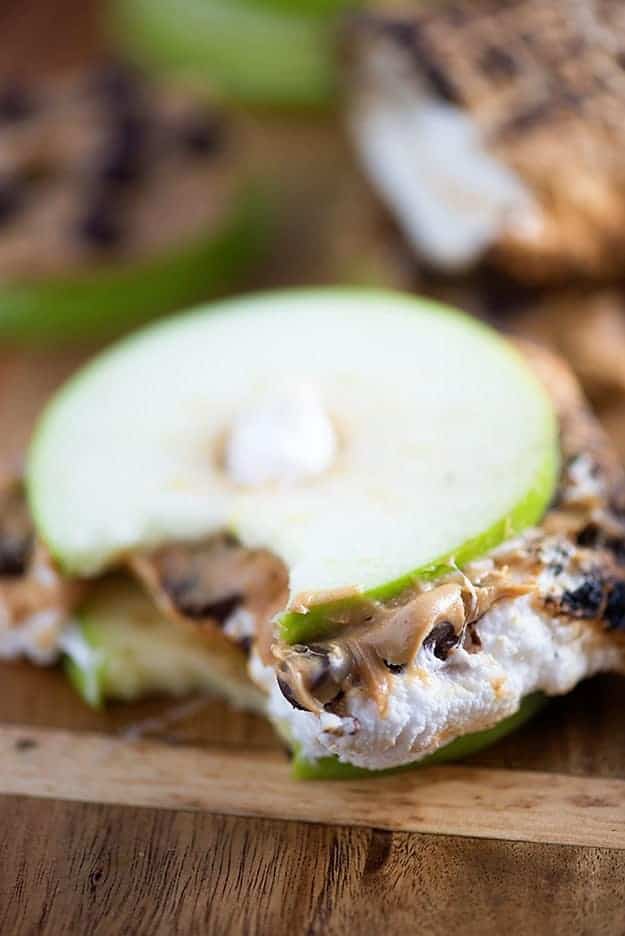 Anyway, when Campfire® Marshmallows reached out and asked me to create a new s'mores recipe, I was all over it! S'mores is just about the only thing powerful enough to get me outside on a hot summer night, so it's safe to say the love runs pretty deep.
We love Campfire® Giant Roasters Marshmallows. They're huge and make the perfect ooey gooey mess of a s'mores. I upped the s'mores ante by using apple slices instead of graham crackers, spreading them with peanut butter, and sprinkling on some chocolate chips. My kids went nuts for these s'mores and so did I!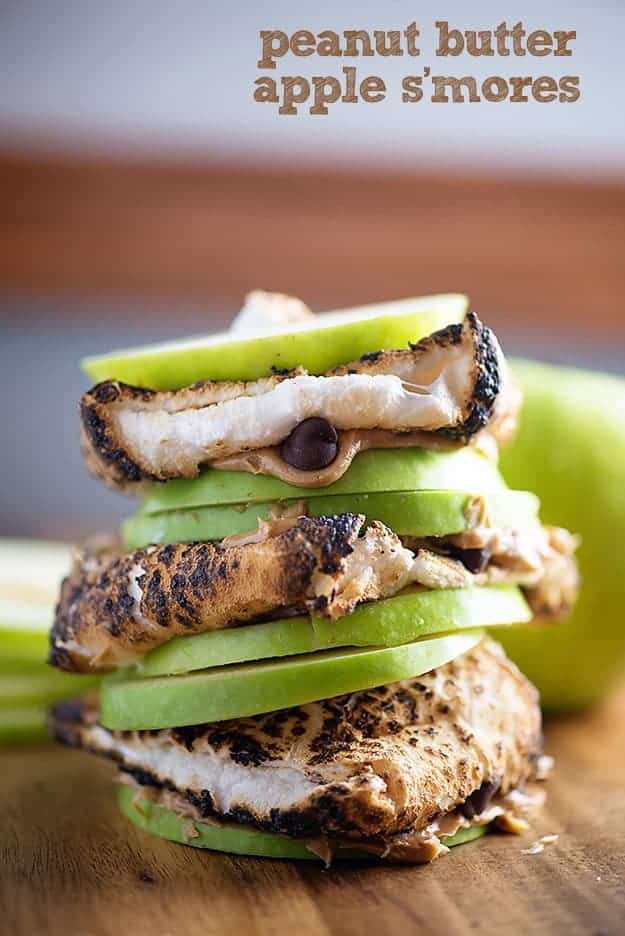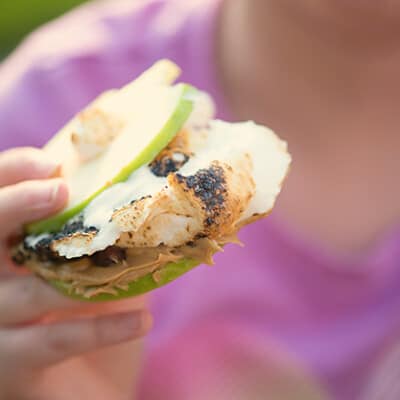 Peanut Butter Apple S'mores
S'mores is just about the only thing powerful enough to get me outside on a hot summer night, so it's safe to say the love runs pretty deep.

Prep5 minutes
Cook2 minutes
Total7 minutes
Instructions
Use an apple corer to remove the core from the apple.

Slice the apple into 1/4 inch thick rounds, discarding the top and bottom. You should get about 6 slices per apple, depending on the apple size.

If you're not making s'mores right away, brush both sides of the apple slices with lemon juice to prevent them from browning.

Spread half of the apple slices with peanut butter and sprinkle the chocolate chips on top.

Roast the marshmallows over an open fire until melty and golden brown.

Place the marshmallows over the peanut butter and chocolate chips. Top with the remaining apple slices.
Nutrition Information:
Calories: 223kcal (11%)| Carbohydrates: 27g (9%)| Protein: 5g (10%)| Fat: 11g (17%)| Saturated Fat: 3g (19%)| Cholesterol: 2mg (1%)| Sodium: 89mg (4%)| Potassium: 168mg (5%)| Fiber: 2g (8%)| Sugar: 21g (23%)| Vitamin A: 65IU (1%)| Vitamin C: 2.8mg (3%)| Calcium: 28mg (3%)| Iron: 0.6mg (3%)
Campfire® is looking for your best S'more recipe! As long as it's full of roasted and toasted Campfire® marshmallows, it's something we've got to see!
Check out Campfire® Marshmallows on Facebook and then submit an original recipe using Campfire® marshmallows from June 29th through July 10th for a chance to win a full patio set with fire table!
For more details, official rules, and the recipe submission form, visit Campfire®'s brand new website.