These glazed chocolate donuts are soft and moist and dipped in a sweet glaze!
I've been on a quest to create the perfect chocolate cake donut. I mean, first of all, goals like this are fun to achieve. Even the not-so-perfect chocolate donuts are still chocolate donuts.
Second, how fabulous would it be to have a perfect chocolate donut recipe? Pretty darn fabulous, you guys. Being known as the lady with the perfect chocolate donut recipe is kind of a big deal.
So, I set my mind to it and I measured and mixed and baked and tasted and then did it again and again quite a few times. Finally, I came up with this recipe. The perfect chocolate donut. It's moist. It's fluffy. It's like a chocolate cake, but it's shaped like a donut which means that it's breakfast. Then I dunked the donuts in my favorite donut glaze. It gets all crisp and crackly and is pretty much just as perfect as the donut shop glaze.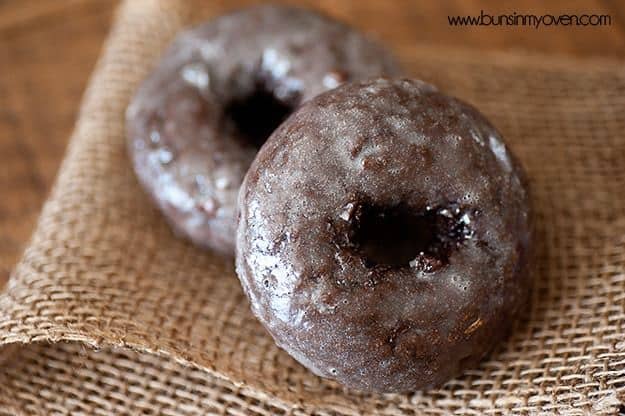 These are definitely my favorite baked donuts! If you prefer fried donuts, be sure to check out my favorite recipe for those here!
If you're looking for an easy recipe for your donut pan, this is the one. No mixer needed and it takes less than 20 minutes to get your donuts on the table. These make a great after school snack, too.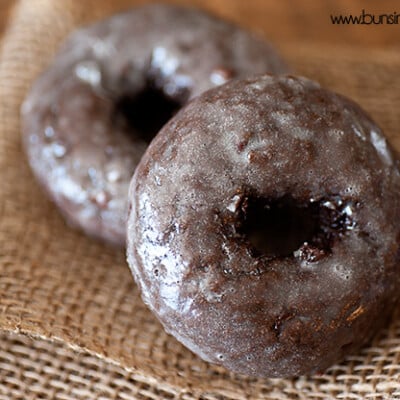 Glazed Chocolate Donuts
These glazed chocolate donuts are soft and moist and dipped in a sweet glaze!
Prep10 minutes
Cook8 minutes
Total18 minutes
Ingredients
For the donuts
1 cup flour
1/2 cup sugar
1/4 cup natural cocoa powder
1/4 cup mini chocolate chips optional
1/2 teaspoon baking soda
1/4 teaspoon salt
1/2 teaspoon vanilla extract
1 large egg
6 tablespoons sour cream
1/4 cup milk
1/4 cup vegetable oil
For the glaze
1 1/2 cups powdered sugar
1/4 cup milk
1 teaspoon vanilla
Instructions
To make the donuts
Preheat oven to 375 degrees.

In a medium mixing bowl, combine the flour, sugar, cocoa powder, chocolate chips, baking soda, and salt.

In a small bowl, beat together the vanilla, egg, sour cream, milk, and oil.

Stir the wet ingredients into the dry until just combined.

Spoon in a greased donut pan.

Bake for 8 minutes or until the tops spring back when you touch them.

Let the donuts cool in the pan before glazing.
To make the glaze
Whisk together the powdered sugar, milk, and vanilla until smooth.

Dunk the donuts in the glaze to fully coat and place on a wire rack to set, about 5 minutes.
Tips & Notes:
You'll want to use natural cocoa powder here so that the donuts rise properly.
Nutrition Information:
Serving: 1donut| Calories: 258kcal (13%)| Carbohydrates: 42g (14%)| Protein: 3g (6%)| Fat: 9g (14%)| Saturated Fat: 6g (38%)| Cholesterol: 24mg (8%)| Sodium: 135mg (6%)| Potassium: 79mg (2%)| Fiber: 1g (4%)| Sugar: 31g (34%)| Vitamin A: 100IU (2%)| Calcium: 34mg (3%)| Iron: 1mg (6%)
(I've changed this glaze recipe up a bit after receiving a few comments that it wasn't setting properly. It works beautifully now!)
This post contains affiliate links.