August 8, 2018
Espresso Buttercream Sandwich Cookies
Who needs coffee? Pretty much everyone, right?
I mean, you were all probably up late blowing things up, drinking beer, and sweating so much that your thighs are all chafed and it's very hurty to walk. No? Just me?
Well, I'm not gonna lie. I could use some caffeine this morning after all of the 4th of July festivities. Coffee is kinda gross, if you ask me. I mean, I'll drink the girly coffee drinks, but straight coffee? Huh uh. Not happening.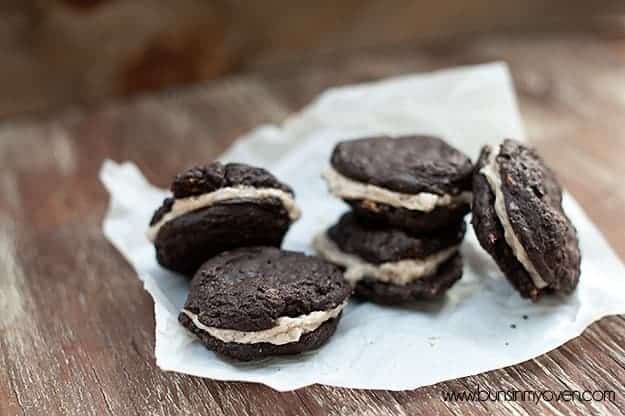 So, I made cookies. Then I added espresso. Then I made frosting. Then I added espresso. Then I bounced all around on a serious caffeine high. It was fab.
I'm pretty sure that one cookie won't give you much of a high, but if you attack the bowl of frosting with a spoon? Well, I can't be responsible for the buzz that you may or may not get. Don't say I didn't warn you.
These have a decidedly grown up flavor. The cookie is somewhat sweet, deeply chocolatey, with the crunch of the toffee bits. The frosting, though? It's outta this world. These taste just like one of my girly coffee drinks!
Espresso Buttercream Sandwich Cookies
Servings: 12 cookies
Course: Dessert
Cuisine: American
Keyword: cookies
Calories: 570 kcal
These chocolate cookies are so decadent and that espresso buttercream is addictive!
Ingredients
For the cookies:
1 cup butter softened
1 1/2 cups white sugar
2 large eggs
2 teaspoons vanilla extract
2 cups all-purpose flour
2/3 cup cocoa powder
3/4 teaspoon baking soda
1 teaspoon espresso powder
1/4 teaspoon salt
3/4 cup toffee chips optional
For the espresso buttercream:
1 cup butter, softened
2 1/2 cups powdered sugar
1 1/2 teaspoons vanilla
1 1/2 teaspoons espresso powder
Instructions
To make the cookies:
Preheat the oven to 350 degrees.

Beat the butter and sugar together until light and fluffy. Beat in the eggs and vanilla.

In a small bowl, combine the flour, cocoa powder, baking soda, espresso powder, and salt.

Gradually add the dry ingredients to the wet ingredients until well combined.

Stir in the toffee chips.

Drop by heaping tablespoonfuls onto a parchment lined baking sheet.

Bake for 9 minutes or until just set. Cool for a few minutes on the cookie sheet and then transfer to a wire rack to cool completely before frosting.
To make the frosting:
In the bowl of a stand mixer, beat together the butter and powdered sugar until well combined. In a small cup, stir together the vanilla and espresso powder.

Add the espresso mixture to the butter mixture and beat until combined.

When the cookies are completely cool, spread half of the cookies with the frosting and top with the remaining halves.

Store any unused frosting in the refrigerator (or eat it with a spoon like me).
Nutrition Facts
Espresso Buttercream Sandwich Cookies
Amount Per Serving
Calories 570 Calories from Fat 288
% Daily Value*
Fat 32g49%
Saturated Fat 20g125%
Cholesterol 109mg36%
Sodium 400mg17%
Potassium 121mg3%
Carbohydrates 69g23%
Fiber 2g8%
Sugar 50g56%
Protein 4g8%
Vitamin A 995IU20%
Calcium 22mg2%
Iron 1.8mg10%
* Percent Daily Values are based on a 2000 calorie diet.
Nutrition Disclaimer: All information presented on this site is intended for informational purposes only. I am not a certified nutritionist and any nutritional information shared on bunsinmyoven.com should only be used as a general guideline.
Espresso Buttercream from Collaborative Curry