These fried cookie dough balls are so much fun to eat! If you love fair food, these are for you!

I'm sorry, okay?
I couldn't help myself. I love warm, melty cookie dough and I love fried food and if that makes me a bad person, then so be it.
I was in Austin, Texas a few months ago and had deep fried cookie dough and it's haunted me, you guys. Haunted me.
If you're near Austin, you definitely have to make a trip to Torchy's and give their tacos and their deep fried cookie dough balls a try. It's a requirement.
I finally got around to making some fried cookie dough myself and it was so good that it was bad.
So, so, so bad. I will never be able to stop eating these and neither will you.
Fair food.
In my house.
At all hours of the day.
On demand.
Any time I want.
Gah. Someone take away my pot of oil. This has to stop.
I had a hard time photographing these, so please ignore the photos and just make them yourself. They look so much better in person!
And, obviously, people are too busy shoving them in their mouths to pay much attention to looks anyway. 😉
A few tips: These can be made using any cookie dough. If you have a favorite recipe, fry it! I dare you.
If you're skurred, just use the recipe on the back of the Toll House bag. It's a winner.
Keep in mind that the dough does NOT cook through all the way. These are gooey on the inside.
I use pasteurized eggs, which means that they are a-okay for consuming raw or undercooked. They're perfect in recipes like this!
I happily eat raw cookie dough all the time.
Fried cookie dough at home is actually easy!

I used Carbon's Golden Malted Waffle mix to make the batter, but any pancake or waffle batter will do just fine.
As with most fried food, these are best while still hot from the fryer.
Give them just a couple of minutes to cool down, but don't wait too long before eating them.
Then again, I gobbled down my leftovers a couple of hours after frying and they weren't bad. I mean, it's fried cookie dough. You could probably dunk them in battery acid and they'd still taste good. But, you know. For best results, serve warm. And without battery acid.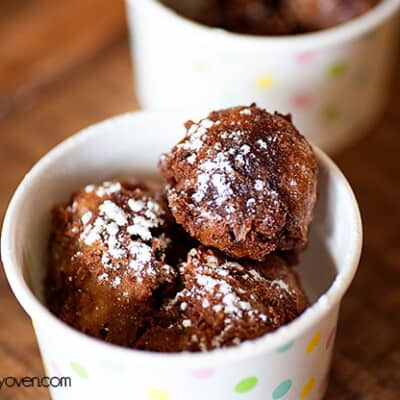 Deep Fried Cookie Dough Balls
Deep fried cookie dough balls - just like what you'd get at the fair!

Prep10 minutes
Cook20 minutes
Total30 minutes
Ingredients
1 recipe chocolate chip cookie dough made with Safest Choice eggs
1 cup pancake mix
1 cup milk
Oil for frying
1/4 cup powdered sugar for sprinkling
Instructions
Prepare cookie dough according to your favorite recipe.

Use a medium cookie scoop to form balls of dough. Place dough balls on a parchment lined cookie sheet.

Place in freezer for 20 minutes.

Remove the dough from the freezer. Add oil to a medium sized pot, about 3 inches deep. Heat over medium heat to 350 degrees.

Mix together the milk and pancake mix in a small bowl.

Dip the cookie dough balls into the pancake mix and transfer to the hot oil using a fork. Fry 2 or 3 balls at a time for 1-2 minutes or until the batter is golden brown. Remove from the oil to a paper towel lined plate using a slotted spoon.

Sprinkle with powdered sugar before serving.
Nutrition Information:
Calories: 118kcal (6%)| Carbohydrates: 16g (5%)| Protein: 2g (4%)| Fat: 4g (6%)| Saturated Fat: 1g (6%)| Cholesterol: 11mg (4%)| Sodium: 112mg (5%)| Potassium: 72mg (2%)| Sugar: 9g (10%)| Vitamin A: 65IU (1%)| Calcium: 48mg (5%)| Iron: 0.5mg (3%)