This Crockpot Lasagna Recipe is my favorite way to get this classic Italian dish on the table! The noodles cook perfectly in the slow cooker and the lasagna is so rich and hearty.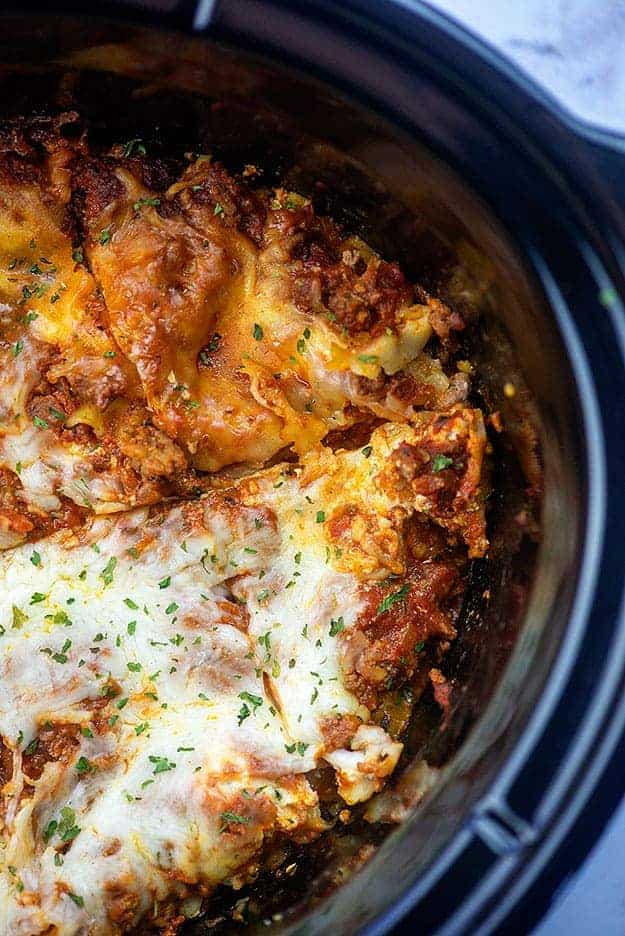 Look, I don't want to throw my mama under the bus here or anything, but I have to tell you something…
The only lasagna I ate as a kid was the frozen kind.
I mean, I get it.

She just hadn't discovered crock pot lasagna and didn't really how truly easy lasagna can be!
Now we're all lasagna snobs over here. Homemade or bust, my friends! 😉
We love this crockpot lasagna recipe because it's really simple to throw together – no need to boil the lasagna noodles first. Everything cooks up together in the slow cooker just perfectly. The flavors are so rich and the method is simple.
Slow cooker lasagna is really made just like traditional lasagna. The big difference here is that you don't boil the noodles and you get to start it well in advance of the dinner rush so it's ready when you're ready.
Crock Pot Lasagna Ingredients:
This post contains affiliate links. As an Amazon associate and member of other qualifying programs, I earn from qualifying purchases.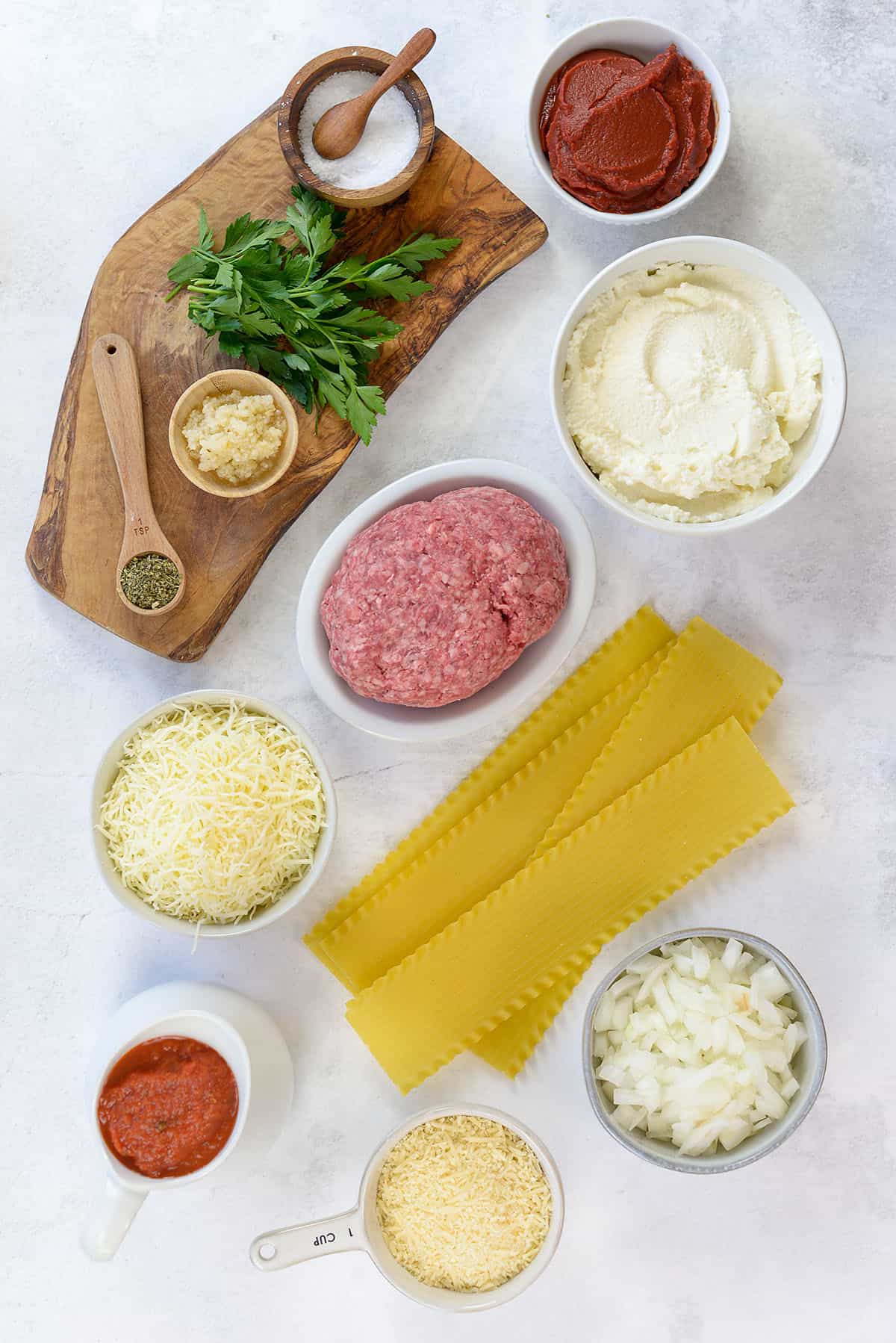 Lasagna Noodles – Regular lasagna noodles here. You don't need the 'no boil' variety, though we aren't going to boil them.
Meat Sauce – You will prepare this pasta meat sauce from ground beef, garlic & onion, marinara sauce, Italian seasoning, and tomato paste. The tomato paste will add lots of great tomato flavor to the lasagna and it doesn't take much! If you're feeling ambitious, make our homemade spaghetti sauce.
Cheese Mix – The cheese layer is actually a mixture of three cheeses: ricotta, mozzarella, and Parmesan as well as some minced garlic and freshly chopped parsley. You can sub the ricotta for cottage cheese if you prefer!
What Readers are Saying!
"Amazing!! Never thought lasagna could taste this good out of a crock pot. I've shared this with friends and coworkers and everyone has the same to say. Amazing!!" – Ann P.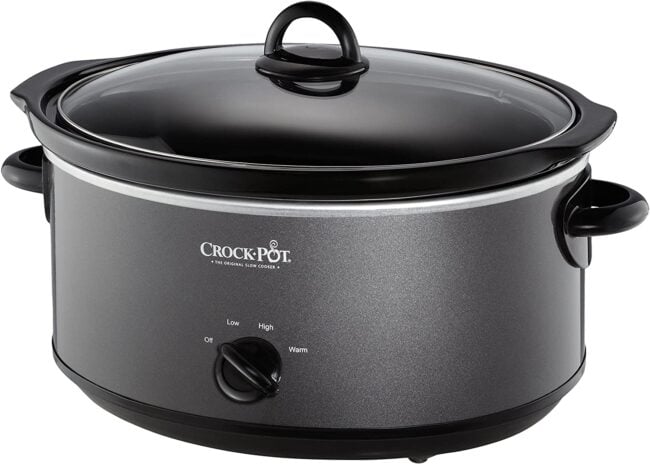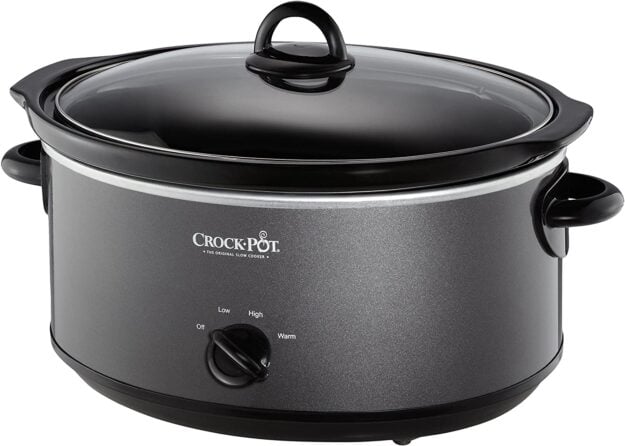 In the market for a new slow cooker? We love this 7 quart Crockpot. It's simple to use, cooks evenly, and is very budget friendly. Plus, it has a 4 1/2 star rating with over 5,000 reviews on Amazon!
How to Make Lasagna in the Crockpot: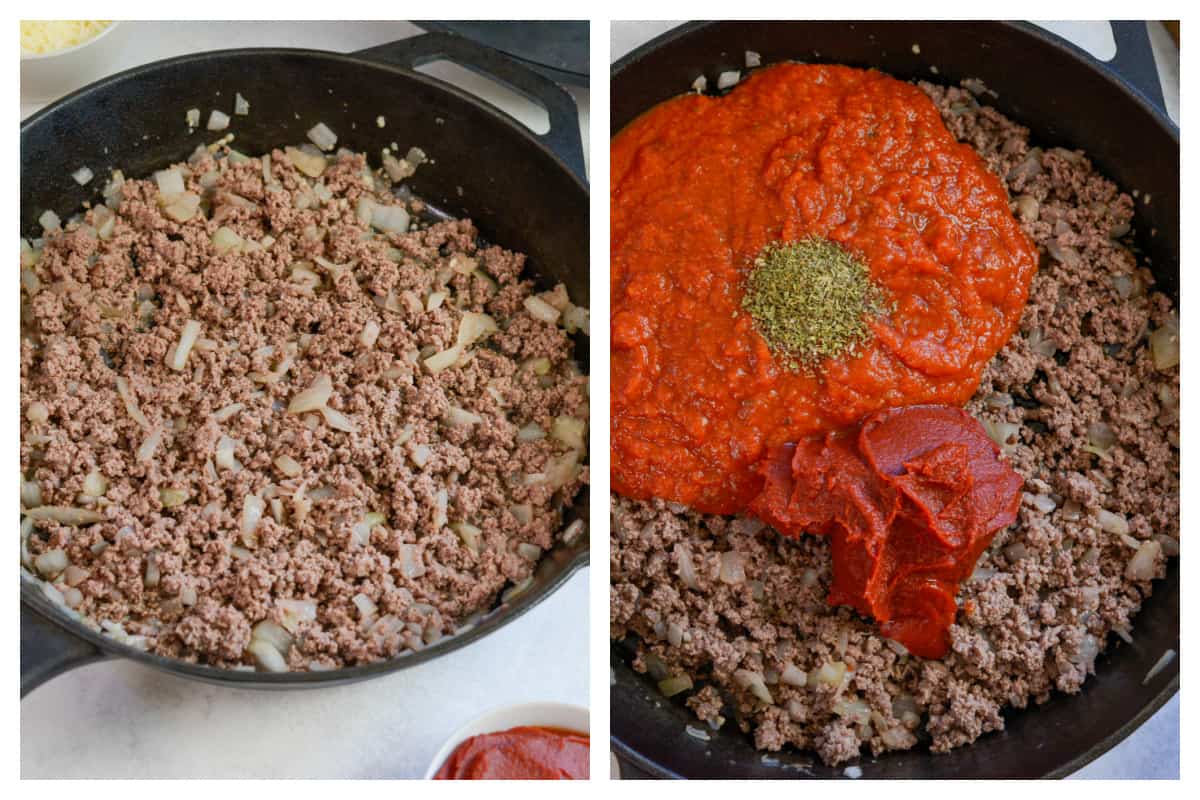 Meat Sauce: Brown the beef along with onion and garlic. Drain off any excess fat once the meat is cooked through and stir in the marinara, tomato pasta, water, and seasoning.
PICKY KID Tip!
Cut the onions very small or even blitz them in a blender or food processor. You'll still get the flavor without the chunks that kids seem to hate!
Cheese Mix: Prep your cheeses by combining ricotta, mozzarella, Parmesan, garlic, and parsley. You can use cottage cheese in place of ricotta if that's more your speed.
Layer: Crock pot lasagna layers just like traditional lasagna. Meat sauce, noodles, cheese, repeat. Start by adding 1/4 of the meat sauce you just prepared to the bottom of the crockpot. Top with noodles – feel free to break them in pieces to help them fit and don't worry if they overlap a bit. The final layer is the cheese mixture. Just keep repeating your layers for a total of three layers.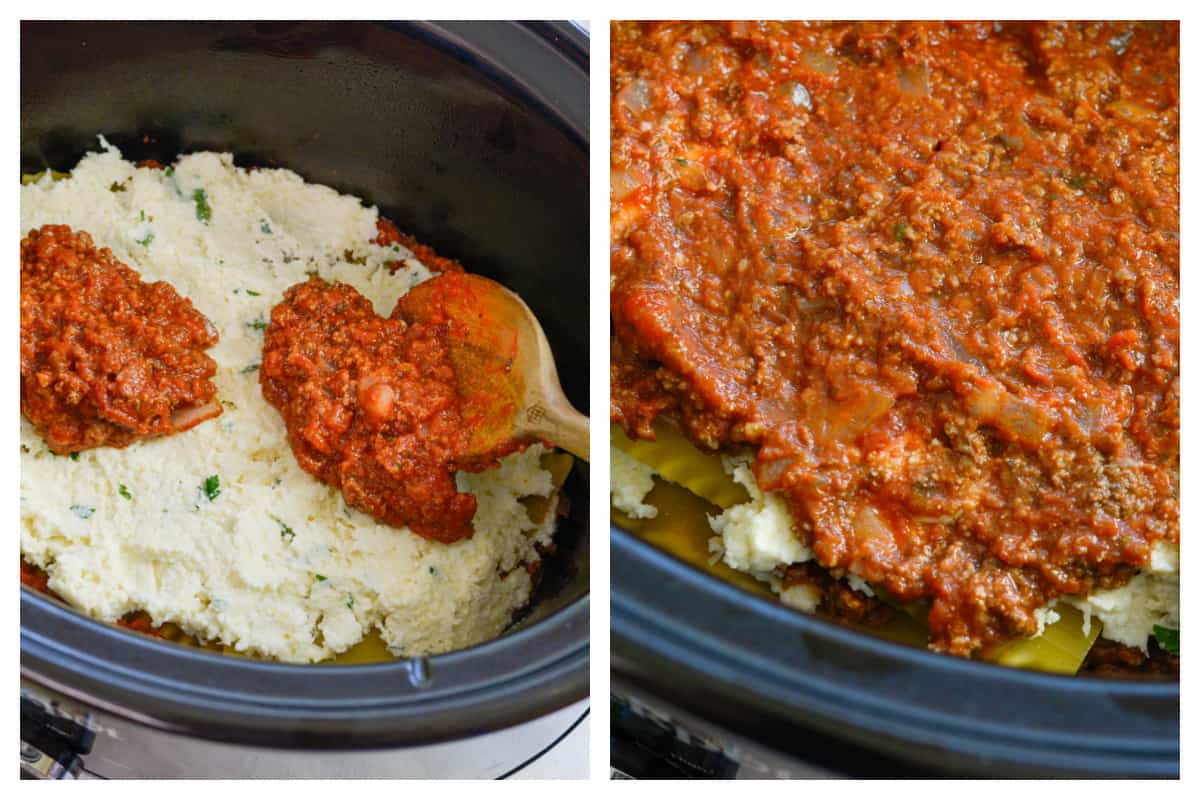 Top Layer: Top it all off with any remaining meat sauce and a sprinkle of mozzarella.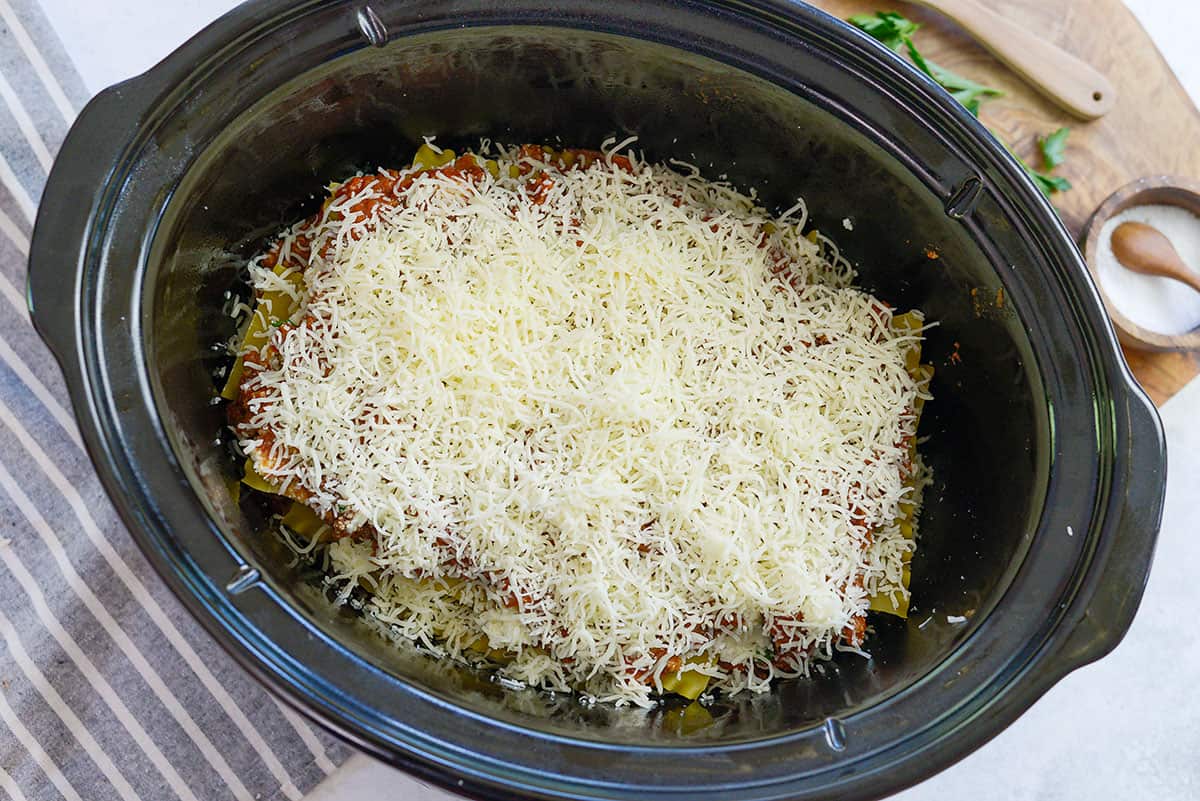 Slow Cook: This crockpot lasagna recipe cooks on low in about 5 hours and I love that I can assemble it at lunch time and then have it ready to go at dinner. It makes the dinner rush so much more manageable!
Try serving this easy Crockpot lasagna recipe with some of my favorite cream cheese garlic bread!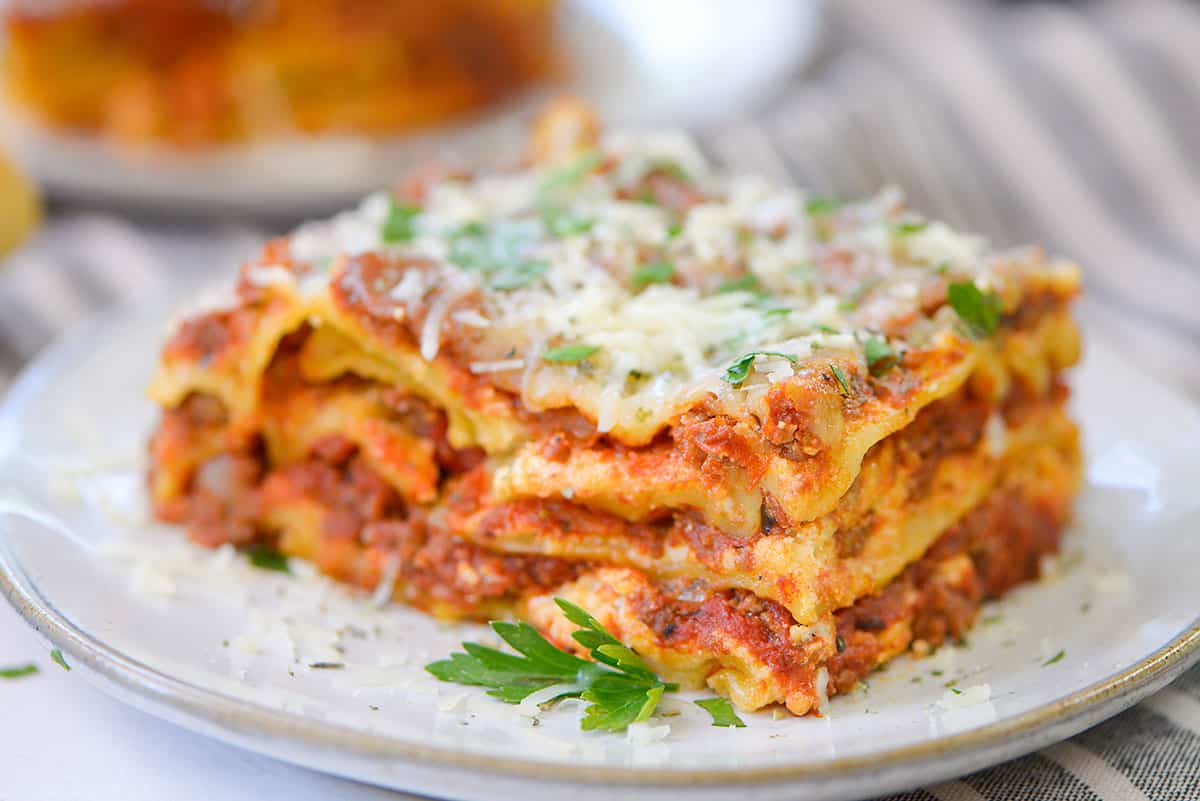 FAQs:
Can lasagna be made ahead of time?
Yes! This slow cooker lasagna recipe can be made in advance. Layer it all in the crock pot and then pop it in the fridge. I like to let it set out for an hour to come to room temp before I start cooking it.
How to store lasagna?
This lasagna will last in the fridge, tightly covered, for 3-5 days.
You could also freeze the leftovers for 2-3 months.
What noodles to use?
We use plain old regular lasagna noodles here!
There's no need to buy the no-boil variety and there's no need to boil the regular variety for this crockpot recipe.
The lasagna noodles will cook in the crock pot and turn out just perfect.
How to serve lasagna?
The crockpot isn't shaped quite the same as a traditional lasagna pan, which means that you'll end up with a taller, thicker lasagna. Cut your serving pieces a bit smaller than you traditionally would to account for the thickness.
MORE ITALIAN INSPIRED RECIPES!
Baked Spaghetti: Similar to a lasagna, but with spaghetti.
Homemade Italian Dressing: An easy and low carb salad dressing!
Homemade Alfredo Sauce: So creamy and so easy!
Pork Tenderloin: Topped off with a garlic butter sauce.
Eggplant Parmesan: This classic Italian recipe is so easy in the air fryer!
Turkey Meatballs: Serve these with some spaghetti and marinara for a healthier take on spaghetti and meatballs.
Baked Ziti with Meat: The white sauce makes this recipe extra special.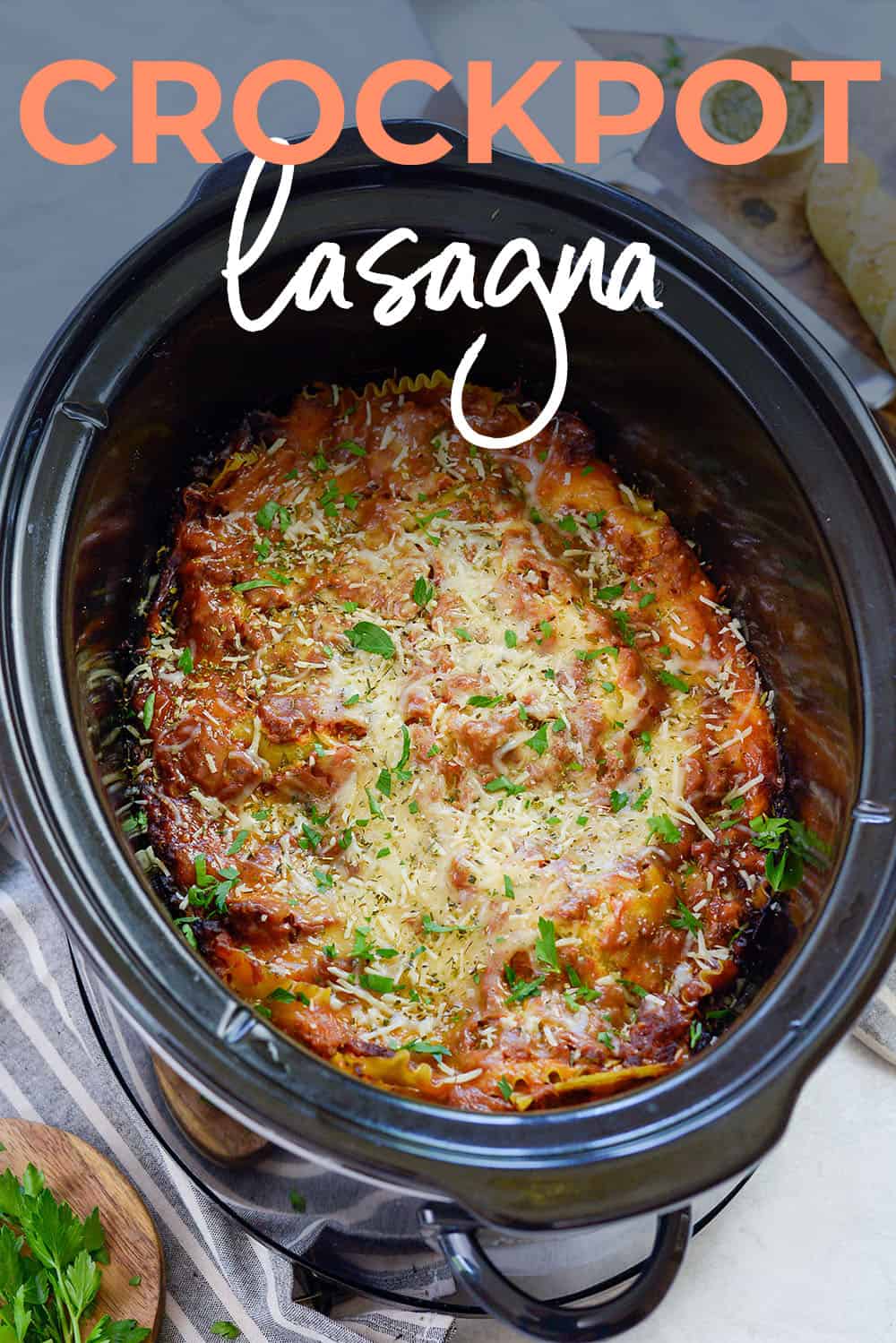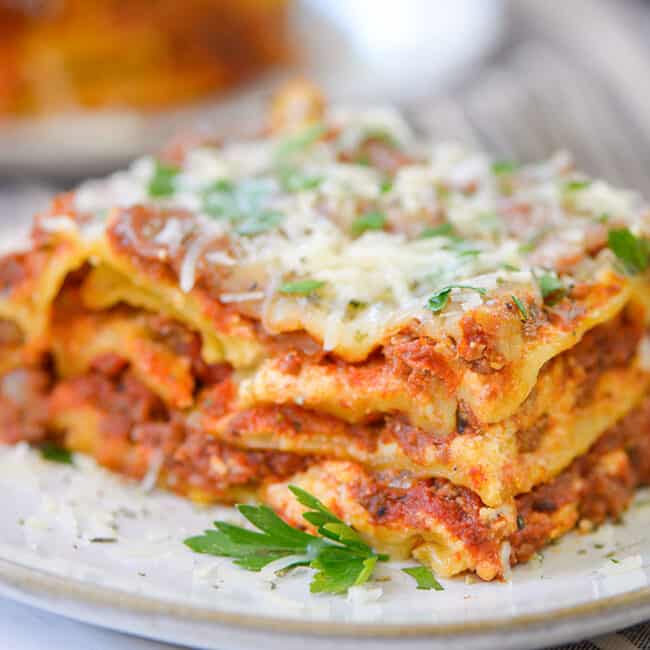 Crockpot Lasagna
Classic lasagna tastes even better when it's slow cooked! Plus, it makes lasagna a totally doable dinner even on busy weeknights.
Prep20 minutes
Cook5 hours
Total5 hours 20 minutes
Ingredients
1 pound ground beef
1 sweet onion minced
5 cloves garlic minced, divided
24 ounces marinara
6 ounces tomato paste
1 teaspoon dried Italian seasoning
12 ounces lasagna noodles
15 ounces ricotta cheese
2 cups shredded mozzarella divided
1 cup shredded Parmesan
1/4 cup fresh chopped parsley
1 teaspoon salt
Instructions
Add the ground beef, onion, and 3 cloves of garlic to a skillet over medium heat, crumbling the meat as it cooks. Drain the grease from the skillet and add the marinara, tomato paste, Italian seasoning and 1 cup of water to the beef. Stir well to combine.

Spray a slow cooker with non-stick spray.

Place ¼ of the meat sauce into the bottom of the slow cooker.

Layer 1/3 of the noodles over the sauce, breaking them up to cover the entire area. The noodles will overlap a bit.

Add the ricotta, 1 cup of mozzarella, Parmesan, parsley, salt, and reserved 2 cloves of minced garlic to a small bowl and stir to combine.

Spoon 1/3 of the ricotta mixture over the noodles. Repeat layers twice, ending with meat sauce.

Sprinkle with the reserved cup of mozzarella cheese.

Cover and cook on low for 5 hours or until noodles are tender.
Tips & Notes:
The ricotta may be swapped for cottage cheese, if that's your preference. Use a crockpot liner for easy clean up.
Nutrition Information:
Calories: 582kcal (29%)| Carbohydrates: 47g (16%)| Protein: 35g (70%)| Fat: 29g (45%)| Saturated Fat: 15g (94%)| Cholesterol: 98mg (33%)| Sodium: 1370mg (60%)| Potassium: 901mg (26%)| Fiber: 4g (17%)| Sugar: 10g (11%)| Vitamin A: 1374IU (27%)| Vitamin C: 16mg (19%)| Calcium: 456mg (46%)| Iron: 4mg (22%)
This recipe was originally published in January 2020. It's been updated with new photos. Original photos below.