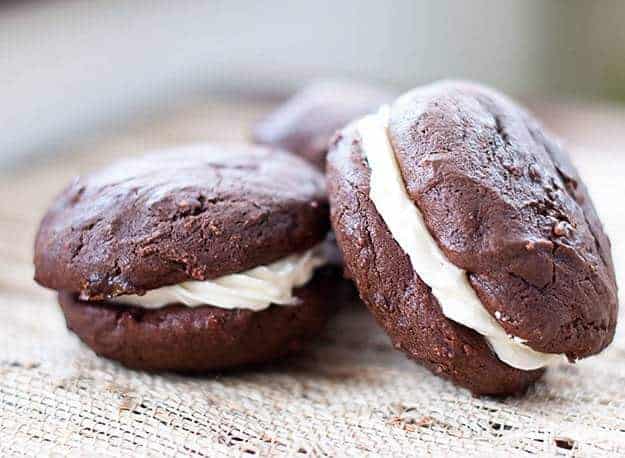 I'm honestly not sure where to begin. The cookie? The filling? The fact that my pants no longer zip?
Let's start with my pants. They no longer zip. True story.
Moving on from that, allow me to tell you about this cookie-like thing that I baked.
It's called a whoopie pie and it sure looks like a cookie, but the funny thing is that it tastes like a dense cupcake. It is unbelievable. Truly.
I'm not sure where whoopie pies have been all my life, but I'm sure glad they've finally made an appearance.
Now, as for the Swiss Meringue Buttercream…well, I'm not even sure what to say.
I'm a big, huge fan of buttercream frosting. It's so sweet and buttery and rich and the texture is so creamy, but still slightly firm, and it melts in your mouth in the most amazing way ever. I love buttercream.
But, these whoopie pies aren't filled with any buttercream I've ever tasted.
This Swiss Meringue Buttercream recipe is amazing!
These whoopie pies are filled with Swiss Meringue buttercream and ohmyword, there is an amazing difference.
Regular buttercream is too sweet for a lot of people (which is fine with me, because that just means that I can eat the frosting they've left on the side of their plate while I'm doing the dishes – what? That's not gross at all.), but this Swiss Meringue is perfect.
It's only lightly sweetened and it is absolutely full of butter. The flavor of all that delicious butter just shines right through and you're left with this unbelievably silky frosting that tastes like lightly sweetened butter. It's amazing, is what I'm trying to say.
So, to sum it all up, you have an amazing cake-like cookie sandwich filled with this dreamy, creamy filling. And, me. With my pants unzipped. Don't forget that small detail.
Totally worth it, though. Sweatpants are comfier anyway.
Chocolate Whoopie Pies with Swiss Meringue Buttercream
The filling in these whoopie pies is so creamy, you'll want to eat them like an Oreo - frosting first.
Prep20 minutes
Cook15 minutes
Total35 minutes
Ingredients
For the cookies:
3 1/2 cups all-purpose flour
1/4 teaspoon salt
1 1/4 teaspoons baking powder
1 1/4 teaspoons baking soda
3/4 cup dark cocoa powder
1 cup brewed coffee
2 cups firmly packed light brown sugar
3/4 cup canola oil
1 large egg
1 teaspoon vanilla extract
1/2 cup buttermilk shaken
For the filling:
5 large egg whites
1 1/2 cups white sugar
2 cups unsalted butter , cut into 1/2 inch cubes, cool but not cold
1/4 teaspoon salt
1 teaspoon vanilla extract
Instructions
For the cookies:
Preheat the oven to 350 degrees and line two baking sheets with parchment paper.

In a large bowl, whisk together the flour, salt, baking powder, and baking soda. Set aside.

In another large bowl, whisk together the cocoa powder and hot brewed coffee until completely combined and dissolved.

In a medium bowl, stir together the brown sugar and oil. Add this to the cocoa mixture and whisk until combined. Add the egg, vanilla, and buttermilk. Whisk until smooth.

Use a rubber spatula to gently fold the dry ingredients into the wet. Make sure to scrape down the sides and bottom of the bowl as you fold.

Use a cookie scoop to drop spoonfuls of dough onto the prepared baking sheets about 1 inch apart. (You can make these any size you like - I made about 30 small sandwiches. Bake time is for tablespoon sized dough balls.) Bake for 10 to 15 minutes, until the cookies are just starting to crack on top and a toothpick inserted in the center comes out clean. Let the cookies cool completely on the pan while you make the filling.
For the filling:
In a medium bowl, whisk the egg whites and sugar together. Set the bowl over a pan of simmering water but do not let the water touch the bottom of the bowl. Heat the mixture until the sugar is completely dissolved and the color is a milky white, about 2 to 3 minutes, stirring often.

Transfer the egg mixture to the bowl of an electric mixture fitted with the whisk attachment and beat on medium-high speed. Beat until smooth and fluffy, about 5 minutes. Remove the whisk attachment and replace with the paddle attachment. Add the cubed butter and beat on medium-high speed until smooth and fluffy, about 5 minutes more. The buttercream will look as though it is breaking, but it will come together.

Add the salt and vanilla and beat for 5 seconds to combine.

To assemble the pies, turn half of the cookies upside down. Use a spoon to drop a large dollop of filling onto the flat side of the cookie or pipe it on. (I piped it, much easier!) Place another cookie, flat side down, on top of the filling and lightly press the cookies together. Repeat until all cookies are filled. Put the whoopie pies in the refrigerator for at least 30 minutes to set. Bring the pies to room temperature before serving.

Store tightly covered in the refrigerator.
Nutrition Information:
Serving: 1cookie| Calories: 318kcal (16%)| Carbohydrates: 37g (12%)| Protein: 2g (4%)| Fat: 18g (28%)| Saturated Fat: 8g (50%)| Cholesterol: 38mg (13%)| Sodium: 105mg (5%)| Potassium: 107mg (3%)| Fiber: 1g (4%)| Sugar: 24g (27%)| Vitamin A: 395IU (8%)| Calcium: 34mg (3%)| Iron: 1.1mg (6%)

lightly adapted from my favorite cookbook Baked Explorations