This blondies recipe is truly the best! It's a one bowl recipe that makes the chewiest blondies you'll ever try! And that fudge frosting is to die for!
Okay, friends. It appears that I have a bit of a thing for blondies happening right now.
My kids ask for them all the time and I can basically never say no. I mean, they come together in one bowl in about 2 mintues. No mixer needed. No long list of ingredients. Just simple every day stuff that makes the chewiest blondies I've ever had in my life.
The blondie base recipe is from Mark Bittman. That man knows how to make a mean blondie.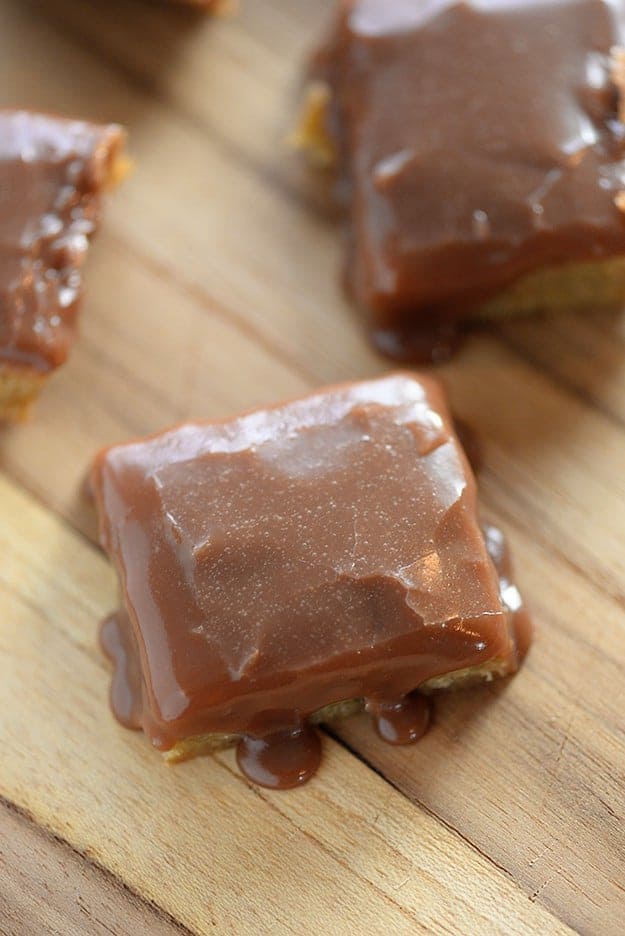 The fudge frosting is from my mama and holy heck, you guys. You're going to want to eat it with a spoon. In fact, when we were kids, my parents always let my brother and I go head to head in a brownie batter licking battles. When it came to this frosting though? My parents always got to lick the bowl. Not fair, if you ask me!
Anyway, this frosting can be a little finicky. Depending on the brand of chocolate chips you use, it will be a little runny or a little thick. No big thang. Just add the recommended amount of chips below, stir it all up until they're melted, and then stir in an extra tablespoon or two of chocolate chips if you think it's too runny for your liking. Just be aware that it does set up and get rich and fudgy as it cools, so don't add a ton of extra chocolate chips and overdo things. Unless, of course, you like to overdo chocolate chips. I mean, who am I to judge?
As you can see, I left the frosting fairly runny today. I like the way it drips over the edges of the blondies and really coats them after you cut them. If I had put these in the fridge, the frosting would have firmed up even more and that wouldn't have happened.
The texture, when a little thicker than shown, is just like fudge!
Be sure to watch the video above to see how quickly and easily I whipped this recipe up! And don't forget to subscribe to my YouTube channel!
Alright, friends. Tell me the truth now. Do you prefer blondies or homemade brownies? Inquiring minds need to know!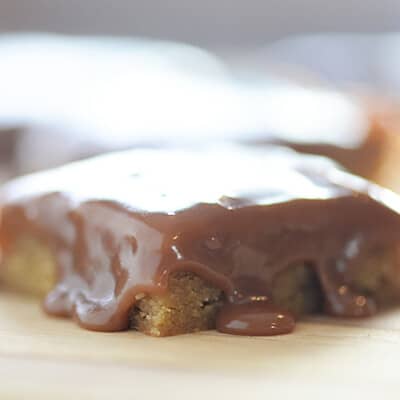 Chocolate Frosted Blondies
This blondies recipe is truly the best! It's a one bowl recipe that makes the chewiest blondies you'll ever try! And that fudge frosting is to die for!
Prep10 minutes
Cook20 minutes
Total30 minutes
Ingredients
For the blondies:
1/2 cup butter melted
1 cup brown sugar
1 large egg beaten
1 teaspoon vanilla extract
1 cup flour
Pinch of salt
For the frosting:
3 tablespoons butter
3 tablespoons milk
1/4 cup granulated sugar
1/3 cup semi-sweet chocolate chips plus more as needed*
Instructions
Preheat oven to 350 degrees. Line an 8x8 baking dish with parchment.

Add the butter and brown sugar to a medium mixing bowl and stir to combine.

Stir in the egg and vanilla.

Stir in the flour and salt until well combined.

Spread into the prepared pan and bake for 22 minutes or until a tester comes out clean. Cool completely.

To make the frosting, put a small saucepan over medium heat.

Stir in the butter, milk, and sugar until melted and bring to a full boil.

Let boil for exactly 60 seconds and remove from the heat.

Stir in 1/3 cup of chocolate chips until melted. Mixture should be pourable, but not super runny. The frosting will thicken up as it cools. If it seems too runny, add an extra tablespoon or two of chocolate chips and stir well until melted into the mixture. Return to heat briefly if needed to melt.

Pour the hot frosting over the cooled blondies and allow to set until hardened, about 1 hour.

Slice and serve!
Nutrition Information:
Calories: 191kcal (10%)| Carbohydrates: 24g (8%)| Protein: 1g (2%)| Fat: 9g (14%)| Saturated Fat: 5g (31%)| Cholesterol: 33mg (11%)| Sodium: 79mg (3%)| Potassium: 55mg (2%)| Sugar: 18g (20%)| Vitamin A: 265IU (5%)| Calcium: 22mg (2%)| Iron: 0.8mg (4%)