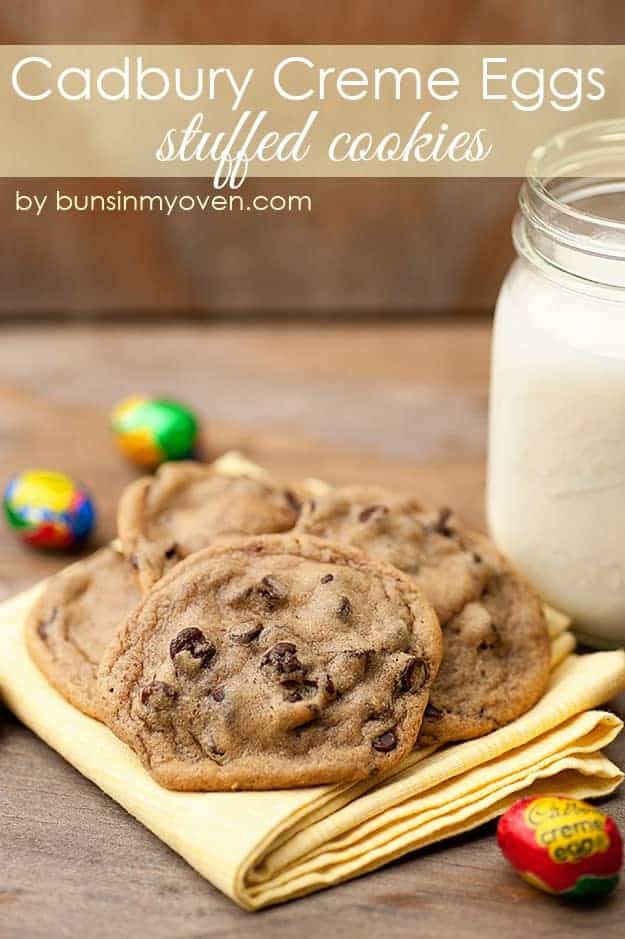 It's coming. The onslaught of candy.
Are you frightened?
Not me. I love this time of year when my kids bring in bucketfuls of candy from the Easter Bunny and each set of grandparents. I pilfer their stash and eat all of the good stuff while they're sleeping. Or I pack it away to bake with.
This year I've done a bit of preemptive baking. Cadbury Creme Eggs are my husband's favorite. I've always been a little bit freaked out by them. The yolky center was just too much for my delicate sensibilites. I'm proud to say that I finally tasted my first Cadbury Creme Egg this week. It was good stuff.
Then I grabbed a tub of refrigerated cookie dough (sorry, guys, it's been a busy week!) and stuffed the eggs inside chunks of dough.
This was the easiest treat I've made in a long time and my husband just told me he wants a divorce so that he can marry me all over again. Pretty sure that makes these cookies a win.
Cadbury Creme Egg Stuffed Cookies
These cookies are a fun treat for Spring and only take minutes to make if you use premade cookie dough!
Prep5 minutes
Cook10 minutes
Total15 minutes
Ingredients
1 recipe chocolate chip cookie dough or a tub of refrigerated dough
Mini Cadbury Creme Eggs
Instructions
Preheat oven according to the cookie dough directions. Line a baking sheet with parchment.

Take two tablespoonfuls of dough and smash it flat in your hand to form a disc. Place an unwrapped mini egg in the center of the dough and fold the dough up around the egg to completely enclose it. If you leave any gaps, the egg will ooze out. If it's completely covered by dough, you won't have a problem.

Repeat for as many cookies as you'd like to make.

Bake according to cookie dough directions.
Nutrition Information:
Calories: 87kcal (4%)| Carbohydrates: 11g (4%)| Fat: 4g (6%)| Saturated Fat: 2g (13%)| Cholesterol: 2mg (1%)| Sodium: 12mg (1%)| Sugar: 10g (11%)| Vitamin A: 40IU (1%)| Vitamin C: 0.1mg| Calcium: 20mg (2%)| Iron: 0.2mg (1%)
Stop back by this Friday for a Spring Blog Hop! You can link up your Spring themed recipe or project on the blogs below: