August 29, 2014
Peanut Butter and Jelly Cookies
Like, woah.
Do not adjust your monitors or run screaming from the room. I know, these pictures. They are not my normal pictures and I'm not sure how I feel about it either.
Everything is so white and bright and is it boring? Or is it minimalistic? Or is that the same thing? Is minimalistic even a word?
I'm questioning everything about myself right now. I just waved my hand in front of my face and was like, duuuuuuude, where did that come from?

Apparently, my life is very easily turned upside down. But I made cookies, so that's okay.
I know that peanut butter and jelly cookies have probably been done to death, but I don't care and you can't make me care, so there. These are delicious. Simple, slightly crunchy peanut butter oatmeal cookies filled with peanut butter and jelly goodness.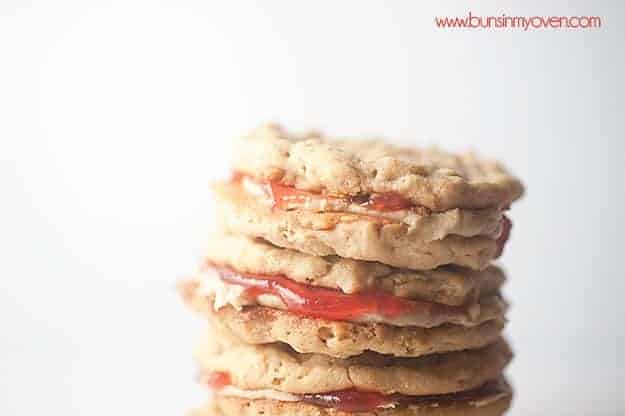 I mean, you could probably eat these for lunch and your mom wouldn't even be that mad about it.
Then again, my kids totally tried that and I told them no. It's so hard to have me for a mom sometimes.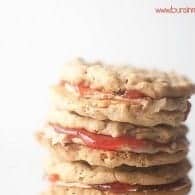 Peanut Butter and Jelly Cookies
Ingredients:
1/2 cup butter, softened
1/2 cup + 1/3 cup peanut butter
1/2 cup white sugar
1/2 cup brown sugar
1 egg
1 tsp vanilla extract
1 cup quick cooking oats
3/4 cup all-purpose flour
1/2 tsp salt
1/2 tsp baking soda
1/4 tsp baking powder
1/3 cup jelly
Directions:
Pre-heat the oven to 350 degrees.
Begin by creaming the butters and sugars for the cookies. Beat in the egg and vanilla.
In a small bowl mix together your flour, baking soda, baking powder, and salt. Mix into the creamed butter and sugars.
Mix in the oats and stir until combined.
Drop teaspoonfuls (or use a small cookie scoop) of dough onto a parchment lined baking sheet. Make a criss cross with a fork to flatten the cookies.
Bake for 10 minutes and allow to cool.
When cookies are completely cooled, flip half of them over. Spread each cookie with peanut butter and jelly. Top with the remaining cookies.
Share this: