November 18, 2013
Pulled Buffalo Chicken Sandwiches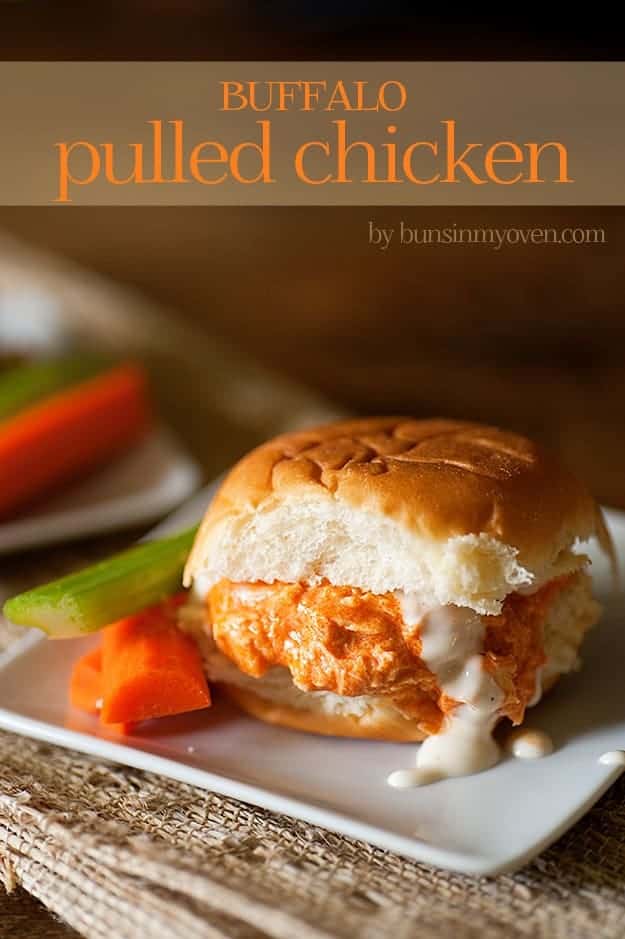 I mentioned that we were on vacation last week. Well, my friends. That was one embarrassing vacation.
We went to Wisconsin Dells for a few days before heading to downtown Chicago for a couple days. While in the Dells, we obviously hit up some water parks.
I don't know if you guys know this about water slides or not, but in order to go down a slide, you first must go up all the stairs. All. The. Stairs.
My legs were all, "Look, lady, I happily agree to hoist your body up from the couch and take you into the kitchen for more popcorn during your nightly TV marathons, but I've never agreed to haul your body up 10 flights of stairs to hurtle down a slide to our death."
They were displeased with me, which they later showed me at the top of the stairs. In the most embarrassing way possible.
I went to step into a raft, across from my poor 13 year old son, when I tripped. And fell. Face first into the raft.
My 13 year old will never go out in public with me again. Everrrrrrr.
When I finally got myself righted, we went down the world's scariest water ride. You may have heard of The Hurricane at The Wilderness Resort, but I had not. I just knew that hey, that looks fun.
Yes, fun. If you like almost dying. That was the scariest dang ride ever! It was actually super awesome and I would have done it again if not for the stairs and the worker dude who already saw me fall on my face once.
Anyway, when I get back from a week of eating out and watching other people clean up after me, I like to take it easy in the kitchen and these sandwiches are perfect for that! They're so simple, I almost feel silly sharing the recipe!
You literally toss some chicken in some buffalo sauce and plop it on a bun with a squirt of ranch dressing. These are so good for a game day snack (keep the chicken in a crockpot and let people build their own sandwiches as they're hungry!), but the kids and I love them for lunch too! Serve them with a side of carrots and celery to round things out. We used King's Hawaiian Rolls for these, but any sandwich bun would work. I thought the sweetness of the roll was great with the spicy chicken though.
Pulled Buffalo Chicken Sandwiches
Ingredients:
3 cups shredded or diced chicken
1/2 cup Frank's Red Hot Sauce
2 tablespoons butter
prepared ranch dressing, for topping
4 sandwich buns or 8 Hawaiian Rolls
Directions:
In a medium saucepan, heat the chicken, hot sauce, and butter. Stir to combine and coat the chicken. Taste and add more hot sauce if desired.
Fill the sandwich buns with the chicken mixture and top with ranch dressing.
Share this: