November 4, 2014
Salsa Verde Pulled Pork (Slow Cooker Recipe!)
So, I figure there are two types of people out there. People who are Team Chipotle and people who are Team Qdoba. What team are you on?
I'm Team Qdoba. Their queso is pretty fab, so they win by default. If Chipotle would get on the cheese sauce bandwagon, it'd probably tip the scales in their favor. But, since they haven't, Qdoba is my drug of choice. I pretty much always order the naked burrito with ground sirloin, queso, and lots of guac. I could eat it every day.
So anyway, my husband called from work the other day to ask what was for dinner.
"Homemade Qdoba," I answered. Hello. I'm awesome. I made burrito bowls at home!
"Homemade Qdoba? Maybe tomorrow we can have cheeseburgers and you can call it Homemade McDonalds," he responded.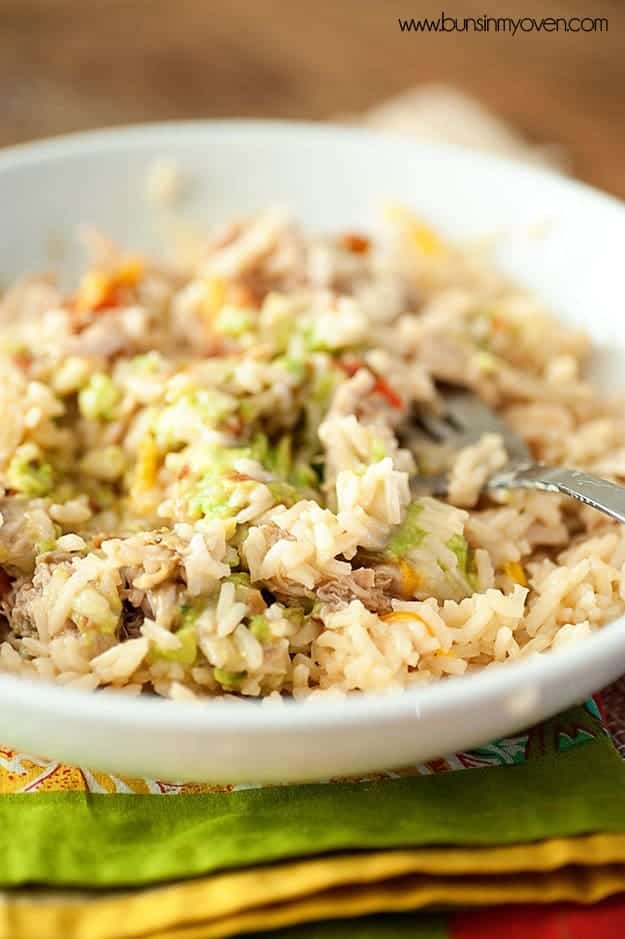 Dude. Who does he think he is? He can't just make fun of me like that.  I mean, yes, some people might just call this a burrito bowl, but I call it homemade Qdoba. Don't hate.
Anyway, I got a little crazy and made this amazing pulled pork that took just two ingredients and was cooked in the crockpot. I love easy dinners like this! I shredded the pork and served it in a bowl with rice, queso, salsa, cheese, guacamole, and sour cream. Mix everything up together and it's basically the most delicious meal ever. This pulled pork is also great in tacos or traditional burritos!
I cooked this in my Ninja Cooking System…it's basically a slow cooker on steroids, you guys. You can roast, bake, slow cook, and sear all in one appliance. I'm really loving using this tool and have been slow cooking up a storm since getting it. More recipes to come soon! (I did receive the Ninja Cooking System free of charge, but all opinions are my own and I received no other compensation for writing about their product.)
Salsa Verde Pulled Pork
Ingredients:
2 pounds pork tenderloin
16 ounces jarred Salsa Verde
Directions:
Add the pork and salsa verde to a slow cooker. Cook on low for 8 hours. Shred the meat with a fork. Serve in tacos or burritos.
Share this: