August 9, 2017
Nutella Swirled Pumpkin Bars
I've been waiting all year to do this. To make a pumpkin recipe, photograph it, eat every last crumb, and then share that recipe with you.
Aaaaaahhhhhh. Feels so good to get started with the Fall Pumpkin Recipe Explosion of 2013.
If you've been eagerly awaiting Fall, I suggest you welcome it with this little treat! Your house is going to smell amazing while this is in the oven.
I cheated a bit and used a box of cake mix for the base and doctored it up with pumpkin for a fun Fall dessert. These would also make a really great breakfast, served alongside a nice cup of hot tea.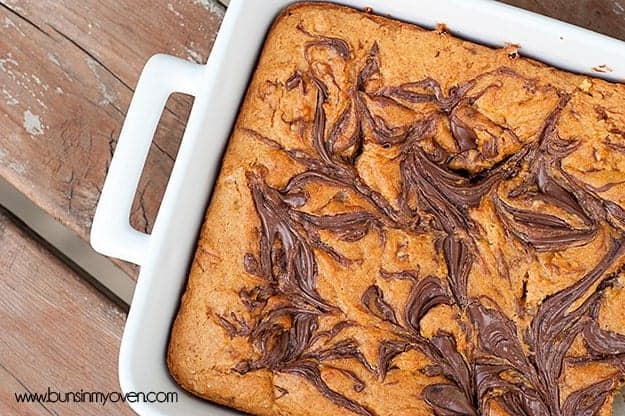 I'm not ashamed to admit that since baking this pumpkin dessert, I've not been able to stop. The pumpkin floodgates have been opened and I'm sure you'll be seeing some more delicious recipes featuring my favorite Fall food soon! Any special requests?
Nutella Swirled Pumpkin Bars
Ingredients:
1 cup pumpkin puree
1 large egg
1/2 cup unsalted butter, melted
1 box golden butter or yellow cake mix
1 teaspoon ground cinnamon
1/2 cup Nutella
Directions:
Preheat the oven to 350 degrees. Spray a 13x9 baking dish with nonstick cooking spray.
In a large bowl, beat the pumpkin, egg, butter, dry cake mix, and cinnamon until fully combined. The batter will be somewhat thick and sticky.
Spread the batter into the prepared baking dish.
Drop small spoonfuls of Nutella over the batter and use a knife to swirl it into the batter.
Bake for 25 minutes or until the edges are beginning to brown and the center is set.
Cool completely before serving.
Share this: