November 6, 2012
Cinnamon Rolls with Browned Butter Icing
I'm such a nice person, you guys.
We had guests from out of state staying with us for a few days for my brother-in-law's wedding. I made them cinnamon rolls. I made the dough, I rolled it out, I filled it with brown sugar and cinnamon and plenty of butter, I rolled them up, I cut them, I froze them, and then I promptly forgot about them.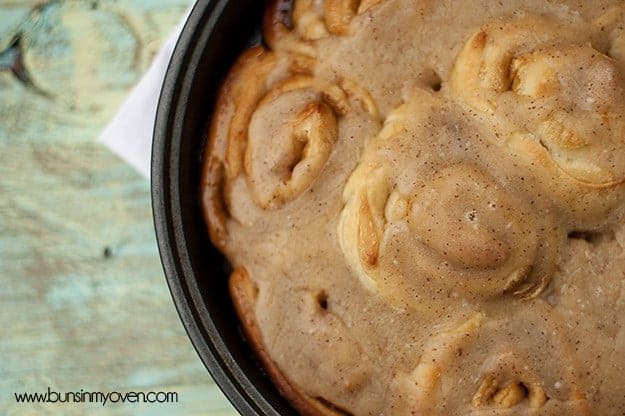 Doesn't matter that my guests didn't get to eat these. I'm still a good person, forgetful or not.
I mean, it's the thought that counts, right?
I made the cinnamon rolls for them whether they had a chance to eat them or not. Now that they're back home, I'm stuffing all of these cinnamon rolls in my face like a one year old with her first bite of birthday cake. It's so pretty being me.
These rolls are easy to make, especially if you just do all the hard work in your stand mixer. That said, the dough can certainly be kneaded by hand or in a bread machine. This recipe made two 8-inch round cake pans worth of rolls for me. I just popped them in the freezer, thawed in the fridge the night before I wanted to bake them, and then proceeded to bake as directed.
Easy peasy chicken squeezy.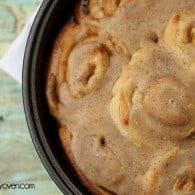 Cinnamon Rolls with Browned Butter Icing
Ingredients:
For the rolls:
1 cup warm milk (110 degrees F/45 degrees C)
2 1/2 teaspoons active dry yeast
1/2 cup white sugar
2 eggs, room temperature
4 1/2 cups bread flour
1 teaspoon salt
1/2 cup butter, melted
1 cup brown sugar, packed
2 1/2 tablespoons ground cinnamon
For the Brown Butter Icing:
4 tablespoons butter
1 cup powdered sugar
1 teaspoon vanilla
1 tablespoon milk
Directions:
To make the rolls:
Add the milk and yeast to the bowl of your stand mixer fitted with the dough hook. Let sit for 5 minutes. Add the sugar and eggs to the yeast mixture. Combine the flour and salt together and add half of it to the mixer. Turn to low and mix until combined. Slowly add the remaining flour and continue kneading for 5-10 minutes or until dough is stretchy, but no longer sticky. Add up to another 1/2 cup of flour if necessary.
Place the dough in a greased bowl and let rise in a warm place for 1 hour or until doubled.
Roll the dough out to a 20 inch wide x 16 inch long inch rectangle. Pour the melted butter over the dough, and sprinkle with the brown sugar and cinnamon.
Tightly roll the dough into a 20 inch wide log. Cut into 1 to 1 1/2 inch thick rolls. Place rolls in two greased 8 inch round cake pans.
You can freeze the dough or place it in the refrigerator overnight at this point. If you freeze the dough, thaw in the refrigerator before baking. Remove from the refrigerator 30 minutes prior to baking.
Preheat the oven to 400 degrees. Bake rolls until golden brown, about 15 minutes.
To make the icing:
Melt the butter in a small saucepan over low heat until browned, about 8 minutes.
Pour the butter into a small bowl and whisk in the powdered sugar, milk, and vanilla until smooth.
Pour over the warm cinnamon rolls.
adapted from All Recipes
Share this: