August 8, 2013
Honey Cinnamon Blackberry Crostata
This is like the twenty thousandth recipe I've posted this Spring that includes some sort of fruit.
I'm not sure what's going on. Usually I like my dessert full of chocolate and peanut butter and sprinkles and baby unicorns.
Minus the baby unicorns. The horns are really hard to chew.


I think this whole new fruit obsession of mine must be a sign that *gulp* I'm growing up. I'm like a real actual adult human being who likes to eat plants. Plants that grow in the dirt. Plants that grow in the dirt and have bugs crawling on them. Plants that grow in the dirt that have bugs crawling on them and are full of healthy vitamin-like nutrient-ish things.
I propose that we all pretend this growing up thing I'm doing is not happening. After all, I'm only thirty years and 2 months old. I have plenty of time for growing up.
While very grown-up, this dessert is still simple, slightly fancy (anything with crostata in the name sounds fancy, you know), and is probably healthier than most of the desserts I make, thanks to the aforementioned plant-y things in the filling. The honey and cinnamon are perfect and a little unexpected with the tart blackberries. I think you'll love this crostata, grown up or not.
Not a fan of blackberries? Try this Strawberry Crostata instead!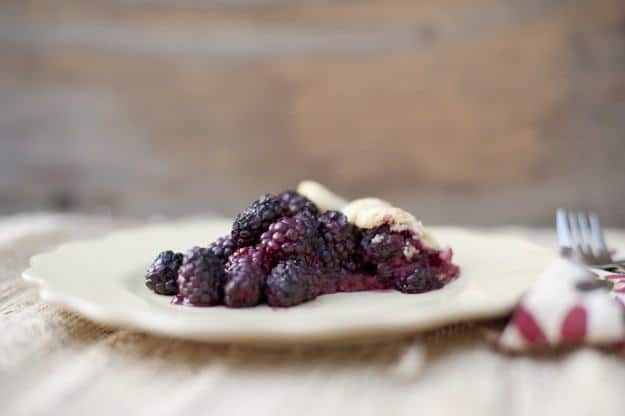 Blackberry Crostata
Ingredients:
For the crust:
1-1/2 cup shortening (butter works, but not as well)
3 cups flour
1 teaspoon salt
pinch of white sugar
1 egg, beaten
5 tablespoons cold water
1 tablespoon vinegar
For the filling:
12 ounces blackberries
1/4 cup honey
2 tablespoons corn starch
1 teaspoon lemon juice
1 teaspoon cinnamon
Directions:
To make the crust:
This dough will make enough for 2 crusts. Freeze the extra to use at another time. This is the best pie crust I've ever had (and I constantly get compliments on it), so having an extra batch in your freezer is not a bad thing!
Dump the shortening, flour, salt, and sugar into a large bowl and work it together with a pastry cutter until you have coarse crumbs.
Pour in the egg, water, and vinegar and stir until just combined.
Separate into 2 balls of dough and place in freezer bags.
Place each bag in the freezer. You'll only need one ball of dough for this pie, the second should keep in the freezer for 6 months or more.
Remove one ball of dough after 20 minutes in the freezer and roll it out on a floured surface into a 10 inch circle.
Transfer dough to a parchment lined baking sheet.
To make the filling:
In a large bowl, combine the honey, lemon juice, cornstarch, and cinnamon and stir to combine.
Add the blackberries and toss to coat them in the honey mixture.
Place the blackberries in the center of the dough in a mound.
Work your way around the dough and fold the edges over onto the blackberries, every inch or so.
Bake at 375 degrees for 25 - 30 minutes or until the berries are bubbling and the crust is turning golden.
Share this: