October 17, 2017
Peanut Butter Cheese Ball
You might have noticed by now that I sort of like peanut butter.
I mean, it's not an addiction or anything. I can totally stop eating it whenever I want.
I've never wanted to stop eating it though. In fact, I had a spoonful of peanut butter for breakfast this morning.
When I stumbled upon this little gem of a recipe from The Girl Who Ate Everything, I knew that this cheeseball would soon be mine. You see, The Girl Who Ate  Everything only seems to eat foods that I would also love to eat. We are food twins. Soul mates. Our taste buds were made for each other, but I mean that in a totally non-creepy way. I'm not planning on yanking her taste buds out of her mouth or anything. Promise!
So, uh, I made this cheeseball. Then I ate the crap out of it. The end.
Pin It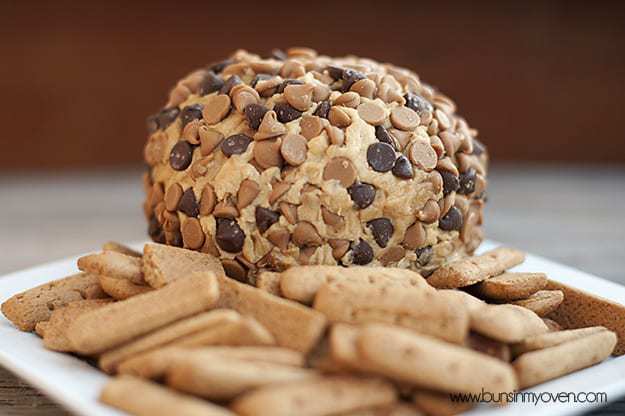 Peanut Butter Cheese Ball
Ingredients:
8 ounces cream cheese, at room temperature
1 cup powdered sugar
3/4 cup creamy peanut butter (not all-natural)
3 tablespoons packed brown sugar
3/4 cup milk chocolate chips
3/4 cup peanut butter chips
Graham cracker sticks, teddy grahams, apple slices, Nilla wafers, for dipping
Directions:
Beat together the cream cheese, powdered sugar, peanut butter and brown sugar in the bowl of your stand mixer.
Spoon onto a large piece of plastic wrap; bring up all four corners and twist tightly to form a ball.
Freeze for 1 hour and 30 minutes or until the cheese ball is firm enough to keep its shape. Place peanut butter and chocolate chips on a plate. Remove the plastic wrap from the ball and roll it into the chocolate and peanut butter chips to completely cover, pressing them into the ball if necessary.
Place the ball on serving dish; cover and freeze for 2 hours or until almost firm. (Can be made ahead. If frozen overnight, thaw at room temperature for 20 to 30 minutes before serving.) Serve with graham cracker sticks, teddy grahams, Nilla wafers, or apple slices for dipping or spreading.
Share this: