I have some big news to share with all of you today!
No, you guys. I'm not pregnant.
But, it's cool. That's always my first guess when someone says they have big news too.
Any other guesses?
Yup.
I'm writing a cookbook! A pancake cookbook. Imagine me squealing and dancing and bouncing around. I'm kinda excited.
I've been dying to share the news with all of you, and now that I have the cover of my book ready for your viewing pleasure, I thought it was the perfect time to spill the beans syrup!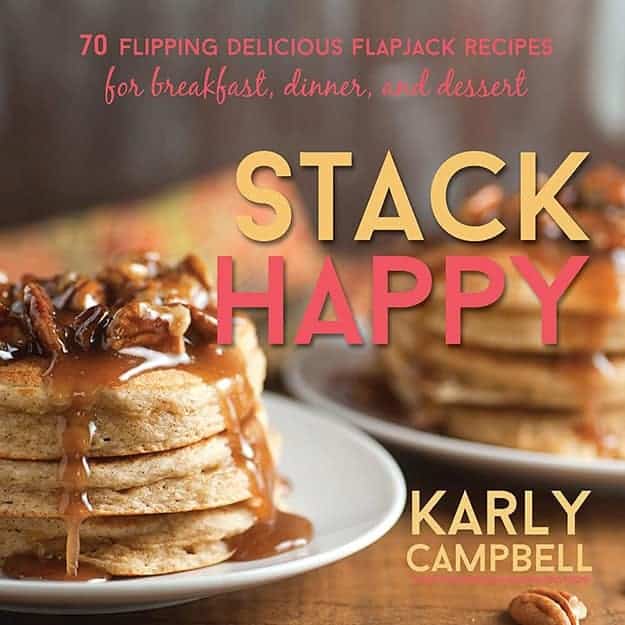 Coming in February of 2015, is Stack Happy, 70 flipping delicious flapjack recipes for breakfast, dinner, & dessert.

Can you even deal? An entire book full of pancakes!
You want a sneak peek?
There will be a fruit chapter full of good things. Like these Peach Pecan Pancakes. I mean, what?
A chapter all about putting a twist on your breakfast with things like omg, glazed donut pancakes. I tested this recipe at least 10 times just so I had an excuse to eat them again and again.
I even snuck in a chapter with healthier pancakes! So weird of me, but man, I love that chapter. These are a twist on cinnamon raisin bread.
No cookbook of mine would be complete without some Tex-Mex flavors, so I had to include a savory chapter. Had to.
And what is life without desert? Yes. Dessert pancakes. They are a thing. A thing that is delicious.
And, my friends, there is even a chapter devoted to sauces and syrups that are great on pancakes, ice cream, waffles, cheesecakes, brownies, spoons, and fingers! This book is going to rock your world.
It would mean the world to me (THE WORLD) if you guys pre-ordered the book! It releases on February 10, 2015, just in time for making someone special a Valentine's Day treat. I mean, you could spend your V-Day eating pancakes for breakfast, lunch, dinner, and dessert. If that doesn't say true love, I don't know what does.
Anyway, if you would like to personalize the book (meaning that I'll sign it and write a love note to whoever you like!) you can order the book directly through me! If you'd like to do that, you can sign up to receive ONE email from me (just one!) closer to the release date. This will give you instructions for purchasing the book directly through me. Sign up here.
Alternately, you can pre-order the book from Amazon by clicking right here!
Your support means the world to me, guys! I know you're going to love this book and I can't wait to get it in your hands! I couldn't have done any of of this without you guys.